BBG Watch Commentary
Working without proper guidance and leadership from the U.S. Broadcasting Board of Governors (BBG) or their own senior management, some reporters, editors and managers at American tax-funded Radio Free Europe / Radio Liberty (RFE/RL) are helping to spread Iran's propaganda of hate toward Israel by repeating Iranian regime's Press TV and other Iranian state press agencies' reports without any attempt in some of RFE/RL's news stories to expose, counter or put into context Teheran's longtime goal of seeing the Jewish state vilified and wiped off the map.
The RFE/RL anti-Israel Iranian propaganda "news" report was posted online on March 5, 2017. The report, in which the state of Israel is called "the evil Zionist regime", without any attempt to counter or even explain such hate speech, was paid for entirely by American taxpayers.
It is important to point out that RFE/RL (Annual Budget from U.S. Taxes: $102.1 million) reporting is not uniformly bad and is still much needed if the station's management can be reformed by the next BBG CEO. (BBG's annual budget from U.S. taxes is $777 million, including RFE/RL.) Many of RFE/RL's reporters and editors still produce excellent pro-human rights news and commentaries, but there has been a considerable decline in standards and quality of many RFE/RL programs in recent years, and an even greater decline in the quality of the media outlet's management.
While the RFE/RL report repeating Iran's anti-Israel propaganda appeared on the station's English-language website, one prominent American critic of the Broadcasting Board of Governors, Iran expert Kenneth R. Timmerman, wrote in a recent Washington Times op-ed:
, Kenneth R. Timmerman, The Washington Times, November 21. 2016″ href="http://www.washingtontimes.com/news/2016/nov/21/donald-trump-promise-is-an-end-of-nation-building/" target="_blank" rel="noopener noreferrer"> Persian-language services of both VOA and RFE/RL have long been a disaster, mocked in Iran because they broadcast pro-Iranian regime propaganda and not the pro-freedom message they were intended to convey.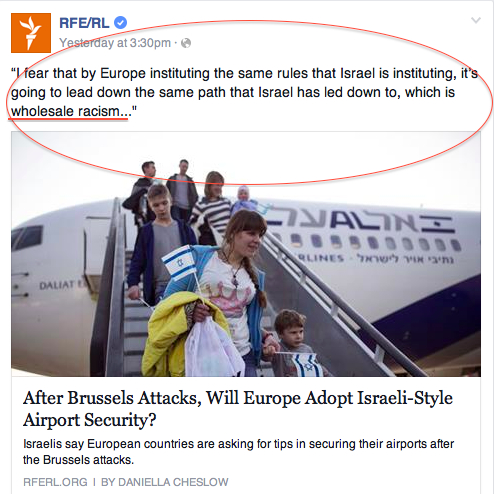 RFE/RL has posted other anti-Israel propaganda in the past, as did the Voice of America.
Good management and oversight is lacking at the Broadcasting Board of Governors and the Voice of America to such a degree that the BBG and VOA management had followed and legitimized a fake VOA Iran Twitter feed for years before discovering due to BBG Watch reporting and eventually admitting last month that the feed was set up by an unidentified impostor. Scores of VOA, RFE/RL, Middle East Broadcasting Networks (MBN – also overseen by BBG) and even BBC journalists and Iranian human rights activists were fooled by this fraud, which was undiscovered and unwittingly promoted by the agency for several years.
Both VOA and RFE/RL are overseen by the BBG and its interim chief executive John F. Lansing, an Obama administration holdover who does not have any significant international news reporting or prior foreign policy and U.S. government service experience. He had appointed Thomas Kent, a former AP journalist, as RFE/RL president and chief executive. According to his BBG bio entry, Kent was most recently AP's standards editor, "responsible for the fairness and accuracy of the news agency's content in text, photos, video, audio, interactives and on social networks."
The RFE/RL report may not even meet AP standards for objectivity, but even if it does, it does not meet BBG's and RFE/RL's traditional standards of fact-based journalism or their mission statements in support of freedom and democracy. Such anti-Semitic hate speech should not be promoted at U.S. taxpayer's expense by anybody at any time. We don't think that BBG, RFE/RL, and VOA executives are anti-Semitic or otherwise bad people; they are just not very good managers with the right kind of prior experience. They do not seem to fully understand that the United States is under attack in one of the most dangerous war of ideas being launched by America's enemies against America's values and interests, against Israel, and against all democracies.
A recent article by media scholar Martha Bayles and political expert Jeffrey Gedmin had some advice for the new permanent BBG CEO to be appointed by the President and confirmed by the U.S. Senate, whoever it may be. Another expert, Kenneth Timmerman, offered a a critical and sober analysis in his two earlier Washington Times op-eds.
Bayles and Gedmin wrote that
Americans must reckon honestly with USIM's [United States-funded Information Media] essential function, which is to further the nation's agenda as forcefully as possible without engaging in propaganda.
Repeating Iran's propaganda of hate toward Israel without any challenge is the last thing RFE/RL and VOA should be doing while receiving money from U.S. taxpayers. Bayles and Gedmin would no doubt agree with this assessment, as they would no doubt agree that exposing and countering hate speech with fact-based journalism is not propaganda, although the Iranian regime would certainly consider it as propaganda. At least in this case the Iranian mullahs have no reason to complain because RFE/RL simply repeated their anti-Israel propaganda and hate speech without any challenge whatsoever.
Martha Bayles teaches humanities at Boston College, is author of Through a Screen Darkly: Popular Culture, Public Diplomacy, and America's Image Abroad (Yale 2014), and is a visiting fellow at the Hudson Institute. Jeffrey Gedmin is a senior fellow at the Atlantic Council, senior advisor, Blue Star Strategies, and former president and CEO of Radio Free Europe/Radio Liberty.
Kenneth Timmerman is a writer, investigative journalist and Republican Party activist. He has received endorsement from a group of prominent U.S. foreign policy, national security, and international media experts who would like to see him to be nominated as the next BBG CEO. Several other highly-experienced individuals, including some former Republican BBG Board members, are also interested in leading reforms at the BBG to prevent such Iranian propaganda from being spread with U.S. taxpayer's money as it has been in recent years.
DISCLAIMER: We repost this one-sided Radio Free Europe / Radio Liberty (RFE/RL) report as a public service to show what BBG media entities should not be doing, not because we agree with anything that RFE/RL has reported in this text.
Please note RFE/RL's sources for this RFE/RL "news" report listed under the story.
IRNA stands for the Islamic Republic News Agency.
Mehr stands for the Mehr News Agency (MNA), an Iranian news agency headquartered in Tehran, owned by the Islamic Ideology Dissemination Organization (IIDO).
Press TV (stylised PRESSTV) is a 24-hour English language news and documentary network, affiliated with Islamic Republic of Iran Broadcasting (IRIB).
U.S. taxpayers could not have paid for more fair and accurate (sarcasm) "news" sources for this one-sided RFE/RL Iranian regime propaganda commentary, which RFE/RL under its current management and BBG oversight felt obliged to repost.
###
RFE/RL

March 05, 2017

RFE/RL

Iran's Supreme Leader Ayatollah Ali Khamenei has told visiting Azerbaijani President Ilham Aliyev that Tehran believes Israel is working to weaken ties between the two countries.

"The evil Zionist regime is making efforts more than all enemies to weaken the brotherly relations between Iran and Azerbaijan," Khamenei said in a March 5 meeting with Aliyev.

He said the neighbors should be "vigilant" in protecting what he called their friendly ties.

Khamenei also praised Azerbaijan's position on Iran's nuclear program, without going into detail.

"In political circles and communities, the Azeri government has always stood by Iran and these positive stances bring the two countries closer than ever to each other," Khamenei was quoted as saying by Iranian media.

Iran has in the past been critical of Azerbaijan's strong ties with Israel, which sells weapons and defense equipment to Baku.

Tehran does not recognize the state of Israel.

Aliyev was on a one-day visit and met earlier in the day with Iranian President Hassan Rohani.

With reporting by IRNA, Mehr, and PressTV
END OF RFE/RL REPORT