BBG Watch Commentary
Voice of America's VOA English News (not counting VOA Learning English section which is not a news website but a different platform designed for teaching English) was last among major international news media organizations to report on its main news website and many foreign language websites on the sexual attacks on women in Cologne Germany by groups of young Arab and African men.
VOA English News was about two days behind everybody else on this story, especially BBC, Russia's RT, Germany's DW and France's RFI. If you wonder why the Voice of America cannot compete with RT, including social media, here is a major part of the answer, a former VOA journalist told BBG Watch.
In ignoring a major international story, VOA News was in the same group of international broadcasters who also ignored it, including those in North Korea, Cuba and Iran.
Mismanagement, rather than insufficient funding, appears to be the cause of VOA's repeated news reporting failures.
VOA News did not start to post the Cologne story until Wednesday, January 6.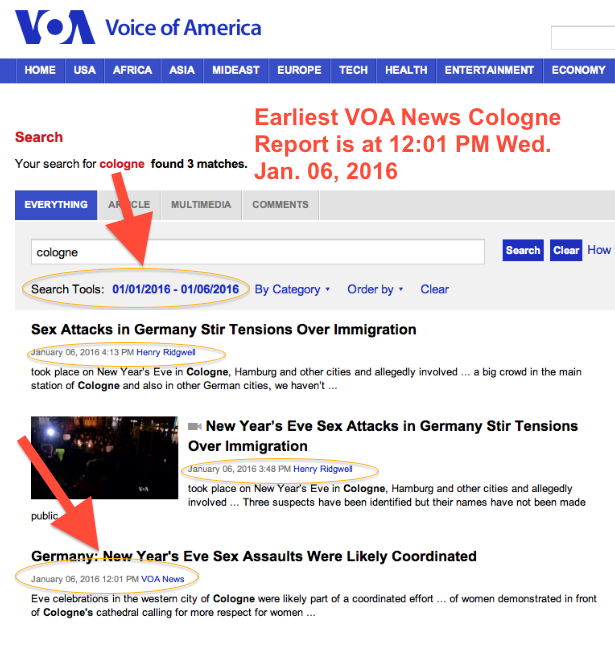 Where was the VOA Newsroom on Saturday, Sunday, Monday, and Tuesday and Wednesday until about 12 PM?
Where was VOA London Bureau on Saturday, Sunday, Monday, Tuesday and Wednesday until about 4 PM?
According to the FY2015 proposed budget, the the Voice of America London News Bureau costs U.S. taxpayers $1,877,000, nearly $2 million out of VOA's total cost (proposed) of $211,920,000 (over $211 million).




According to the 2009 OIG report, the VOA London News Bureau correspondent "still covers a wide area of operations for VOA," including Europe.
VOA News was also at least one day behind American media on the Cologne story, including The New York Times and The Washington Post. VOA English News report, filed from VOA bureau in London, did not appear until about 4:00 PM Wednesday, January 6. The attacks in Cologne took place on the night of December 31/January 1.
A former VOA reporter commented:

"As we learn time and time again, it's only through this kind of checking, on major stories, that we learn how utterly mismanaged the Voice of America is. Hard to imagine what kind of astounding news management failure produced this kind of overlooking such a huge overseas story. It reminds us of VOA ignoring the Brian Williams story for many days, but this one clearly is more significant for foreign audiences."