BBG Watch Commentary
It was not a big surprise to us that as of 1:30 AM EST, Wednesday, January 5, U.S. taxpayer-funded Voice of America did not have on its main English-language news website any information about protesters in Germany taking to the streets after about 90 women were sexually assaulted, robbed or threatened during New Year's eve celebrations in the city of Cologne. A check of several of VOA's foreign language news websites, including Iranian and Russian, also did not produce any VOA reports on the sexual assaults in Cologne several days ago and more recent protests over the incident in Germany. UPDATE: We were only able to find a well-written report on the story on the VOA's Learning English website.
The story is big internationally, but not for the Voice of America Central Newsroom, which is often practically deserted, especially during holidays, but also on weekends and at nights. The organization has been mismanaged for many years by its parent agency, the Broadcasting Board of Governors (BBG).

SECOND UPDATE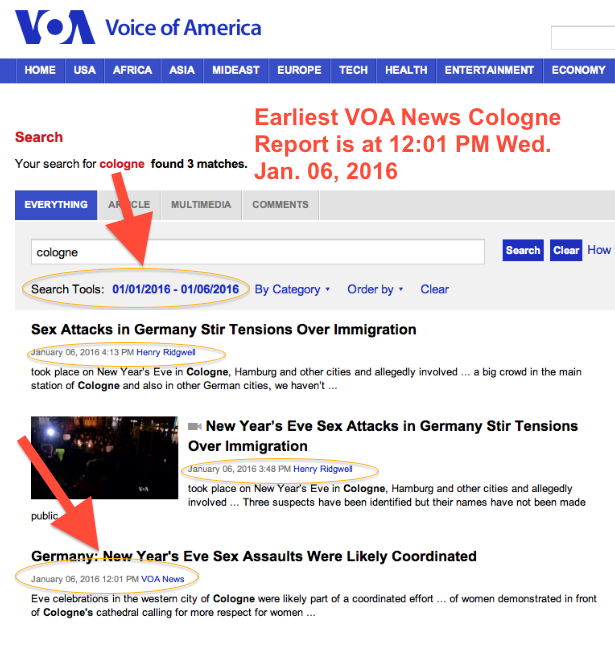 FIRST UPDATE
While the main Voice of America English News website still does not have any news reports on the Cologne sexual assaults story as of 2:00 AM EST, Wednesday, after a long search we did find a report on the story written in what used to be called "Special English" and posted on the VOA Learning English website.

We have noticed in the past that VOA Learning English section sometimes posts excellent reports on news stories which VOA Central Newsroom either ignores or is late in reporting. These VOA Learning English news reports written and voiced in simple English (sometimes also in video) are much better written and better produced than what the VOA Central Newsroom and its web team put on the main VOA English News website.

Bravo VOA Learning English! Perhaps you should take over the job of writing all VOA news.
VOA Learning English also had a Facebook post, while VOA Central English News and the vast majority if not all of the other VOA foreign language websites and social media pages had nothing on the story.
While it is good that VOA Learning English had a report, the fact that VOA Central English Newsroom has ignored the story is inexcusable for a news organization. The VOA Learning English report did not have information about protests over the incident which took place Tuesday in Germany and were reported on by BBC and other media.
U.S. Opinion & Commentary section on the VOA main website also did not have anything on the Cologne sexual assaults story even though U.S. media reported on and commented on the incident.
VOA Learning English | We are American English

As It Is






German authorities said Tuesday that young women were sexually harassed and robbed by hundreds of young men on New Year's Eve.

Attacks took place in the western city of Cologne, in Hamburg in the north, and Stuttgart in the south, reported the New York Times and the Wall Street Journal.

Most of the attacks took place in the main square in Cologne during celebrations.

Victims and witnesses described the attackers as young men "who appeared to have a North African or Arabic" background, the newspapers reported.

More than 90 people in Cologne have filed legal complaints, according to police.

In Hamburg, police said that 10 women had reported being sexually assaulted and robbed. The Wall Street Journal said there were incidents in Stuttgart, but no arrests have been made in any of the cities.

Germany took in more than 1 million migrants and refugees last year. Most of them come from the Middle East, Afghanistan and Africa. Tensions have risen in Germany as it tries to deal with the social and political changes there.

The New York Times said the assault went largely unreported for days. That delay "has led to concerns that the authorities were playing down the seriousness of the assault to prevent it from becoming a point of contention" in the larger debate about migrants.

People were gathered to see the city's fireworks over the Rhine River. Some were going to bars and nightclubs.

The Wall Street Journal said Heiko Maas, Germany's justice minister, warned that the ethnicity, or background, of the criminals does not matter.

He said "the rule of law does not look at where someone comes from but what they did."

In Cologne, police said that they believe that several hundred men, ages 15 to 35, were involved in the violence. It began in the early hours on New Year's Day. The square was closed after men were throwing fireworks, reported the Wall Street Journal.

Police say the men broke into smaller groups. Each group circled a woman, the police said, and some would grope the victim. Other men stole the women's cellphones or wallets.

One woman told police she had been raped.

German Chancellor Angela Merkel called the attacks "disgusting."

Cologne is a city of about 1 million residents. It is one of Germany's most diverse cities, and it took in more than 10,000 refugees last year. Many of them were young men from Afghanistan, Iraq and Syria, said the Wall Street Journal.

The paper said the city will increase security after the crimes, as they search for suspects.

The newspaper said anti-immigrant and far-right groups have said these crimes show the dangers of accepting such large numbers of migrants.

Frauke Petry, the head of the extreme right party, Alternative for Germany, told a Cologne newspaper that the violence is "the consequence of an uncontrolled migration," according to the New York Times.

Chancellor Merkel has defended her migration policy, even as the issue has caused political problems in her conservative bloc.

On Tuesday, the Chancellor called for mutual respect.

I'm Anne Ball.

Anne Ball wrote this story for Learning English. Kathleen Struck was the editor.

We want to hear from you. Write to us in the Comments Section and on our Facebook page.


Words in This Story


harass – v. bother someone in a repeated way

sexual assault -v. illegal sexual contact that usually involves force upon a person

grope -v. to touch someone sexually in an unwanted and unexpected way

diverse -adj. people, or things, that are different from each other

bloc — n. a group of people or countries that are connected by a treaty or agreement or by common goals
All major international media outlets, including Deutsche Welle (DW), BBC, Russia's RT, Radio France Internationale (RFI) and hundreds of others had reports on the New Year's eve assaults in Cologne on their main news websites and homepages, while VOA did not. U.S. media, including The New York Times, The Washington Post, and The Wall Street Journal, also reported extensively on the story after a few days.
Perhaps Voice of America Central Newsroom reporters and editors were afraid to report on sexual assaults on women in Cologne and subsequent protests in Germany because according to Cologne police chief Wolfgang Albers, officers described the men who attacked the women as looking as if they were from "the Arab or North African region" and mostly between 18 and 35 years old.
We could not determine why this major news story was ignored by VOA's Central English News, but VOA's Central News reporters and editors had to be aware of it since it was reported by The Washington Post and hundreds of other newspapers and websites. Their colleagues in VOA Learning English recognized that it was a major and important news story and wrote about it for foreign audiences learning English.
The story certainly deserved to be on the main VOA English News website and on VOA's foreign language news websites.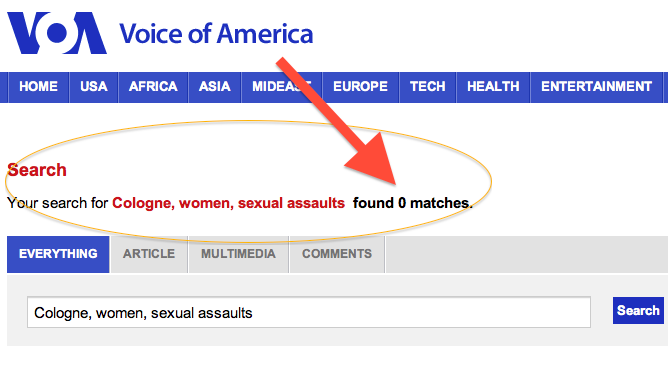 Since VOA often misses important news stories or is hours and sometimes days late in reporting on others, it could have been yet another sign of a leaderless news organization undergoing a deep management crisis.
VOA is overseen by the Broadcasting Board of Governors (BBG), a U.S. federal agency and its bipartisan, part-time board. In 2013, then Secretary of State Hillary Clinton who was at the time a BBG member, described the agency as "practically defunct." Since September, the agency has new CEO John Lansing, but VOA has not had a permanent director for months and when it had one, these problems were even more frequent.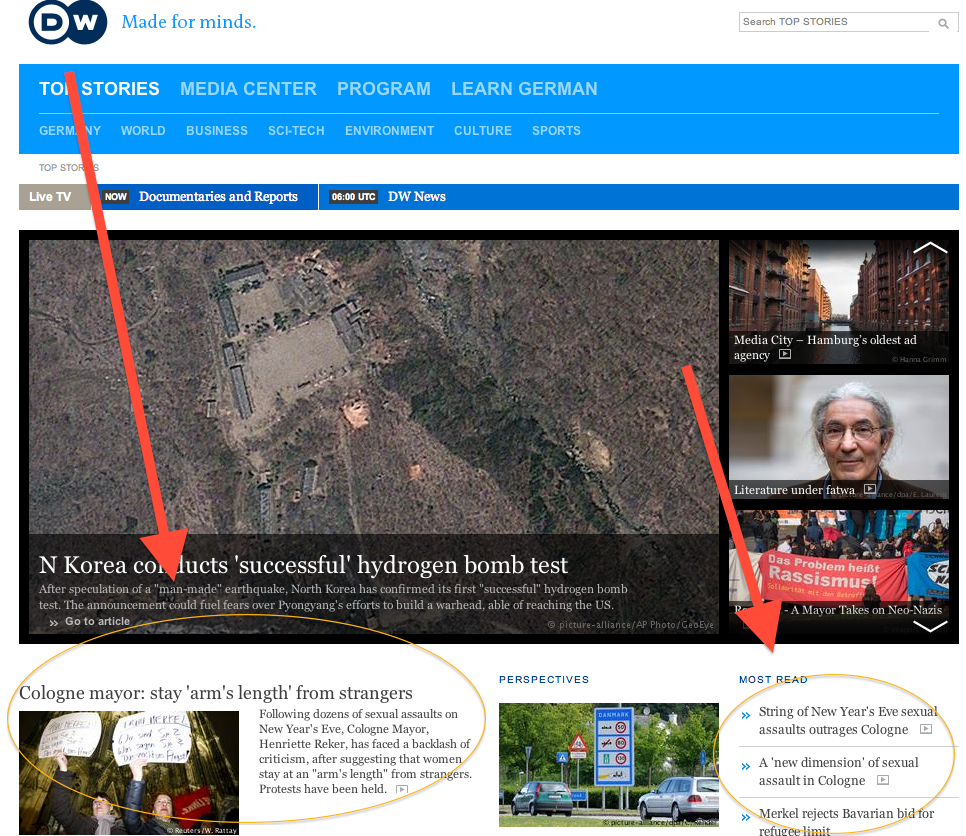 There is nothing so far on this story from the Voice of America Central News. We are not counting here the story on the separate VOA Learning English website because that is not VOA's news website. By not reporting on this story and on more recent protests in Germany over the incident in Cologne, VOA Central English News is in good company with North Korea, Cuba, and Iran.
A search of Radio Free Europe / Radio Liberty (RFE/RL) English news website also did not produce any news reports on sexual assaults in Cologne. This is strange because RFE/RL often reports on refugees in Europe. VOA does as well, but much of the VOA reporting is focused on the plight of the refugees.
Like VOA, RFE/RL is also overseen by the Broadcasting Board of Governors.
Ironically, a search for "Cologne, Germany, sexual assaults" produced this 2014 report on the VOA website. The 2014 report on the VOA site was from Reuters.
VOA Site Search
October 30, 2014 11:40 AM Reuters
German capital Berlin is scrambling to ban a planned rally against … by neo-Nazis and self-styled soccer hooligans afterrioting in Cologne in which 49 police officers were …
But while VOA has nothing on a major news story being covered by BBC, RT and practically everybody else in the world, with the exception of North Korea, Iran, Cuba and perhaps a few other countries practicing press censorship, we found these recent VOA reports (Nero palace report on the VOA site was from Reuters) all paid for by American taxpayers. VOA reporters were working on news stories, just not on the news story almost every other news organization has on its homepage.
A few VOA English reporters who might have been working during the New Year holiday, as well as Monday and Tuesday, were working on these stories, but not on the story of attacks on women in Germany. That story would have been of great interest to international audiences, including audiences in the Middle East in countries where local media would not dare to report on such a story and in other countries where governments practice press censorship.
BBG had the story on its homepage all day Tuesday. BBC updated it with a new story on protests in Germany against the sexual assaults on women. RT also had a report on the protests.
VOA still has nothing on these protests. "LEGO Launches Robot-based Learning Kit" might produce more Facebook "Likes," which is what BBG bureaucrats care about most of all, hoping that they won't be removed by new BBG CEO John Lansing. They and their policies are ultimately responsible for the miserable state of VOA news and the VOA Central Newsroom.

BBC Homepage
Google Search