BBG Watch Commentary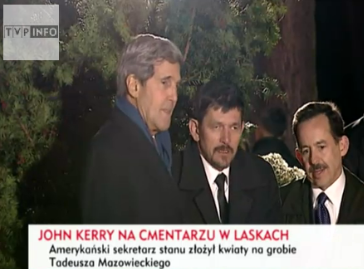 BBG Watch already reported that the Voice of America (VOA) had ignored on its English news website the death of Poland's first post-communist prime minister Tadeusz Mazowiecki, his funeral attended by former and current foreign heads of state and other leaders, and the White House statement on his passing.
BBC, CNN, Russia Today and other international and U.S. media (The Washington Post, The New York Times, NPR) reported on Mazowiecki's death. Many also reported on his funeral on Sunday.
But the main Voice of America English news website and most of its foreign language news websites did not have any news reports on Mazowiecki despite his prominent role, not only in Poland, but also as an elder statesman and advisor on the international scene in recent years, most notably in the Middle East. In the mid-1990s, Mazowiecki served as a special UN envoy for ex-Yugoslavia. He resigned the post after the Srebrenica massacre of thousands of Muslim boys and men by Bosnian Serb forces in July 1995.
READ: VOA fails to report on death of Poland's first post-communist prime minister, ignores White House statement, BBG Watch, October 29, 2013.
Earlier today, November 4, U.S. Secretary of State John Kerry on the first day of his visit to Poland paid a tribute to Mazowiecki by visiting his grave, but the VOA English news website has so far also failed to report on this event and on Kerry's visit to Warsaw.
We have pointed out that Mazowiecki was not just a historic figure during the fall of communism in Central and Eastern Europe, but that he was later involved in human rights and other issues in the Balkans, in Afghanistan, and in the Middle East.
In May 2011, sitting next to President Obama, Mazowiecki participated in Warsaw in a discussion on democracy. See White House Video: President Obama, President Komorowski Participate in a Discussion on Democracy.
In a statement on Mazowiecki's death, the White House said that "His contributions to freedom and human rights live on today and will never be forgotten."
State funeral for Poland's former PM Tadeusz Mazowiecki, Video Report, BBC, November 3, 2013.
Poland's former PM Tadeusz Mazowiecki dies aged 86, BBC, October 28, 2013.
Remembering Tadeusz Mazowiecki, Poland's moral compass, Christiane Amanpour's Tribute, CNN, October 28, 2013.
Today, as U.S. Secretary of State John Kerry arrived in Poland for a visit and made his first stop at the grave of Tadeusz Mazowiecki near Warsaw, accompanied by Mazowiecki's son and U.S. Ambassador to Poland Stephen Mull, the Voice of America English news website also has no news report on this as of 5:30PM ET (11:30PM Warsaw time).
There is also no separate report on the VOA website so far with any details about the purpose of the talks Secretary Kerry will have with Polish officials tomorrow. VOA did include one sentence in a report from Saudi Arabia that "Kerry will visit Poland to talk about trade and investment as well as joint military training." The issue, however, is far more serious than the one sentence in the VOA report suggests. What is at stake is the future of a U.S. missile defense plan for Europe to counter a potential Iranian threat. It envisages deploying dozens of SM-3 interceptors in Romania and Poland between now and 2018. Polish media reports speculate about President Obama intentions on the deployment in Poland due to pressure from Russia.
Other media also reported that the NSA spy scandal will be discussed during Kerry's visit. Warsaw is the only European capital on his nine-day trip, which includes seven capitals of northern Africa and the Middle East.
AP reported that international security and the situation in the Middle East will also be discussed with Polish officials. The AP report also pointed out that this is the first visit by a high-ranking U.S. politician to Europe since the revelations that German Chancellor Angela Merkel and French President Francois Hollande were among leaders who reportedly had their phones tapped by the National Security Agency.
Another possible topic of Kerry's talks in Warsaw may be Jewish property confiscated during World War II and by the communist regime after the war. Poland is one of the few countries that have not yet resolved the issue of compensation to Jewish owners and their heirs for such lost property. There are not trivial issues. Poland's President Bronislaw Komorowski discussed the Jewish property issue during a recent visit to Israel.
The French news agency, AFP, produced a news report covering some of the topics that could be raised during Kerry's visit to Poland that the Voice of America should have also focused on and offered even more details and more in-depth analysis from a U.S. perspective. Foreign policy experts in the U.S. and in Poland speculate that Kerry may be bringing some significant message or a suggestion from President Obama on the missile issue or the spy scandal. They focus on the unusual detour in his trip to the Middle East. See: Kerry visits Poland to discuss security, business, AFP, Ahramonline, November 4, 2013.
VOA should be faster, better and more comprehensive than AP, AFP or Reuters on such news stories dealing with U.S. foreign policy issues. VOA is not. Often VOA does not even report on such news developments, leaving it to others to explain and speculate on U.S. foreign policy questions, even though part of the VOA Charter says that "VOA will present the policies of the United States clearly and effectively, and will also present responsible discussions and opinion on these policies. (Public Law 94-350)"
It is, of course, highly ironic that the U.S. taxpayer-supported Voice of America also had not reported earlier on Tadeusz Mazowiecki's death, his funeral, and until now about Secretary Kerry's highly symbolic tribute to a former Solidarity trade union advisor, Lech Walesa's friend, Poland's former prime minister and a major European political leader. Kerry spent several minutes standing at the graveside in silence and later talking to Mazowiecki's son and Ambassador Mull. It is also unusual that VOA has nothing to report of any substance on Kerry's rather unusual visit to Poland.
Secretary Kerry is an ex officio member of the Broadcasting Board of Governors (BBG), a bipartisan board with oversight responsibility over the Voice of America. If he attends a future BBG meeting, perhaps he should ask Voice of America Director David Ensor and Executive Editor Steve Redisch to explain why VOA English news and the vast majority of VOA language services did not report on Mazowiecki's death, while BBC, CNN, Russia Today and many other international media outlets did, and some, like CNN's Christiane Amanpour, even produced special reports on the Polish intellectual and politician's historic role. Both Ensor and Redisch used to work at CNN.
Perhaps VOA and executives at the International Broadcasting Bureau (IBB), who are responsible for the overall management of U.S. international media outreach, will have a good explanation for Kerry as to why his visit to Poland and his tribute to Mazowiecki are not as important to VOA's international audiences as a royal christening in Britain (five reports) and finishing schools in Switzerland (one report). By the way, those reports received barely any Facebook "Likes," Tweets, or comments from online readers, which is common these days for the vast majority of news reported posted by VOA on its website.
As of 9:30PM ET, the Voice of America English homepage has not been updated for hours and still showed a photo and a news report about Secretary Kerry in Saudi Arabia many hours after he had left the country, arrived in Poland, paid tribute to Mazowiecki at his grave and went to sleep in Warsaw. All other major international media outlets, including BBC, have updated their news lineup several times during that time.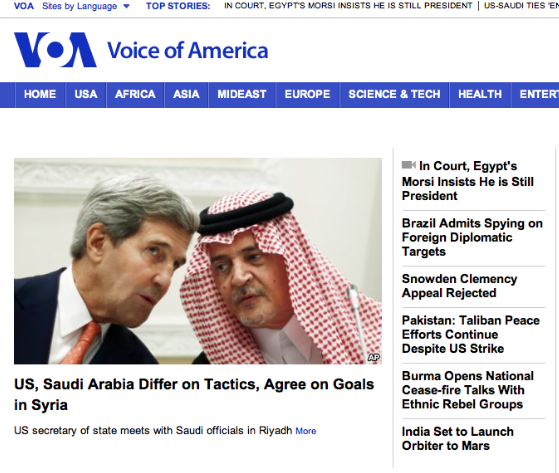 Finally at about 10PM ET, VOA posted a very short news item from Reuters that Kerry had arrived in Warsaw. The report did not offer any substantive information about the purpose of Kerry's visit or U.S. foreign policy or defense and U.S. national security issues connected with his visit. The Reuters report on the VOA website had barely 140 words. See: US Secretary of State Begins Two-day Visit to Poland, Reuters, VOA, 10PM ET, September 4, 2013.
The Reuters report, however, still could not be found on the VOA news homepage, which remained unchanged and un-updated. For all practical purposes, this late, short and completely superficial news item was still not available to VOA's international audiences. They would not have learned much from it anyway.