BBG Watch Commentary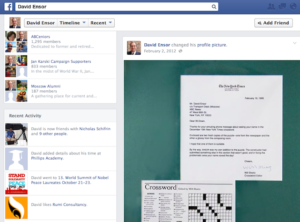 The public Facebook page of Voice of America director David Ensor shows under "Recent Activity" that he had checked the World Summit of Nobel Peace Laureates Facebook page on October 21. BBG Watch assumes that he did it in response to our reporting that the meeting, in which the Dalai Lama, Lech Walesa,  Iranian human rights lawyer Dr. Shirin Ebadi  and other Nobel Peace Prize winners participated, was being ignored on the VOA English news website. The summit lasted until October 23. American actress Sharon Stone received the Nobel Peace Summit Award. It was handed to her by the Dalai Lama.
Despite Director Ensor checking on the the World Summit of Nobel Peace Laureates, which was held  in Warsaw, Poland, the VOA English news website did not report on it or the award for Sharon Stone. About the same time, Voice of America, however, posted a Reuters report on finishing schools in Switzerland and five reports on the royal christening in Great Britain.  Two of those were Reuters reports. These five royal christening reports on the VOA website received barely any Facebook "Likes."
October 23, 2013 12:19 PM
and friends, and named only one member of the royal family as a godparent to George – William's cousin Zara Philips. The other six godparents are friends of the royal couple. All seven godparents were among the attendees of the christening, along with Prince William's father Prince Charles and step-mother Camilla, and his grandparents Queen Elizabeth and Prince Philip. The low-key nature of the ceremony appeared to reflect a desire by Prince William and Kate to protect the privacy of their son, while the naming of friends as his godparents showed their willingness to update royal customs.
Zones: Breaking News , Europe