BBG Watch Commentary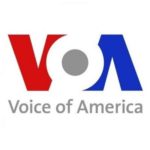 Voice of America (VOA) did not post a profile of slain U.S. journalist Jim Foley; RT of Russia did to score propaganda points against the U.S. and Israel.
Every day we check Russia's external media outlet RT to see if in the words of Hillary Clinton, the U.S. is still "losing the information war" or whether in the words of Voice of America director David Ensor, VOA is "responding to untruths and propaganda from places like Moscow."
Visually, RT's website looks and navigates ten times better than the VOA website, which looks as if it was designed in the last century. It is also immediately apparent by comparing the two websites that RT news reports get ten times or sometimes hundred times more Facebook "Likes," Tweets and comments from readers than VOA news reports, even assuming that some of these comments are from the Kremlin trolls who also leave plenty of anti-U.S. comments on VOA websites.
But we assumed that at least on some U.S. news stories, Voice of America would have an advantage over RT on such U.S. news stories as the murder of American journalist Jim Foley and racial unrest in Ferguson, Missouri.
Not so.
Ferguson
On the first news story, Moscow-based RT had a TV crew and reporters in Ferguson, Missouri almost from the start of the protests. Washington-based VOA did not send a reporter to Ferguson until more than a week later. VOA management apparently allowed most of VOA's most experienced reporters to take their vacations in August and VOA executives themselves disappeared from Washington despite crises in Iraq and in Ukraine.
An RT news report from Ferguson posted on August 20 shows 2,200 Facebook "Likes," 433 Tweets and 98 comments, as of 6PM EDT, August 25. A VOA report from Ferguson posted on August 20 shows 31 Facebook "Shares," 30 Tweets and five comments, as of 6PM EDT, August 25.
Jim Foley Profile
Today we came across an RT op-ed, "Death of James Foley: A lot of questions, no answers," by Nadezhda Kevorkova identified as "a war correspondent who has covered the events of the Arab Spring, military and religious conflicts around the world, and the anti-globalization movement."
What impressed us in this RT report is that it starts out with an incredibly well written and interesting profile of slain U.S. journalist Jim Foley. We assumed, however, that U.S. taxpayer-funded Voice of America would also have a similar profile of Jim Foley with perhaps even more and better information and insights. Foley was after all an American, many of his family members and friends are in the United States, and many of his professional colleagues were American journalists. VOA gets money from American taxpayers to report on U.S. news and is even required to do so by its congressional Charter.
As we were reading RT's profile of American journalist Jim Foley we made a mental note to check out the Voice of America website.
RT's Nadezhda Kevorkova started out by paining a very sympathetic and highly interesting personal profile of Jim Foley and his work. Here some excerpts from the beginning of her op-ed:
NADEZHDA KEVORKOVA – RT:"He was 39. Everybody loved him. Everybody called him Jim. Dozens of colleagues changed their avatars on social networks to black to commemorate him.

James Foley was the kind of person who could talk to you for a minute and call you brother. Many of James' last tweets had to do with Palestine. Israel was bombing it in November 2012 as well. That's when he was kidnapped in Syria.
(…)
Unlike most journalists, Jim was a newsman, not a reporter.
(…)
Jim said he majored in forestry in college, but for some reason it did not work out.
(…)
He picked up journalism late, after he was 35, and immediately went to the most dangerous places. His reporting was balanced and fair among the rebels."
READ MORE: Death of James Foley: A lot of questions, no answers, Nadezhda Kevorkova, RT, Published August 25, 2014.
RT op-ed on Middle East
Unfortunately, Nadezhda Kevorkova's fascinating profile of Jim Foley turned out to be a ruse to present her own views on Middle East politics. She violated her own warning that the "grim footage [of Jim Foley's execution] will serve many political and military goals," by listing several harsh and one-sided accusations against the U.S. and Israel. At the same time, she even managed to present Russian rebels fighting the Ukrainian government in Kyiv as noble savages and to blame the brutal killing of Jim Foley, not so much on the Islamic State, but on — you guessed — Israel and the United States.
NADEZHDA KEVORKOVA – RT: "Social media are flooded with photos of hundreds of Palestinian children killed in the attacks. Now there's one more victim, a journalist. It now seems these children and James Foley were killed by the same warmongers – the US and Israel?"
READ MORE: Death of James Foley: A lot of questions, no answers, Nadezhda Kevorkova, RT, Published August 25, 2014.
Ms. Kevorkova expressed her views in an RT article clearly identified as an op-ed, but many of RT's regular news reports are pushing the Kremlin's propaganda as news.
Ms. Kevorkova's writing is persuasive, assuming that English may not even be her first language, but it is one-sided. Yet, compared to some of VOA's poorly written news reports which blur the line between commentaries and news, this RT commentator is a master of op-ed writing in defense of a particular viewpoint. Her use of Jim Foley's profile at the beginning of the article to get readers' attention was especially effective.
VOA ignores Foley as American journalist
But did the Voice of America post its own profile of American freelance photo-journalist Jim Foley?
Our search of the VOA English News website showed that there was no profile of Jim Foley on the VOA website, and altogether very little information about him. We found no more than one or two sentences about who he was in general VOA news reports about his murder and its aftermath. A visitor to the VOA website would not have been able to learn much about Jim Foley as a person or as a colleague. Russia's RT offered far more personal information about him than Voice of America even though he was an American.
Even Germany's Deutsche Welle (DW) posted online a lengthy tribute to Jim Foley in the form of an interview with his friend and fellow journalist Daniel Etter who "remembers his colleague for the selfless man he was," "Remembering James Foley" – Deutsche Welle. Let's keep in mind with regard to the Voice of America that Jim Foley was not a German journalist. He was an American journalist. VOA is funded by American taxpayers.
Tribute to Foley from Deutsche Welle
Resources wasted on pandas and British royal family
If the Voice of America, in the words of VOA Director David Ensor, "a proud journalistic organization more than seventy years old," can't do even such a simple thing as to post online a full profile of American journalist Jim Foley, it can hardly be expected to respond effectively to "untruths and propaganda from places like Moscow."
BBC has posted Jim Foley's last letter home; the Voice of America did not.
It's altogether too ironic that one can learn far more about the slain American journalist from Russia's RT than from Voice of America.
It is even more ironic, considering claims of limited resources being made by scores of highly-paid VOA executives who collect six-figure salaries and enjoy generous benefits of federal government employment, that VOA did post online a mini news profile of sorts on August 25, but it was a profile of Bao Bao. Bao Bao is Washington Zoo's baby panda who celebrated her first birthday. VOA executives also found resources in recent years to post online dozens of news reports, some with videos, on the British royal family.
VOA management meltdown, White House and Congress slighted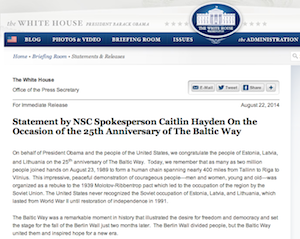 As for "responding to untruths and propaganda from places like Moscow," the White House issued last week a statement on the 25 anniversary of the Baltic Way to commemorate events of August 23, 1989 when two million people in Estonia, Latvia, and Lithuania joined hands to form a human chain spanning nearly 400 miles from Tallinn to Riga to Vilnius "as a rebuke to the 1939 Molotov-Ribbentrop pact which led to the occupation of the region by the Soviet Union." The Voice of America did not report on this statement by NSC Spokesperson Caitlin Hayden to Russia or any other country in the world.
On Saturday, August 23, 2014, members of Congress and Americans representing many ethnic communities participated in observances of the Black Ribbon Day on the 75th anniversary of the Hitler-Stalin alliance. Again, none of this was reported by the Voice of America to Russia or any other country in the world.
But the real clincher came at the most tragic and critical moment for Yazidis and other Kurdish speaking Iraqis earlier this month as they were being pursued and killed by the Islamic State militants. Voice of America management failed to provide leadership, guidance and resources to the VOA Kurdish Service, which was unable to update its website and Facebook and Twitter pages for up to 11 hours while Kurdish refugees in Iraq were fleeing for their lives.
The U.S. is still "losing the information war" and the Voice of America is not "responding to untruths and propaganda from places like Moscow." Russia's RT and its commentators like Nadezhda Kevorkova prove this point day after day. Because of lack of leadership, VOA can't even be counted on news reporting about the United States that could challenge some of the anti-American propaganda.