BBG Watch Commentary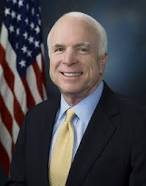 Even though the VOA Charter, which is U.S. public law, requires that U.S. taxpayer-funded Voice of America "represent America, not any single segment of American society" and "present responsible discussions and opinion" on the policies of the United States, the VOA English news service ignored on the VOA's main news website a September 19 statement from Senator John McCain (R-AZ) sharply critical of "the Obama Administration's continued refusal to provide military assistance to Ukraine."
The VOA English website had reports on Ukrainian President Poroshenko's visit to the United States, his speech in the U.S. Congress, his meeting with President Obama, and on non-military forms of U.S. assistance to Ukraine, but VOA English news service did not report online on Senator McCain's direct criticism of the Obama Administration's refusal to provide Ukraine with U.S. military assistance to defend the country against invasion by Russian troops, according to an online search of the VOA English website.
SENATOR JOHN MCCAIN: "It is shameful that the Administration still refuses to provide Ukraine the military assistance it desperately needs after it has already been dismembered by President Putin and invaded by Russian troops. Ukraine is struggling to defend its sovereignty and territorial integrity, and as President Poroshenko said in his address to Congress, 'One cannot win the war with blankets.'"
In addition to the VOA English news website, an online search of the VOA Russian Service website showed that it also had nothing on Senator McCain's September 19 statement criticizing the Obama Administration for the refusal to provide U.S. military assistance to Ukraine. Voice of America is overseen by the Broadcasting Board of Governors (BBG) which on Monday is expected to announce the name of the CEO who will take charge of the agency, including VOA, which is now managed by Executive Editor Steve Redisch and Director David Ensor. BBG Watch reported that the BBG board voted Friday to offer the CEO job to Andrew R. Lack, Chairman of Bloomberg Media Group, Bloomberg L.P., but there is no word yet that he has accepted the job offer.
Last week, in a joint program with a Russian television channel in Moscow, VOA Russian Service did not challenge directly a Russian TV anchor who accused Senator McCain of hating Russia, wanting to fight, to kill, and to arm the Ukrainians. The VOA – Russian TV program, for which VOA's senior management has been widely criticized by U.S. and European experts on Russian disinformation for allowing a one-sided program placement arrangement to be used by the Russians for propaganda attacks and influencing Russian television audience in favor of the Kremlin and against the U.S., appears to have been discontinued, at least for now.
Voice of America's outstanding Ukrainian Service partially saved VOA's reputation as a balanced and comprehensive news source by reporting on Senator McCain's criticism of the Obama Administration, but it appears that no other VOA language service reported on his statement. BBG Watch was not able to check every VOA website but a partial check did not provide any evidence of VOA coverage except for the Ukrainian Service. Critics talk of a management crisis at the Voice of America.
###
Sep 19 2014

Washington, D.C. – U.S. Senator John McCain (R-AZ) today released the following statement on the Obama Administration's continued refusal to provide military assistance to Ukraine:

"It is shameful that the Administration still refuses to provide Ukraine the military assistance it desperately needs after it has already been dismembered by President Putin and invaded by Russian troops. Ukraine is struggling to defend its sovereignty and territorial integrity, and as President Poroshenko said in his address to Congress, 'One cannot win the war with blankets.'

"President Obama has tried to justify his refusal to provide Ukraine with defensive weapons by arguing that what happens in Ukraine does not pose a direct threat to the United States. But as President Poroshenko also pointed out this week in Washington, the crisis in Ukraine is about more than just Ukraine. Russia's aggression threatens the entire global order and the foundations of a Europe whole, free, and at peace, which America and our partners have done so much to achieve since World War II. If we refuse to stand by our principles and values now, not only will the credibility of America's global leadership be at risk but we will be sending a dangerous message to other dictators and aggressors who think they can bully the free world into submission. The United States has an obligation to the values we hold dear to assist people who are defending their freedom and their countries against the aggression of tyrants. Shame on us if we fail to live up to those values and provide Ukraine the assistance it needs."

Permalink: http://www.mccain.senate.gov/public/index.cfm/2014/9/statement-by-senator-john-mccain-on-obama-administration-s-refusal-to-provide-military-assistance-to-ukraine

###