BBG Watch Commentary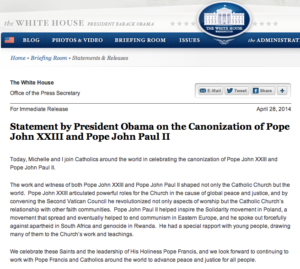 The Voice of America failed to report Monday on President Obama's statement on the Canonization of Pope John XXIII and Pope John Paul II. In his statement, President Obama said that "Pope John Paul II helped inspire the Solidarity movement in Poland, a movement that spread and eventually helped to end communism in Eastern Europe, and he spoke out forcefully against apartheid in South Africa and genocide in Rwanda."
Voice of America has a large English-speaking audience in Africa. Labor movement activists in Iran, Russia and China are fighting for workers' rights. Solidarity was largely a trade union movement.
In a VOA report Sunday on the canonization, John Paul II's role in helping to end communism and his outreach to Jews, Muslims and other religions were also ignored. These themes were highlighted in reports by Russia's RT and Voice of Russia, as well as in a report by Al Jazeera.
See: Voice of America offered disappointing coverage of John XXIII and John Paul II canonization, BBG Watch, April 27, 2014.
Also on Monday, VOA failed to report on President Obama's Statement on Holocaust Remembrance Day. VOA's main English news website and dozens of websites of VOA language services provide uncensored media outreach to some countries where Jews are still persecuted. VOA also broadcasts to Russia and China, where governments refuse to fully acknowledge millions of victims of other genocides carried out by former communist rulers.
Earlier Voice of America English news website and websites of most of VOA's language services also failed to post any information about President Obama's statement on Armenian Remembrance Day to mark the genocide of Armenians in the Ottoman Empire in 1915.
Critics blame these news reporting failures specifically on Voice of America's senior managers who have eliminated jobs at the VOA Newsroom while creating multiple executive positions at SES (Senior Executive Service) and GS-15 federal pay level. Critics say that in addition to failing to provide leadership and effective management that would ensure prompt and full news coverage, some of these executives are also responsible for creating a hostile working environment, which has resulted in experienced and talented journalists leaving the organization in frustration. Critics also put significant blame on the former management team at the BBG's International Broadcasting Bureau (IBB), which recommended multiple programming cuts at VOA while also greatly expanding the number of its senior executive positions and its bureaucracy.
Sources told BBG Watch that instead of focusing on reversing the implosion of news reporting at the Voice of America, Voice of America executives have made repeated requests to the oversight Broadcasting Board of Governors (BBG) to get approval for additional SES positions for their senior staffers. According to sources, presidentially-appointed BBG members refused these requests.
A draft bill originating in the House Foreign Affairs Committee, which has U.S. Rep. Ed Royce (R-CA) as Chairman and U.S. Rep. Eliot Engel (D-NY) as Ranking Member, would, if passed by Congress and signed by the President, radically reform the Broadcasting Board of Governors, the bipartisan board and the federal agency currently in charge of U.S. international media outreach, including the Voice of America and the International Broadcasting Bureau. In addition to proposing major organizational reforms, the bill would also likely result in eliminating a number of highly-paid bureaucratic positions and transfer resources to the production of news programs for overseas audiences.
VOA Director David Ensor said in a recent interview that "the Voice of America is not a propaganda organization and it is not a mouthpiece of the White House or of anybody else." "It is a proud journalistic organization more than seventy years old," Ensor said.
The Voice of America Charter, which was passed by Congress in 1976 and is public law in the United States requires VOA to report U.S. news related to the U.S. Government. VOA programs and salaries of VOA employees are paid for by U.S. taxpayers.
VOA CHARTER

1. VOA will serve as a consistently reliable and authoritative source of news. VOA news will be accurate, objective, and comprehensive.

2. VOA will represent America, not any single segment of American society, and will therefore present a balanced and comprehensive projection of significant American thought and institutions.

3. VOA will present the policies of the United States clearly and effectively, and will also present responsible discussions and opinion on these policies. (Public Law 94-350)
###
The White House
Office of the Press Secretary

For Immediate Release
April 28, 2014

Statement by President Obama on the Canonization of Pope John XXIII and Pope John Paul II

Today, Michelle and I join Catholics around the world in celebrating the canonization of Pope John XXIII and Pope John Paul II.

The work and witness of both Pope John XXIII and Pope John Paul II shaped not only the Catholic Church but the world. Pope John XXIII articulated powerful roles for the Church in the cause of global peace and justice, and by convening the Second Vatican Council he revolutionized not only aspects of worship but the Catholic Church's relationship with other faith communities. Pope John Paul II helped inspire the Solidarity movement in Poland, a movement that spread and eventually helped to end communism in Eastern Europe, and he spoke out forcefully against apartheid in South Africa and genocide in Rwanda. He had a special rapport with young people, drawing many of them to the Church's work and teachings.

We celebrate these Saints and the leadership of His Holiness Pope Francis, and we look forward to continuing to work with Pope Francis and Catholics around the world to advance peace and justice for all people.
THE WHITE HOUSE
Office of the Press Secretary
FOR IMMEDIATE RELEASE
April 28, 2014

Statement by the President on Yom HaShoah

On this Yom HaShoah, I join people of all faiths in the United Sates, in the State of Israel, and around the world in remembering the six million Jews – innocent men, women and children – who were senselessly murdered during the Holocaust, as well as all the victims of Nazi brutality and violence.

Even as we mourn those whose lives were taken, this day also provides us with an opportunity to honor those who emerged from the darkness of the Shoah to rebuild their lives in new communities around the world. I am honored to have the opportunity to address survivors of the Holocaust, along with many of those who have worked so hard to preserve their testimony and share their stories, when I speak at the Shoah Foundation next week. On this Yom HaShoah, let us recommit ourselves to the task of remembrance, and to always oppose anti-Semitism wherever it takes root. Together, we must give enduring meaning to the words "Never Again."

###