BBG Watch Commentary
Why is no one at the Broadcasting Board of Governors (BBG) apparently concerned that the French to Africa service of the Voice of America (VOA) has become essentially the Voice of Agence France Presse (AFP)? In the past year, most original stories have disappeared from VOA French's web site, to be replaced almost exclusively by AFP stories or stories that claim to be "with AFP," but are in fact AFP stories with the first few lines rewritten. Sometimes attribution to AFP or even any mention of AFP is missing from reports on the Voice of America French website which are completely or almost word-for-word AFP stories. This amounts to plagiarism and deception as far as the audience is concerned.
VOA French started to detach itself from the rest of the Voice of America when it decided to rebrand itself "VOA Afrique", VOA Africa, in slavish imitation of the BBC's French service, "BBC Afrique." Having started to conceal its true identity from its audience – and abandoning a brand name that had been known in francophone Africa for generations – VOA French started to revamp its web site. Some of the changes have been positives, such as the addition of a daily 60 second TV news update embedded on the front page of the site. But they have been overshadowed by the apparent decision of the service to publish nothing but AFP stories on its web site. We also hear from insiders that most copy from the VOA English-language newsroom is ignored in the preparation of news broadcasts, in favor of copying, pasting and airing AFP news item. That way, no effort has to go into translating from the English language into French, but again, these single-source items are presenting the news version of the AFP.
And so today the French to Africa service of the Voice of America is essentially a Voice of AFP. And that raises concern. AFP stories have their own inevitable slant. AFP is administered by a CEA and a board comprising 15 members, including:
Eight representatives of French media.
Two representatives of the AFP personnel.
Two representatives of French government-owned radio and television.
Three representatives of the French government. One named by the French Prime Minister, the second by the French Minister of Finance, and the third by the French Minister of Foreign Affaires.
The primary client of AFP remains the French government, which purchases subscriptions for its various services – an indirect subsidy to the news agency, which translates to some unspoken influence.
Nothing in the AFP's statutes indicates any concern or regard for the VOA's Charter, which is U.S. law.
The VOA Charter provides that:
"VOA will serve as a consistently reliable and authoritative source of news. VOA news will be accurate, objective, and comprehensive.

VOA will represent America, not any single segment of American society, and will therefore present a balanced and comprehensive projection of significant American thought and institutions.

VOA will present the policies of the United States clearly and effectively, and will also present responsible discussions and opinion on these policies. (Public Law 94-350)"
Nothing, on today's web site of VOAAfrique, indicates the slightest respect for the VOA Charter, almost all the news being written by a foreign news agency, and coverage of the United States remaining very limited and very slated toward the insignificant and the bizarre.
The use of AFP reports focuses increasingly on sensational topics, frequently dealing with sex and sordid curiosities in America.
This is not directly related to the use of AFP material, but hateful comments against the United States, gays, and France, especially after the recent terrorist attacks in Paris, are common on the Voice of America French to Africa website and Facebook page while VOA managers continue to argue that none should be removed as long as they do not advocate acts of violence. VOA managers ignore the fact that some of these comments are generated by ISIS and other trolls. Other Western news organizations remove what they consider "hate speech" comments or block comments altogether; VOA, which is the most intensive target of anti-U.S. trolls and fails to attract a large number of legitimate comments to at least balance them, does not.
Why U.S. taxpayers should finance such an operation is beyond our understanding.
See Examples: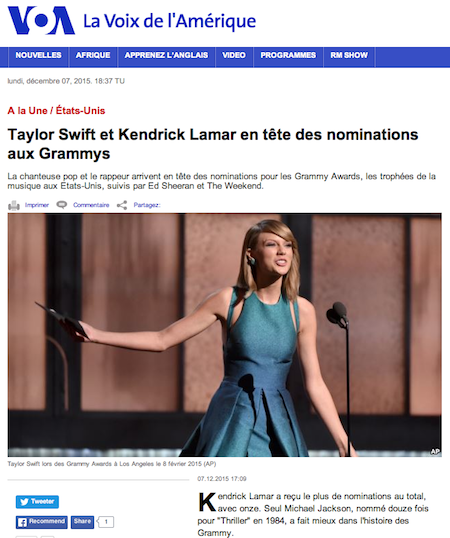 Voice of America manager argues for keeping 'hateful' Facebook comments on U.S., France, and gays, BBG Watch, November 17, 2015;
Voice of America with minimal Paris terror coverage had dismal social media engagement compared to BBC, DW, and RT, BBG Watch, November 16, 2015;
Voice of America French to Africa service removes sex story after BBG Watch post, October 22, 2015;
Florida couple having sex while facing arrest number one U.S. news story on Voice of America French site for five days, October 19, 2015;
Faire l'amour is top U.S. news today on Voice of America French, BBG Watch, October 19, 2015.