BBG Watch Commentary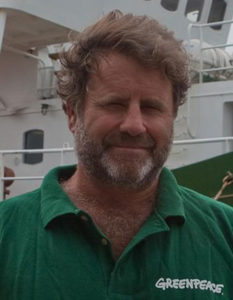 The Voice of America (VOA) English website posted yesterday (Dec. 27, 2013) two different but short and similar news reports on the return of five British Greenpeace activists to Great Britain after they had been released from a Russian jail and granted amnesty. The Russian authorities first charged them with piracy and later downgraded the charge to hooliganism for their peaceful protest against oil drilling in the Arctic. Somewhat earlier, VOA had posted not one but five reports on the royal christening in Great Britain.
But when it comes to Americans, that's another story. Since September, when Greenpeace activists were arrested, the Voice of America English News has paid hardly any attention specifically to two American citizens — Captain Peter Willcox and Dimitri Litvinov — among 30 former Greenpeace prisoners in Russia.
We are not saying that the Voice of America did not cover the Greenpeace-Russia story. It did, to some degree — not much in the first weeks after the arrest. The coverage picked up a little bit after a critical article by BBG Watch. But even then most of reports on this story on the VOA English website reports were from Reuters. They had little substantive information about the two Americans and much more on the British Greenpeace activists.
Yesterday, in addition to VOA's two reports on the return of the British Greenpeace activists to Great Britain, VOA posted several photos. One of them was of Peter Willcox, the captain of the Greenpeace ship Arctic Sunrise. The photo showed him getting ready to depart Russia. The rest of the photos showed mostly British nationals. But the one photo, which identified "Peter Willcox of the U.S.," should have gotten VOA editors to think that perhaps he was returning to the United States.
Wouldn't it be nice for VOA audiences abroad if VOA could report on his return, just as it reported on the return of the Britons? There was enough time to find out to which American city he was flying and to send a VOA reporter to the airport.
We have nothing against reporting on the British Greenpeace activists. (Having five reports on the VOA website on the British royal christening, which all got very few Facebook "Likes," is a different story. Why five reports, some with video, instead of just one while other important news does not get covered by VOA? Should not extensive coverage of the British royalty be left to the BBC rather than American taxpayer-funded VOA?)
The return of Greenpeace activists to Great Britain was news and should have been reported by VOA. It was good that VOA did. We have no problem with that at all. But VOA should not have posted those reports without mentioning what was happening to the two American Greenpeace activists. VOA executives should have also noted that BBC had numerous reports about the British nationals and interviewed members of their families many times.
The Voice of America English News did not do anything approaching this level of interest about the two Americans. By the way, Dimitri Litvinov, is the son of Pavel Litvinov, a famous Soviet-era political prisoner. His great-grandfather was Maxim Litvinov, the Soviet Commissar for Foreign Affairs who had helped to establish diplomatic relations between the Soviet Union and the United States before being sacked by Stalin. Dimitri Litvinov went to American schools and became an American citizenship after his family was forced into exile and settled in the United States. His father wrote an op-ed for The Washington Post about his son's imprisonment in Russia and was interviewed on NPR/PRI. VOA English News had nothing about the U.S. media campaign launched by his father and other supporters to gain freedom for Dimitri Litvinov.
Also see: THE ARCTIC 30 FROZEN OUT BY VOA, by Marie Ciliberti, BBG Watch, Nov. 7, 2013. (After criticism published on BBG Watch, the VOA Russian Service interviewed Dimitri Litvinov's father Pavel Litvinov in early November for one of its broadcasts, several weeks after Dimitri was detained in Russia. The interview was not posted on the VOA Russian website, at least not initially, and was never picked up the VOA English Newsroom or reported on the VOA English website or websites of other VOA services.)
Also see: My son, facing Russian prison for a peaceful protest, op-ed by Pavel Litvinov, The Washington Post, Oct. 25, 2013. It took criticism from BBG Watch and many days for the VOA Russian Service to take note of this op-ed by former Soviet political prisoners who has spent many years living in freedom in America. VOA English News did not pay any attention at all to this article.
Dimitri Litvinov has dual American-Swedish citizenship, but VOA English News identified him only as a Swede and quoted only one sentence from his yesterday's statement. Litvinov now lives in Sweden with his Swedish wife. VOA English News never published anything about his life in America, his American education, or how he became a Greenpeace activist in the United States. VOA English News also failed to discover his amazing family history, again very much linked to the United States.
We do not think that ignoring these the two American Greenpeace activists who had been jailed in Russia has been intentional on the part of the Voice of America. VOA no longer has a functioning Central Newsroom or any kind of news management system. Everything is hit and miss. Even major news are not reported or reported late. Top VOA executives have made it impossible for VOA correspondents to do their job and to observe the VOA Charter. The Charter, which is public law in the United States, clearly obligates VOA to pay attention to American news. VOA is 100 percent funded by American taxpayers. This is what the VOA Charter says the VOA must do:
1. VOA will serve as a consistently reliable and authoritative source of news. VOA news will be accurate, objective, and comprehensive.

2. VOA will represent America, not any single segment of American society, and will therefore present a balanced and comprehensive projection of significant American thought and institutions.

3. VOA will present the policies of the United States clearly and effectively, and will also present responsible discussions and opinion on these policies. (Public Law 94-350)
Willcox and Litvinov are not the only Americans about whom VOA has forgotten in its news reporting. In a much more politically serious news category, the Voice of America recently failed to report on major foreign policy statements by U.S. Vice President Joe Biden and U.S. Secretary of State John Kerry. But VOA English News also failed to report when Greenpeace supporters and staff gathered in Washington and San Francisco on Oct. 5, 2013, after 28 Greenpeace crew of the Arctic Sunrise and two independent journalists were charged with piracy and transferred to prison in Russia. The VOA Russian Service also did not report on the October protests in the United States. It also did not cover in any substantive way the return from Russia of Peter Willcox and Dimitri Litvinov. One of the reports on the VOA Russian website referred to Litvinov as a "Swedish citizen," without mentioning his American roots and citizenship or even his family background in the Soviet Union, where he was born.
VOA Director David Ensor and his deputy VOA Executive Editor Steve Redisch should ask themselves why international audiences should go to VOA, and not to BBC, to see the British royal christening or to learn about the return of formerly jailed Britons to the UK. When he was sharply questioned by Broadcasting Board of Governors (BBG) member Matt Armstrong about deficiencies in VOA news reporting, Director Ensor blamed any such problems on insufficient resources. But critics say that while limited resources have been a problem, the main reasons for these news reporting failures are VOA's top executives themselves and their lack of leadership and management skills, not to mention the fact VOA has one of the lowest employee morale among federal agencies, according to the Office of Personnel Management (OPM) Federal Employee Viewpoint Survey.
By the way, we may know the answer why you can now learn so much on VOA websites about Great Britain. Instead of originating its own news reports, VOA under its current leadership posts news stories from Reuters, a UK-based news agency. Reuters reports focused on Greenpeace activists in Russia from Great Britain, Australia, and Canada, but not on the two Americans. Only two of the Reuters reports on the VOA English website had brief quotes from Willcox. There were no profile pieces on Willcox and Litvinov on the VOA English website — while BBC had several such reports on individual Britons held in a Russian jail.
In our view, audiences abroad have no special reason to go to VOA websites to learn about all things British — they have BBC for that — one of the finest news organizations in the world. But foreign audiences might want to go to the Voice of America English website and other VOA vernacular language websites to learn more about foreign policy statements from Vice President Biden and Secretary Kerry on Ukraine, Russia and China, or to find out what American Greenpeace activists have to say about their ordeal in Russia.
After all, Peter Willcox, an American, was the captain of the Greenpeace ship and the leader of the Arctic 30 jailed in Russia. The Voice of America should have reported on his return to the United States and should have tried to interview him. The Greenpeace press release, posted below, has an email address and a phone number to call to arrange an interview with Captain Willcox. The Greenpeace phone number is: 206.802.8498. Whether one agrees or disagrees with what Greenpeace is doing, this is news, and the Voice of America should report on the American angle of this story.
###
Photo: Courtesy of Greenpeace
GREENPEACE PRESS RELEASE
Media release – December 28, 2013
Captain Peter Willcox arrived home today, over 100 days after Russian authorities seized him and his colleagues for taking part in a peaceful protest against Arctic oil drilling.
The Arctic 30 were seized by armed commandos in international waters on September 19 after attempting to attach a banner to an Arctic oil platform operated by Gazprom. The Duma (Russian parliament) granted the Arctic 30 amnesty earlier this month following a global campaign to free them. They were unable to leave Russia until the authorities gave them the correct exit visas on their passports.
Captain Willcox and his wife Maggy arrived back in the United States late last night.  Peter said:
"Our ship was illegally seized at sea, detained and taken to Murmansk, where we were put in prison and accused of a crime we didn't commit. Now more than 100 days later, we're relieved to have received the amnesty, but we have nothing to apologize for. This was an entirely peaceful protest, the right thing to do and as a result, millions more people are now aware of the risks of drilling in the Arctic.

"We'd like to thank our supporters all over the world who put the pressure on Russian authorities and who were ultimately responsible for getting us out of jail. But it's not over yet. We need to end our dependence on oil. We already have more oil than we can safely burn without destroying the climate. This campaign will not stop until the globe has switched to renewable energy."
Phil Radford, executive director of Greenpeace USA, said:
"We're thrilled to have Peter back home, but his freedom is only the start of something, not the end. Millions of people have joined this campaign to save the Arctic because of the courage they've seen in the Arctic 30, and to truly honor what they've done we need to be more committed than ever to stopping catastrophic oil drilling in the Arctic. A year ago, Shell lost control of its Arctic oil rig, the Kulluk, and watched helplessly as it grounded on the Alaskan coast.  If the Obama administration doesn't stop Shell's Arctic disaster before it starts this year, then they're joining Gazprom on the path to Arctic destruction."
Photos of Peter and Maggy arriving on US soil here: http://www.flickr.com/photos/greenpeaceusa09/sets/72157635667045316/
To arrange for an interview with Peter Willcox, please contact Travis Nichols tnichols@greenpeace.org, or call 206.802.8498