USAGM WATCH COMMENTARY
By Ted Lipien
The U.S. taxpayer-funded, U.S. government-managed Voice of America (VOA) in the $800 million U.S. Agency for Global Media (USAGM) still has a soft spot for the World Health Organization (WHO). On Monday, April 6th, VOA News, the Voice of America's main English-language news website, had a report, "Globe Commemorates World Health Day Amidst Pandemic," which reads like a WHO press release. There was nothing in the VOA report to suggest that WHO officials and China may have contributed in a major way to the global health catastrophe and tens of thousands of deaths by spreading false information about the nature and extent of the initial epidemic in China and by initially opposing the China travel ban imposed by President Trump and a few other countries in early February .
VOA News was quick to report on the WHO's criticism of Trump's China travel ban, but the Voice of America English-language programs have been remarkably quiet on the emerging criticism of the WHO and its links to China. In recent days, VOA News has been still reposting and promoting multiple propaganda videos and news reports with disinformation from China and Russia without adding any balance or countervailing facts.
As far as I'm concerned, there was no balance to the April 6th VOA report on the WHO as required by the VOA Charter. VOA even created a graphic for Facebook as a plug for the World Health Organization. Visitors to the VOA News Facebook page could have easily assumed by looking at the VOA graphic that Voice of America's lead news item was World Health Organization's observance of the World Health Day.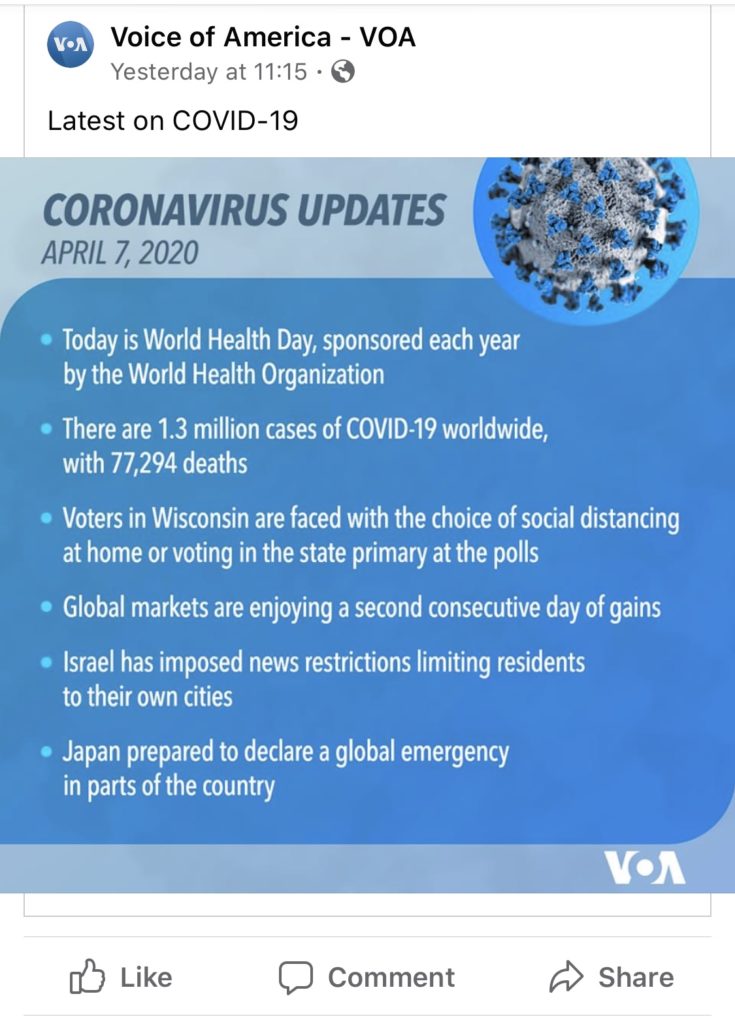 In the following days, VOA reported on some of the criticism of the World Health Organization, but only after President Trump attacked the WHO's record in response to the pandemic and the WHO's close links with the government in Beijing. The VOA graphic made the Voice of America look like one of communist state media outlets in China or Cuba which often use official press releases as news, especially those put out by their own regimes. They also use UN press releases from time to time when they happen to support their propaganda narrative.
What VOA did not do was to report early on the abundant record of WHO's failures, China's disinformation on COVID-19, and early international criticism of both the WHO and China. At the same time, VOA was not all shy in reporting about criticism of all aspects of the U.S. administration's response to the coronavirus and immediately challenging every inaccurate or questionable claim made by President Trump. VOA has been especially aggressive in reporting on criticism of Trump's criticism of China's communist regime.
Any news organization should closely examine and challenge all official statements, U.S. and foreign, including those from the Trump White House. VOA does not have a problem with criticizing Trump, but it does seem to have a problem with questioning China and the WHO. This still unexplained shyness on the part of VOA to expose Chinese government's failures and duplicity helps to increase the impact of Beijing's propaganda and disinformation designed to blame the United States for the coronavirus pandemic and to shift the blame from the communist leadership in Beijing. Even as late as today, some VOA News reports accept China's official COVID-19 data at face value without any questioning.
There is nothing wrong with noting the World Health Day. The dangerous work of nurses deserves all the support and praise. But I question that under the circumstances and the abundance of important life-and-death news, the WHO next-day event should be the first item in the VOA news lineup, even if it is only in a Facebook graphic. Such a presentation of news, especially in a graphic on Facebook, can have a greater impact than a TV or radio broadcast, considering how much Chinese and Russian disinformation is done these days for that reason on social media.
Journalists in some of the VOA foreign language services pointed out that they would never use the VOA's WHO World Health Day report as their lead news item. I know many of them as being excellent journalists and what they said is true, but someone working for VOA English News wrote and edited the WHO news item and someone created the VOA graphic without VOA's senior leaders seeing anything wrong in why and how it was done. This to me shows poor leadership and poor management within the organization.
The World Health Day was a perfect occasion for VOA journalists to take a critical view at the recent activities of the WHO. If it were up to me, I would even temporarily change the WHO's name to World Illness Organization. I don't mean it, of course, as a serious suggestion, but it was the WHO after all whose officials told us earlier that coronavirus was nothing to worry about and that the China travel ban was definitely wrong and counterproductive. VOA was then quick to report extensively on these WHO statements.
Perhaps WHO officials were misled by the Chinese government, but still some effort now on the part of news organizations such as VOA to point out Beijing's and the WHO's dismal record of handling the COVID-19 pandemic might do some good for the future of mankind's health and for quality of journalism.
All VOA editors had to do was to look at the "Video message from WHO Director-General Dr. Tedros on the occasion of World Health Day, 7th of April 2020," show some of it and quote from some of the comments left under the video. Authors of these comments almost uniformly condemn Dr. Tedros Adhanom Ghebreyesus and the WHO for their handling of the coronavirus pandemic and their close relationship with the communist government in China.
Here is a typical comment in which we preserved the original spelling. There are many more such comments under the video. Somehow the Voice of America missed all of this in its puff piece on the World Health Organization's World Health Day.
Due to you Dr. Tedros, the whole world is dieing because of hiding about the china virus. If you hadn't mislead us about the China virus information i.e ( by saying virus wouldn't spread through human transmission), we can control the death to minimal level by adopting quick ways, now the situation is beyond the control of any human being. Shame on you ( Tedros a successful member of spreading china virus). Puppet of ccp. Wuhan Heath Organisation (WHO).

SEE MORE
Disclosure: Ted Lipien is a former Voice of America acting associate director, former VOA foreign language service chief and after his retirement from VOA in 2006 co-founder of BBG – USAGM WATCH.
---
By VOA News
April 06, 2020 08:55 PM
Tuesday is World Health Day, which is being commemorated as the world faces one of the biggest international health threats of the past century.
The head of the World Health Organization, director-general Tedros Adhanom Ghebreyesus, told a virtual news conference Monday in Geneva that the organization is paying tribute to the contribution of health care workers who have been at the forefront of treating patients with the coronavirus.
He said Worth Health Day, which is celebrated each year on the World Health Organization's founding day, is usually one of the group's biggest days of the year, but this year the day is being overshadowed by the coronavirus pandemic.
The 2020 Worth Health Day was "supposed to be the main event in our assembly in May. Unfortunately, we are in this situation," Tedros said.
He said the organization would still release a planned report on Tuesday focusing on the state of nursing around the world, saying the document "highlights gaps and makes recommendations for all countries."
"One of the lessons I hope the world learns from COVID-19 is that we must invest in health workers – not only to protect lives, but also to protect livelihoods," Tedros said.
The WHO director said that while the focus of the report is on nurses, "we will celebrate all health workers – midwives, pharmacists, doctors, you name it," on World Health Day."
"The world is now seeing … the central role that health workers play," he said.
In previous years, groups around the world have held health and fitness events to commemorate World Heath Day. This year, much of the world's population is under recommendations or orders to stay inside to try to limit the spread of the coronavirus.
Written By VOA News
VOA News
February 3, 2020 09:13 PM
[PHOTO]
FILE PHOTO: Passengers wearing masks, amid the health threat of novel coronavirus, arrive on a direct flight from China at Chicago's O'Hare airport in Chicago, Illinois, U.S., January 24, 2020. REUTERS/Kamil Krzaczynski/File Photo
The Trump administration's unprecedented move to bar entry to foreigners coming from China won't stop the new coronavirus from entering the United States, experts say, and it may do more harm than good.
While the United States is following several countries in trying to wall itself off from the virus that has killed more than 400 people, scientists say travel bans are unlikely to work and impose serious logistical and economic problems.
"You quickly see that we are on a slope that we're not sure how to get off," said epidemiologist Jennifer Nuzzo with the Johns Hopkins Center for Health Security, "the benefits of which are very much uncertain. Whereas the known harms are potentially quite certain."
The presidential proclamation issued January 31 suspends entry for foreign nationals who have visited China in the 14 days before arriving in the United States.
"We made an aggressive decision in front of an unprecedented threat," said Nancy Messonnier, director of the National Center for Immunization and Respiratory Diseases at the U.S. Centers for Disease Control and Prevention, at a press briefing Monday.
Messonnier noted that the case count had shot up from 41 to 17,000 in a matter of weeks.
"That is 17,000 cases with a novel coronavirus that the population doesn't have immunity to," she added, and for which health officials don't have all the information they want. [PHOTO]
Passengers on the tram wear face masks in hopes to prevent contracting the spreading coronavirus in Hong Kong, Monday, Feb, 3,…
The virus is spreading rapidly across China, she added. Cases outside China are increasing, including person-to-person spread to patients who have not traveled to Wuhan, where the outbreak was first reported.
"Strong measures now may blunt the impact of this virus on the United States," Messonnier said.
'No reason' for ban
But the World Health Organization disapproves.
"There is no reason for measures that unnecessarily interfere with international travel and trade," WHO Director-General Tedros Adhanom Ghebreyesus told the organization's executive board on January 30, the day before the Trump administration announced the travel ban.
China criticized the United States for having "unceasingly manufactured and spread panic," and for "imposing excessive restrictions contrary to WHO recommendations," said Foreign Ministry spokeswoman Hua Chunying.
It's not an easy balance for health officials to strike, said University of North Carolina-Chapel Hill epidemiology professor Lisa Gralinski.
"Are we having a reasoned response that's justified by the data? Are we also protecting our population from, in this case, a virus that we still know fairly little about?" she said.
However, she added, "we don't have a lot of great data saying that these measures are very effective."
Restrictions that some countries imposed during the severe acute respiratory syndrome outbreak in 2003 and the H1N1 influenza pandemic in 2009 did little to slow the spread of those diseases.
And China's severe restrictions on travel within and out of Wuhan and several other cities have not stopped the new coronavirus outbreak from spreading across the country.
Already here
Stopping a contagious respiratory virus at the border is just very hard to do, experts say. [PHOTO]
LOS ANGELES, CA – FEBRUARY 02: Travelers arrive to LAX Tom Bradley International Terminal wearing medical masks for protection…
Travelers arrive at LAX Tom Bradley International Terminal wearing medical masks for protection against the novel coronavirus outbreak, Feb. 2, 2020, in Los Angeles.
"It is true that the fewer people who potentially carry the virus who come into an area, the less likelihood of further spread," said Emory University public health and law professor Polly Price, "but, of course, we already know it's in the United States."
Health officials have identified 11 cases so far, and the CDC expects more.
And barring foreigners from entering the United States won't stop the virus because U.S. citizens are no less likely to carry it, she noted.
Though China has the most cases by far, it is just one of 24 countries that have reported infections, and scientists say the virus had likely been spreading for weeks before the Wuhan outbreak was reported.
"There's still the very real possibility that there are many more cases out there, and we don't have a great sense of where they are in the world," Nuzzo at Johns Hopkins said.
"It makes it difficult to prevent the introduction of cases if you don't have a great sense of where all the cases are," she added.
As the number of infected countries increases, she added, "will we then prevent travelers from those other countries that are reporting cases?"
Afghan health workers wearing protective gear speak with passengers who arrived from China during a screening process for…
Afghan health workers wearing protective gear speak with passengers who arrived from China during a screening process for coronavirus, at the Hamid Karzai International Airport in Kabul, Afghanistan, Feb. 3, 2020.
Negative consequences
The travel ban can ultimately hurt the effort to fight the disease, experts say.
If reporting infections means a country's citizens will be locked out of the United States, that country may decide not to report infections, making it much harder to contain the outbreak.