BBG Watch Commentary
U.S. taxpayer-funded ($220 million FY 2017) Voice of America, run by its dysfunctional federal parent agency ($740 million, including VOA), the Broadcasting Board of Governors (BBG), has been clowning around at taxpayers' expense for many years, becoming more and more irrelevant in the information war with Russia, China, Iran, North Korea and other countries. A simple check on Alexa, an Amazon company, that measures popularity of websites, shows that VOA is not only beaten hands down in web audience traffic by Britain's BBC, but also many times over by Russia's RT.
Perhaps in response to such dismal web performance and continued clobbering by Russia in the information war, the Voice of America, under its director Amanda Bennett (her boss is BBG CEO John Lansing), sent an email today to subscribers of VOA English-language news service, in which — perhaps in the hope of improving its digital rankings — VOA talks at length about clowns in American culture and uses as an example one of America's most infamous serial killers. The VOA Newsletter email was titled: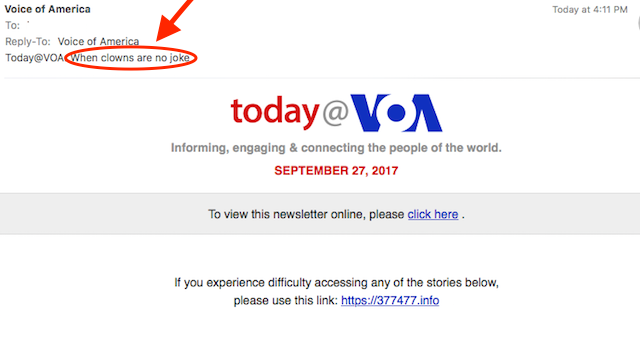 We are not joking.
The email, written by U.S. federal government employees (or their contractors) and sent out at U.S. taxpayers' expense, had a link to the Voice of America VOA Learning English report tiled:

Again, we are not joking. (Some of VOA's executives, managers, editors and even reporters who are responsible for such material collect six-figure salaries from the federal government.) You can click on the link to check what they have produced using taxpayers' money.
Unless VOA made later some changes in the text, this is what U.S. and international audiences would learn from the VOA report:
Voice of America

No laughing matter

The idea of clowns frightening people started gaining strength in the United States during the 1970s, partly because of John Wayne Gacy.

Gacy was a registered clown in the Chicago, Illinois area. He performed for children as a clown character called "Pogo the Clown." But between 1972 and 1978, Gacy killed more than 35 young men. He was eventually arrested for the killings. While in prison, he painted many pictures of clowns, including himself as Pogo. Some newspapers began calling Gacy the "Killer Clown."

READ MORE ON THE VOA SITE

Small wonder that the Voice of America has lost most of its former popularity and respect with its audiences abroad. The irony is that many of VOA Learning English reports are in fact better written and much more balanced than many regular VOA English News reports, but this one is not one of them.
Alexa is an Amazon company that measures and provides website traffic statistics. This is how the main VOA website, voanews.com, compares in popularity with BBC's and Russia's RT's main news websites.
1=Best.
VOAnews.com Alexa GLOBAL rank with 1=Best is: 3,414
BBC.com Alexa GLOBAL rank with 1=Best is: 109
RT.com Alexa GLOBAL rank with 1=Best is: 366
BBC site is doing about 30 times better than the VOAnews.com site. RT site is doing about 9 times better than the VOA site. (Some of RT site traffic may be artificially produced, but VOA is also known for placing boosting ads (at U.S. taxpayers' expense) to shown increased but generally brief and meaningless clicks for its site.)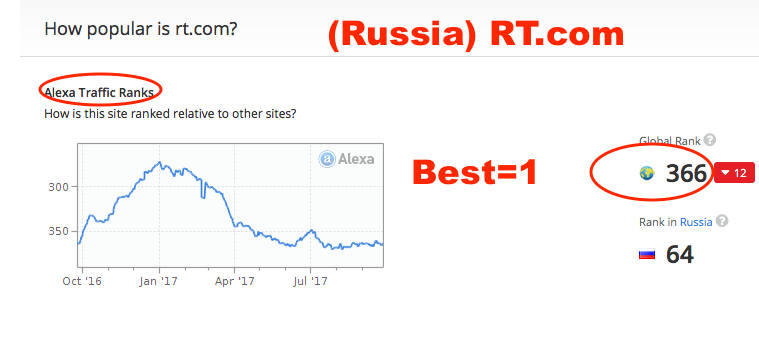 Many of Voice of America foreign language websites and BBG's other news entities producing online content in foreign languages are not doing any better. Here are some comparisons on Alexa between VOA Russian website Golos-Ameriki.ru), Radio Free Europe/Radio Liberty (RFE/RL) Radio Liberty Russian website (Svoboda.org), RFE/RL-VOA Current Time TV Russian website (Currenttime.tv), independent Russian Meduza website based in Latvia (Meduza.io), and still somewhat independent Russian TV Rain website (Tvrain.ru). [VOA's Golos-Ameriki.ru rank in Russia is not show by Alexa, but its global ranking indicates that it is lower in Russia than RFE/RL Svoboda.org ranking and much lower than Meduza.io and Tvrain.ru rankings.]
1=Best.
Golos-Ameriki.ru (VOA Russian) GLOBAL rank with 1=Best is: 23,423 [RUSSIA rank not shown for Golos-Amariki.ru] Soboda.org (RFE/RL Russian) RUSSIA rank with 1=Best is: 697
Current time.tv (RFE/RL-VOA Russian) RUSSIA rank with 1=Best is: 3,839
Meduza.io (Independent – Russian) RUSSIA rank with 1=Best is: 153
Tvrain.ru (Independent – Russian) RUSSIA rank with 1=Best is: 357
BBG RUSSIAN
INDEPENDENT RUSSIAN
This does not look good for the Broadcasting Board of Governors, the Voice of America, Radio Free Europe / Radio Liberty, BBG CEO John Lansing, VOA Director Amanda Bennett, and RFE/RL President and CEO Thomas Kent. It does not look good for U.S. taxpayers whose dollars were spent to teach English to foreign audiences using the example of clowns and mass killer John Wayne Gacy.
This many be the time for these BBG, VOA, and RFE/RL executives to step down. While trying to compete with BBC in most areas would be an impossible task and trying to compete with RT would be difficult, the U.S. international media outreach agency at least should use tax money wisely to support freedom and democracy.