BBG – USAGM Watch Commentary
FOR BACKGROUND SEE:
Voice of America Ukraine Expert Called Joe Biden A 'Good Man' After Traveling with Him to Kyiv and Covering His 2014 Visit — Firewall Breached Part II
There was a highly unusual trip in 2014 that Voice of America (VOA) Ukrainian Service journalist Myroslava Gongadze took to Ukraine with Vice President Biden shortly before Andy Lack who is now at NBC came to the Broadcasting Board of Governors (BBG) federal agency for his brief interlude as an Obama administration government official in charge of U.S. government-funded media outreach abroad. BBG changed its name in 2018 and is now called the U.S. Agency for Global Media (USAGM). For six weeks in 2015 Andy Lack was the CEO in charge of the federal agency. After her trip with Vice President Biden to Ukraine in November 2014, Gongadze also traveled to Ukraine several weeks later with Andy Lack. If nothing else, she may have told Lack what she and Biden had talked about when they were alone during her 2014 trip.
It is not known whether anyone at the agency or at the Obama-Biden White House had made any arrangements for Gongadze's trip to Ukraine with the Vice President, but it was definitely an unprecedented use of a Voice of America reporter in a double role as a journalist and a participant in an official visit. Senior agency and VOA executives are largely to blame for either instigating this unusual arrangement or failing to provide VOA reporters with proper leadership and guidance to avoid such journalistically dubious roles.
After its early years, in an effort to preserve an appearance of journalistic independence, VOA management usually did not permit its journalists to be both reporters and travel companions for top U.S. officials. Other VOA journalists who had traveled before on Air Force One and Air Force Two as reporters did not directly participate in news events with the President or the Vice President, which they would then cover for VOA. This happened in Ukraine during Biden's trip shortly before Lack came to the agency. At the time, the VOA director was former NPR, ABC, and CNN journalist David Ensor. He was replaced in 2016 by Amanda Bennett.
One question journalists could ask USAGM and VOA officials is whether this unusual VOA reporting arrangement during Biden's 2014 visit to Ukraine was in compliance with the agency's and VOA's much touted editorial independence and "Firewall" designed to protect VOA journalists from political interference from the U.S. government in its programs.
In announcing the change of the agency's name from BBG to USAGM in August 2018, agency officials wrote that "Insulated by a firewall from political influence, its networks serve as a credible free press in countries that lack one, while presenting a rigorously honest picture of the U.S. around the world."
Was there more to Biden's 2014 trip than showing U.S. support for Ukraine's independence? Was he also trying to win over Ukrainian-American and other ethnic voters for a possible future presidential run? Did he discuss with Ukrainian officials or with the VOA reporter his son's controversial business dealings in Ukraine? Was he the one who suggested that Gongadze accompany him to a public wreath-laying ceremony in Kyiv or was the idea first advanced to the Obama White House by agency and VOA officials?
Gongadze is a well-known and respected figure in Ukraine. Shortly after her travel to Ukraine with Vice President Biden, at a celebration at VOA headquarters in Washington honoring the launch, on December 12, 1949, of VOA's first broadcast in Ukrainian, Ukraine's Ambassador to the United States Oleksandr Motsyk announced that Ukrainian President Petro Poroshenko had awarded Myroslava Gongadze with the Order of Princess Olga, a Ukrainian civil decoration bestowed on women of outstanding personal merit. According to a BBG press release, the award, the ambassador said, was for Gongadze's "personal contribution to the development of journalism, active civic efforts, and high professional skills." The December 15, 2014 BBG press release described Gongadze as "anchor of the Ukrainian Service's flagship TV program Chas-Time, a news and current affairs program that is broadcast daily throughout Ukraine in primetime."
Before emigrating to the United States, Gongadze was a practicing lawyer trained in Ukraine. She knows many Ukrainian law enforcement officials, not only through her work as a journalist but also through her private efforts to seek justice in the abduction and brutal murder in Ukraine of her journalist husband nineteen years ago when both of them were living in Ukraine. She would have been a valuable information source for the Vice President on a wide area of topics related to Ukraine and its law enforcement, anti-corruption activities and its judicial system.
Since, according to Gongadze, she and Biden talked about their families, it would be interesting to find out whether the Vice President had asked her any questions about any ongoing Ukrainian government investigations of corruption or foreign business activities in Ukraine in connection with his son Hunter Biden. If he did not raise the issue with her, Gongadze could help to clear him of some of the accusations reported by U.S. media. If he did raise the issue and asked Gongadze some questions, she could explain what was said between them and whether anything he said could be deemed as inappropriate. In one of her social media posts, Gongadze called Biden a "good man" and a "wise man." Presumably she does not think that he had done anything wrong in Ukraine, but only she could provide any additional details.
We could not find any BBG press releases on Gongadze's trip with Biden to Ukraine, but a BBG announcement dated February 18, 2015 said that, Andrew Lack went on a trip to Kiev accompanied by "VOA's Myroslava Gongadze and RFE/RL [Radio Free Europe/Radio Liberty] Ukrainian Service Director Maryana Drach. According to the BBG announcement, "they met with government officials, parliamentarians, as well as local journalists and media managers to better understand the media environment in Ukraine and the role of U.S. international media in that environment."
The BBG announcement also quoted Oksana Romaniuk, executive director of the Institute of Mass Information in Kiev, telling Lack that "RFE/RL and VOA set journalistic trends in Ukraine" and that "Their strict, high standards are an example for other journalists."
A few weeks earlier,The New York Times reported that in November 2014 Gongadze had accompanied Vice President Joe Biden on his official visit to Ukraine. The New York Times wrote that "Ms. Gongadze now works as a correspondent for the Voice of America and is traveling on Air Force Two with Mr. Biden."
Immediately after the visit to Kyiv, Gongadze editorialized in one of her own social media posts about her trip with the Vice President that Biden is "a good man," noting that at one point he had to dodge an angry mob near a memorial site in Ukraine's capital. It was apparent from her post that she and Vice President Biden had a private conversation. She revealed that they discussed the loss of their spouses, but she did not mention whether they discussed anything else, such as any official investigations of corruption in her native country.
On its official InsideVOA.com site, the U.S. taxpayer-funded and U.S. government-managed although journalistically independent Voice of America says that "VOA's seasoned journalists and staff are available for media interviews or to provide their expertise on various issues and current topics trending in the United States and globally."
INSIDEVOA.COM: "VOA journalists are multi-lingual news gatherers. They have a deep understanding of the political and cultural environments in Africa, Eastern Europe, Latin America, Asia and the Middle East.
Our journalists have a unique ability to provide the world with objective, accurate and comprehensive news and information."
The official VOA Fact Sheet also says:
INSIDEVOA.COM: VOA experts do not serve as official agency spokespersons when participating in interviews and/or programs. Their remarks reflect their own professional or personal experience and expertise, without any speculation or personal opinion.
Identified on the official Voice of America public relations website as the VOA Ukrainian Service Chief, Myroslava Gongadze, seen here in a social media post in front of the White House holding the Ukrainian flag. She is listed on the Voice of America website as one of the VOA Experts. The second photo shows her with Vice President Biden in Kyiv during his visit to Ukraine in November 2014.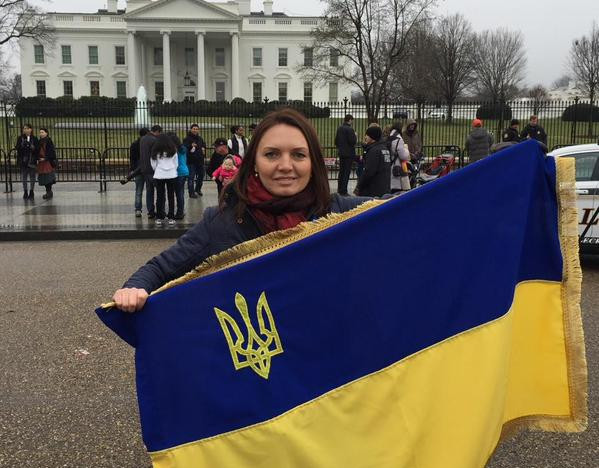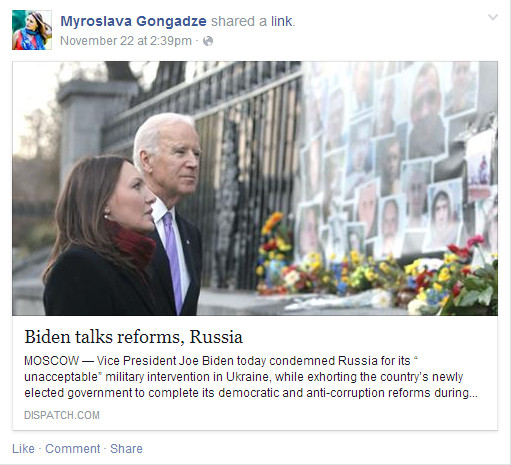 In Part III:
During the 2016 U.S. presidential election campaign the VOA Ukrainian Service translated, produced and posted on the official VOA Ukrainian social media page a video by Hollywood actor Robert De Niro calling the then Republican Party presidential candidate Donald Trump "punk," "dog," "pig," "con," "buls**t artist," "mutt," "idiot," "fool," "bozo," and "blatantly stupid."
Similar highly-partisan anti-Trump comments and memes were also being posted by several VOA English Newsroom reporters on their personal but publicly accessible Facebook pages which also heavily feature their VOA reports.
Ironically, VOA English Newsroom reporters and the VOA Ukrainian Service do not use such obscene hate speech against anybody else, including Russian President Vladimir Putin who is responsible for the illegal annexation of Crimea and for launching of war in eastern Ukraine against a sovereign state. For the first time in its history, a VOA produced report used hate speech and condoned violence against an American politician. Never before has VOA used such language against any political figure, to our knowledge, not even against Stalin. At about the time VOA reporters were condemning Trump with the most abusive language, VOA posted a highly sympathetic profile of the one of the Iranian Mullahs. In pointing this out, we are not defending anything President Trump does or says. VOA should be reporting objectively and with proper balance on any criticism of Trump and his administration.
All the most recent abuses happened under the watch of former BBG CEO John Lansing, who is now at NPR, VOA director Amanda Bennett and her deputy Sandy Sugawara. Prior to the arrival at the agency of these Obama administration officials in 2015 and 2016, such blatantly partisan, biased and abusive public postings by VOA reporters simply did not happen although from time to time some would engage in subtle partisanship, especially against Ronald Reagan in the 1980s. However, nothing compares to the explosion of partisan bias in VOA programs starting with the 2016 U.S. presidential election campaign. The recent and current agency and Voice of America executives must therefore shoulder the blame for these unprecedented violations of the VOA Charter rather than putting the blame on individual VOA journalists who obviously did not think that what they were doing would get them in serious trouble with their superiors who had failed to provide adequate leadership, guidance and oversight.
MORE in: Violations of the VOA Charter — Firewall Breached Part III — Coming Soon