BBG Watch Commentary
In yet another embarrassing news reporting failure, U.S. taxpayer-funded Voice of America (VOA) has not yet reported as of 7:15 PM EDT Sunday on President Obama's phone call this afternoon Washington time with President Putin after the referendum in Crimea, while Voice of Russia has posted already four separate reports on the conversation between the two leaders. BBC also reported on the phone call almost immediately after the White House issued a statement at about 6:20PM EDT. An official tweet from the White House that a phone call was taking place appeared at 4:47PM EDT.
Despite the crisis in Ukraine lasting many weeks, Voice of America executives have not been able to arrange for prompt and comprehensive news reporting, especially after business hours and on weekends.
UPDATE: Sometime between 7:15PM and 7:30PM EDT, Voice of America English news website finally had a brief reference on its homepage to the Obama-Putin phone call, but no specific headline about the call, and only two sentences on the conversation in one of its reports. (Al Jazeera had six sentences.) VOA's homepage headline, "Obama: US, EU Prepared to Penalize Russia for Crimea Ballot," linked to an old report with only a few words (65) about what Obama had said to Putin in today's phone call.
VOA Russian Service had a slightly longer report on today's phone call but used an old White House photo of Obama from a previous Obama-Putin phone conversation about Ukraine.
VOA Ukrainian Service, which incredibly has not been given sufficient resources by the senior Voice of America and International Broadcasting Bureau (IBB) management, was posting on its Facebook page non-VOA reports about today's Obama-Putin phone call. VOA Ukrainian Service was not able to post any full-length VOA report on the conversation because VOA newsroom and VOA White House correspondent, if there was one, did not provide it.
As of 9:00PM EDT Sunday, Voice of America English website had only 65 words on the Obama-Putin phone call. Al Jazeera had 190 words on the phone call.
By about 6:30PM EDT, Voice of Russia's four separate reports in English on the phone call had over 600 words. VOA Russian Service report on the phone call had 257 words.
As of 9:20PM EDT, VOA Ukrainian Service posted its own summary of the phone call of 150 words. RT (Russia Today) English website devoted 171 words to the phone call.
Had VOA English newsroom and website editors been following the National Security Council Twitter feed, they would have known about three hours before the White House issued its official readout that President President Obama was talking on the phone with President Putin and could have reported that it was taking place. VOA did not.
It appears likely that VOA executive editor did not assign anyone to watch the White House and report from the White House after hours on Sunday.
BBG Watch is wondering whether VOA executive editor arranged for the VOA White House correspondent to be at the White House on Sunday afternoon at all.
We could not confirm whether this was done or not, but what we do know is that VOA was well behind Voice of Russia and BBC in reporting on the phone conversation and even when it finally did, it offered only two sentences.
The President spoke with President Putin this afternoon about #Ukraine. Readout forthcoming.

— @NSCPress (@NSCPress) March 16, 2014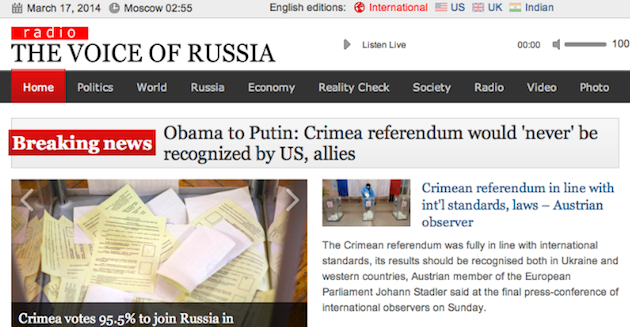 Voice of Russia had a report on the Obama-Putin phone call already by 6:30 PM EDT, Sunday.
Meanwhile, Russia's international broadcaster, Voice of Russia, has posted four separate reports on the Obama-Putin phone call. One of them was posted at about 6:30 PM EDT, perhaps even earlier.
BBC had also already reported on the phone call, well before VOA, and gave the phone call 89 words to VOA's two sentences of 65 words that appeared much later.
BBC: "Mr Putin and US President Barack Obama spoke over the phone earlier, with the Kremlin and the White House later releasing contrasting accounts of the conversation.

The Kremlin said both men agreed to seek a way to stabilise Ukraine, and that Mr Putin had stressed that the Kiev government had failed to curb "rampant violence by ultra-nationalists".

The White House said Mr Obama had insisted that the referendum was illegal and would never be accepted, and called for Moscow to support an international monitoring mission in eastern Ukraine."
As of 7:14 PM EDT, BBC report, "Crimea referendum: Voters 'back Russia union'" shows that it was last updated at 6:41 PM EDT.
The White House released a statement on the phone call at about 6:20 PM EDT, but the news that the phone call was taking place came out about two hours earlier from an official White House source (the National Security Council press office).
Obama asks Putin to accept international monitors in border areas – White House
Sun, Mar 16, 2014
Source: Voice of Russia (Russia)
Obama to Putin: Crimea referendum would 'never' be recognized by US, allies
Sun, Mar 16, 2014
Source: Voice of Russia (Russia)
Obama to Putin: US ready to impose 'additional costs' on Russia over Crimea
Sun, Mar 16, 2014
Source: Voice of Russia (Russia)
Sun, Mar 16, 2014
Source: Voice of Russia (Russia)
THE WHITE HOUSE
Office of the Press Secretary
FOR IMMEDIATE RELEASE
March 16, 2014

Readout of the President's Call with President Putin

President Obama spoke this afternoon with President Putin of Russia. President Obama emphasized that the Crimean "referendum," which violates the Ukrainian constitution and occurred under duress of Russian military intervention, would never be recognized by the United States and the international community. He emphasized that Russia's actions were in violation of Ukraine's sovereignty and territorial integrity and that, in coordination with our European partners, we are prepared to impose additional costs on Russia for its actions. President Obama underscored that there remains a clear path for resolving this crisis diplomatically, in a way that addresses the interests of both Russia and the people of Ukraine. He noted that the Ukrainian government continues to take concrete steps that would allow for the de-escalation of the crisis, particularly as it prepares for elections this Spring and undertakes constitutional reform, and he asked that Russia support the immediate deployment of international monitors to help prevent acts of violence by any groups. President Obama reiterated that a diplomatic resolution cannot be achieved while Russian military forces continue their incursions into Ukrainian territory and that the large-scale Russian military exercises on Ukraine's borders only exacerbate the tension. President Obama said that Secretary Kerry continues to be prepared to work together with Foreign Minister Lavrov and the Ukrainian government to find a diplomatic resolution to the crisis.
###