BBG Watch Commentary
U.S. taxpayer-funded Voice of America (VOA) produced and posted online a video of Angela Davis at the Women's March in Washington, DC in January 2017 without including any balancing material in the video or identifying her as a communist, an ardent supporter of communist regimes in the Soviet Block and a recipient of the 1979 Lenin Peace Prize from Soviet Russia.
VOA reports to the Broadcasting Board of Governors (BBG), the federal agency in charge of U.S. media outreach abroad whose FY 2018 budget request calls for spending $680 million of U.S. taxpayers' money. The VOA Charter, which is U.S. law, stipulates that "VOA news will be accurate, objective, and comprehensive." VOA reporters who are U.S. federal government employees or contractors are required that their reporting on all platforms must be balanced and present multiple sides to events and issues. The VOA Charter, which is now often ignored, says that VOA reporters will represent America, not any single segment of American society, and will therefore present a balanced and comprehensive projection of significant American thought and institutions.


Watch the same Voice of America video as posted on the VOA website.



In a 2017 Labor Day report about the iconic American labor and civil rights activist Dolores Huerta, who throughout her life has advocated for social change through non-violence, the Voice of America gave a plug for Angela Davis without identifying her as a Communist. Davis is an American Marxist, a former leader of the Communist Party USA, who was prosecuted for purchasing firearms used in the 1970 armed take-over of a Marin County, California courtroom, in which four persons were killed, but was ultimately acquitted by an all-white jury.
In quoting Angela Davis in a report on a new documentary Dolores by filmmaker Peter Bratt about American union leader and activist Dolores Huerta who was never a communist party member and has always promoted non-violent social and political change, the Voice of America did not include any of the pertinent information about Davis' Marxist and communist background or her longtime strong support for repressive communist regimes in the Soviet Union, Czechoslovakia, Cuba and elsewhere. Considering VOA's history of broadcasting to former communist countries and the fact that some of its audiences are still forced to live under communism or under other repressive regimes, such as the one in Iran, this was again a major material omission.

The VOA report about the U.S. labor movement also failed to note that Angela Davis was not a supporter of independent, anti-communist trade unions in the Soviet Block, such as Poland's Solidarity. The American Federation of Labor and Congress of Industrial Organizations (AFL–CIO) was, on the other hand, a strong supporter of independent trade unions abroad. In 1975, the AFL-CIO invited exiled Russian Nobel Prize writer Alexandr Solzhenitsyn to address their meeting in New York. In his speech, Solzhenitsyn mentioned Angela Davis.
ALEXANDR SOLZHENITSYN, "Communism: A Legacy of Terror," AFL-CIO Event, New York City July 9, 1975: "There's a certain woman here named Angela Davis. I don't know if you are familiar with her in this country, but in our country, literally for one whole year, we heard of nothing at all except about Angela Davis. There was only Angela Davis in the whole world and she was suffering. We had our ears stuffed with Angela Davis. Little children in school were told to sign petitions in defense of Angela Davis. Little boys and girls, … 9 years old in schools, were asked to do this. Well., they set her free. Although she didn't have a rough time in this country, she came to recuperate in Soviet resorts. Some Soviet dissidents — but more important, a group of Czech dissidents — addressed an appeal to her: 'Comrade Davis, you were in prison. You know how unpleasant it is to sit in prison, especially when you consider yourself innocent. You now have such authority. Could you help our Czech prisoners? Could you stand up for those persons in Czechoslovakia who are being persecuted by the state?" Angela Davis answered: 'They deserve what they get. Let them remain in prison.' That is the face of communism. That's the face of communism for you."
The U.S. taxpayer-funded Voice of America, which failed to alert its U.S. and international audiences to Angela Davis' Marxist and communist ideology, has been in a state of managerial chaos under its current Obama administration era leadership and that of its parent agency, the Broadcasting Board of Governors. Many of its top managers, editors and reporters are unfamiliar with 20th century history and therefore unable to counter Russian propaganda which uses extensively former KGB disinformation techniques.
Some visitors to the VOA website were astounded by a report posted on August 17, 2017 which suggested that the Marxist, communist and anarchist Antifa could be "arguably a group of human rights activists so dedicated they will risk life and limb to protect democracy", even though the report acknowledged to a limited degree Antifa's use of violence.
One person, who signed as Dan, commented under the report on August 20, 2017:

"Antifa concerned with protecting Democracy. LOL.

Antifa are as authoritarian and thuggish as their opponents, don't confuse Anti Fascism with them."


VOA reporters and editors have also posted online at least five similarly one-sided videos showing the burning of American and Israeli flags following President Trump's decision to move the U.S. embassy in Israel to Jerusalem.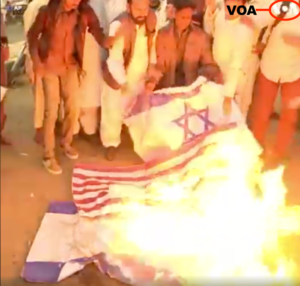 Some of the most biased VOA reporters have publicly called Donald Trump "F*ckface Von Clownstick" and posted obscene anti-Trump memes on Facebook, including one showing Trump as a male sex organ.
The agency led by BBG CEO John Lansing and VOA led by director Amanda Bennett did not make an effective effort to find these public posts which have remained online for many months. A video reposted on December 1, 2016 by a Voice of America reporter on a personal but publicly accessible Facebook page and still visible as of November 21, 2017, included such descriptions of President Trump as "f*uck cheeto with hair" and "three cheers for f*cking Trumpy and his neo-Nazi crew."
Bennett said in November 2017 that "Voice of America has zero tolerance for public or personal racist, sexist, or politically biased social media communications."
Lansing told NPR that BBG employees "have the greatest respect for whoever is the President."
Critics charge that VOA has lost much of its credibility in China as a result of decisions by the VOA director and senior managers. Lansing, Bennett and their top deputies have not been yet replaced by the Trump administration despite recent reports of biased VOA and Radio Farda coverage of the Iranian protests and other programming and management scandals at the Voice of America and Radio Free Europe/Radio Liberty (RFE/RL).