BBG Watch Commentary
Why would U.S. taxpayer-funded Voice of America (VOA) wait more than a day to report on its English language worldwide news website on the arrest in the Democratic Republic of Congo of a U.S. diplomat along with pro-democracy leaders, human rights activists and journalists participating in a press conference?
VOA journalists blame staff shortages and senior executives and managers for this and other news reporting failures. One VOA foreign language service reporter observed recently in a BBG Watch guest commentary that "idle bureaucrats" who are "hungry for power but short on knowledge and capability," have "exhausted the resources, strangled the life out of journalism, and irreversibly damaged the morale of the rank-and-file reporters, broadcasters, web content producers, and program-support employees."
Another VOA employee pointed out that Central Voice of America English Newsroom and the VOA English web operations "are completely and utterly adrift and without leadership." These employees do not want their names to be published.
VOA journalists also say that when such management and news failures are reported "many hardworking and very good journalists" who are victims of mismanagement, "feel they are being unfairly maligned" by association.
It took two BBG Watch reports ("Voice of America fails to report on U.S. diplomat and democracy leaders arrested in Congo" and "RFI, DW report on U.S. diplomat, journalists arrested in Congo, but not Voice of America English News") and reports from BBC, Deutsche Welle, Radio France Internationale and dozens of other U.S. and international media before the story appeared hours later on the main VOA English news website.
When the Voice of America finally posted Monday evening at 6:48 PM ET (the arrest happened early Sunday Washington, DC time) a short news report, which included one sentence on the reaction to the arrest from the State Department, it was not a VOA news report filed by a VOA State Department correspondent or written by VOA news writers in the VOA Central English Newsroom Washington. It was a re-posted news item from the UK-based news agency Reuters. The label, "yesterday's news tomorrow," fits well, since the incident happened on Sunday and the first news report appeared on the VOA English news website when it was already early Tuesday in Africa. VOA is neither "Digital First" nor "News First."
Other than lack of effective leadership, poor coordination and any restriction due to staff shortages, there were no objective reasons why VOA could not report on the story earlier and offered an in-depth U.S. perspective, both official and unofficial. The VOA Charter requires that "VOA will present the policies of the United States clearly and effectively, and will also present responsible discussions and opinion on these policies."
Voice of America headquarters in Washington are located a few miles from the State Department; State Department briefings are streamed live online. Washington is full of think tanks with experts on African politics, human rights, and media freedom issues. The statement published online by the U.S. Embassy in Kinshasa was also available on Facebook many hours before VOA posted a Reuters report.
It is true that State Department spokesperson Jen Psaki did not add much to the earlier U.S. Embassy statement, but the Reuters report when it finally appeared on the VOA website had only one sentence from U.S. diplomats in Kinshasa. The story called for more, not less reaction from Washington. VOA could have phoned the U.S. Embassy in Kinshasa, the State Department in Washington, USAID, whose representative was arrested, and independent U.S. experts and human rights activists to get more information and more reaction. VOA should have done its own original news report in English and in other languages.
Instead, VOA relied on Reuters and was hours late even with that. VOA then posted another Reuters report on Tuesday, March 17, at 9:30 AM ET, which was even shorter than the previous one. The new Reuters report on the VOA website did not include any mention of the State Department spokesperson Jen Psaki's comments on Monday or any news about new arrests of pro-democracy activists in the Democratic Republic of Congo on Tuesday. It had three instead of one sentence from the U.S. Embassy statement issued on Monday, but the statement was already old news and did not include a reaction to the release of the U.S. diplomat and the continued detention of pro-democracy activists.
The Reuters report posted by VOA also did not offer much of a political background to the story. Deutsche Welle report on the same story posted Monday had 825 words. Reuters report posted by VOA on Tuesday had only 300 words.
BBC report, posted early Monday afternoon, had comments from the State Department spokesperson. On Tuesday, BBC updated its report (2:29 PM ET) with news of new arrests of pro-democracy activists in the Democratic Republic of Congo who were protesting against the arrests on Sunday. BBC even provided a link to the statement from the U.S. Embassy in Kinshasa. VOA English news website had nothing Tuesday (as of 8:20 PM ET) on the new arrests.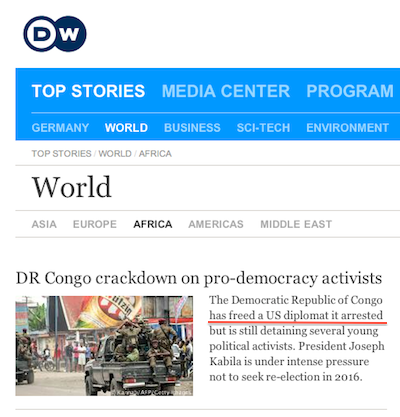 Since the authorities accuse pro-democracy activists of promoting violence and political unrest, DW interviewed Phil Clark, an expert on the Great Lakes region at SOAS, University of London. He told DW he believed the activists did not pose any serious security threat. "What we are seeing here is the concern of the Congolese government that this group could ultimately put thousands of young people to the streets to contest President Kabila's attempt to extend his presidential term," Clark said.
Did the Voice of America interview any U.S. experts and posted their comments in English online? Not in English, and not online. It did not even have a story in English for the entire day since the incident happened. There was a media freedom issue connected with the story. According to news reports, the arrests happened during a press conference. In addition to the U.S. diplomat and human rights activists, several journalists were arrested as well.
Why should the Voice of America show so little interest in this story if a U.S. diplomat was arrested, a press conference was dispersed and human rights and pro-democracy activists were targeted? The Broadcasting Board of Governors, the federal agency which oversees the Voice of America, states on its website that "the BBG's mission is to inform, engage and connect people around the world in support of freedom and democracy."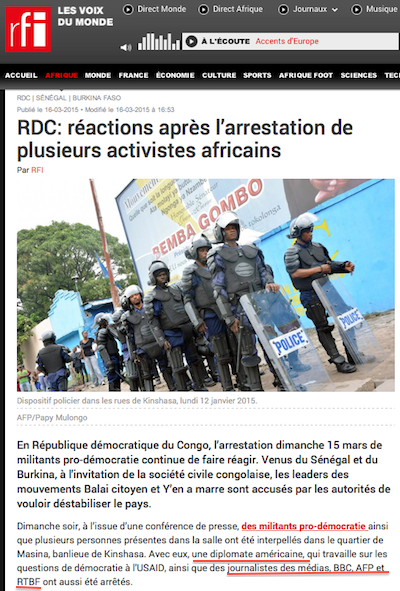 Why would the arrest of a U.S. diplomat — not French, not British, nor German, but American — be of much more urgent interest to Radio France Internationale (RFI), BBC, and Deutsche Welle (DW) and dozens and dozens other international and U.S. media outlets — all of which posted their own news reports and mentioned the arrest of a U.S. diplomat many hours before VOA English language news website posted a report from Reuters?
Even some of VOA's African language services did not post this news online for many hours. We found that the VOA French Service did post a report and recorded an interview about the arrests several hours before the Reuters report appeared on the VOA English news website.
Some of VOA African services are considered to be among the best VOA services with a large audience reach. Some of their local stringers literally risk their lives to get stories. They often file outstanding reports which, we are told, even impressed such a distinguished journalist as former BBG CEO Andy Lack who unfortunately stayed with the agency only a few weeks. Some of their reports are turned into VOA news reports in English for worldwide audiences. But in general, the system of cross reporting does not work. There have been also several examples of substandard reporting that violates the VOA Charter, originating from some VOA language services as well as from some VOA Newsroom reporters.
Even the best local VOA stringers in Africa and their colleagues in Washington can't perform miracles in the current bureaucratic environment as they all suffer from poor management, insufficient resources and lack of leadership while the bureaucracy keeps growing. According to many VOA journalists, this continuing and deteriorating state of affairs prevents them and the VOA Central Newsroom from reporting quickly and widely on breaking news stories. VOA contract employees are paid very little and often late. According to one recent report, they sometimes have to wait four months to get their stringer salary, and some claim that they don't get the full amount they are owed. They are overworked, as are most VOA Newsroom employees. Cross reporting in Washington on African news stories or from any other region, relying on English as a common language, is insufficient when it comes to breaking news because it requires a quick response, good coordination and resources — none of which the current senior management is capable of providing.
The arrest of a U.S. diplomat and his subsequent release was officially confirmed news for many hours before VOA first reported on it. The usual excuse from VOA executives in such cases that it is better to be accurate than to rush with a story does not apply. In any case, VOA did not do its own news story and the report from Reuters was available for many hours before VOA posted it online Monday evening. Another excuse that this was not an important Africa news story also does not apply because BBC, DW, RFI and numerous other media outlets thought that it was.
Several inside sources, who prefer to remain anonymous, provided us with various assessments of what may have gone wrong with the management of Voice of America news reporting on this and previous occasions.
In the meantime, Central [Voice of America English Newsroom] and English web are completely and utterly adrift and without leadership. No one is really in charge, which explains the missteps in coverage (per your latest post about a U.S. diplomat's arrest in Congo).
It's the firewall. Verboten. It would be 'promoting' U.S. foreign policy. Would make VOA a vassal of the State Department….There's a cyclone in the South Pacific that the U.S. should be reporting on. Or posting photographs of the week. Or somesuch.
No one has really been in charge for months and months. [A senior VOA executive] appears not to care – and I mean really does not care. He's paralyzed by fear or incompetence.
[Recently appointed Broadcasting Board of Governors executive] is not at fault. He was just handed a complete mess to sort out.
VOA [English] News needs new direction and leadership, but it also desperately needs more bodies.

About half of the weaknesses BBG Watch reports on are due to shortages of staff in the VOA Central Newsroom.

Another cause is the departure of many of the best journalists combined with inexperience and weakness among some of the staffers hired in recent years who are the ones who have stayed.

Managers who have made some of the worst decisions about use of resources are responsible for the rest of the damage.
Months and months of no clear leadership as they continue debating the digital first reorg (endless meetings with no concrete decisions made) means nothing is moving forward.
The VOA Newsroom is in disarray, the victim of a thousand cuts. There's enough blame to go around to dozens of current and former senior executives.
Rank and file reporters are either idle — or overburdened. Total disarray.
Not much editing is done in the VOA Central Newsroom due to staff cuts.

The Voice of America Newsroom is reduced to using one source wire copy because it just doesn't have writers and editors any more.
Because [a senior VOA executive] cannot lead — he will not. The only thing he will do is make decisions — or actively choose not to — to make sure he still has a job.
The work of the folks on the 3rd floor [BBG, IBB, and VOA executive offices] is fair game for BBG Watch criticism, but not the good work of courageous journalists.
[Despite of everything that has been written about the VOA Newsroom], the few who are still around are doing some amazing stuff, given the resources available.
The VOA Newsroom may be the victim of neglect, it may be sadly understaffed, but it is a bunch of true professionals, dedicated and hard-working. They're the victims of poor management decisions.