A commentary on breaking news failures at VOA
by Dan Robinson.
One of the huge problems at Voice of America, as reported over the years by USAGM Watch and the former BBG Watch, involved numerous failures by the VOA central newsroom to report many breaking news in a reasonably timely way.
There are so many of these stories it would be nearly impossible to list them, so we urge readers to check the following links:
Breaking News Failures at VOA
Dysfunction, News Failures, Self-Promotion and Pandering at the Voice of America Out of the Breaking News Business? And…some questions
Voice of America English news, most language services ignore U.S. House resolution on Ukraine
Voice of America obliterated by Russia's RT on Ferguson coverage, social media outreach
VOA much behind BBC on Obama-Putin phone call, Voice of Russia has much more on the call than VOA
Good Enough for Government Work at Voice of America Newsroom
Voice of America fumbles on a breaking space rocket explosion story
Again, this is but the tip of the iceberg when it comes to breaking news failures by VOA over the years.
These and so many other stories left users of VOA's main English and other language websites just shaking their heads as other media, but notably the BBC, left the Voice of America in the dust.
Many of VOA's own domestic and foreign correspondents were among those most embarrassed by these failures. Yet, problems continued for years. It appeared to be — as the title of one of our stories above states — good enough for government work.
After VOA was sufficiently embarrassed by these incidents there came a point where things actually seemed to improve, though most of this was due to the heat brought down upon VOA and its parent agency by USAGM (BBG) Watch reporting.
So, it's a disappointment to have to report to readers another breaking news embarrassment, and a striking one at that, that occurred on December 5th, 2021.
Late morning, CNN broke into its "Reliable Sources" program to inform millions of viewers that former U.S. Senator and Republican presidential nominee Bob Dole had died.
Dole, who was 98, had been suffering from cancer, something VOA reported on back in February 2021 when it was announced. We could see that story on VOA's website.
Every news organization maintains an obituary file that comes into play when major public figures pass away. BBC posted a more than 1600 word obituary on Dole with multiple photographs and another report: "Bob Dole: Biden leads tributes to a 'dear friend'."
But anyone looking at VOA's main English website for even the basic news that Dole had passed found . . . NOTHING.
And it continued this way for some 3 hours, until a VOA obituary that clocked in at . . . wait for it . . . 600 words, finally ran with a 2:42 PM EST time mark. A later update upped the word figure to just over 700 words.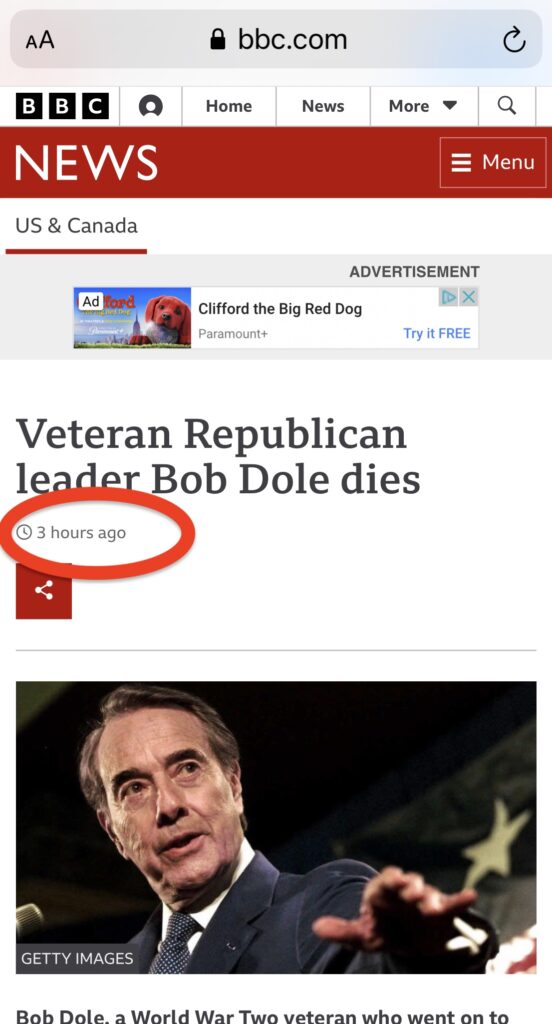 To say heads must be shaking understates things. Assuming that VOA's news center, described over the years as one of the most dysfunctional places in this famously dysfunctional federal agency, was not completely asleep at the wheel, one has to wonder.
Every possible explanation one might identify — staffing problems, technical break-downs — defies being applied to this situation. But over the years in similar breaking news failures, the same questions were asked but never got answered.
Here was one of the major political U.S. figures of the 20th and into the 21st century, a former Republican presidential nominee, a key member of the conservative movement in America, and a war hero – and it took nearly 3 hours for the Voice of America to get a story up on its main English site.
To say it would have taken a keen eye to notice this latest example of VOA's tortoise-like response would be inaccurate. ANYONE in VOA's global audiences – which by the way include a good number of people in the United States – would have noticed the absence of the story.
So, what's the explanation? Did the current acting CEO of USAGM, within which VOA resides as the largest federal entity, notice at all? If not, why wasn't she made aware by VOA's central news division?
Where was the managing editor of the VOA News Center? Did the current acting director of VOA, Yolanda Lopez, notice? Have any questions been raised internally about the nearly 3-hour delay?
We should note that breaking news failures were something that occurred frequently when the current nominee of President Biden to head USAGM — Amanda Bennett – headed Voice of America between 2016 and mid-2020.
To what extent was Bennett aware of these failures before they were reported, again in great numbers, by USAGM (BBG) Watch? If the problem was as severe as our reporting indicated, shouldn't this have surfaced as a major issue in the report prepared by a three-person consultant team Bennett hired?
But the full report by that team — and we have to assume one exists — was buried inside the VOA and USAGM bureaucracies. An executive summary only came to public notice in 2020 — its contents can be seen here.
We're glad that VOA finally was able to get around to posting a story that paid tribute to Bob Dole, even one that was just under three times shorter than the one put up by BBC.
But the fact that this kind of breaking news failure is still a thing at Voice of America, here in 2021, should stimulate a new round of questions about VOA's news operation.