U.S. Agency for Global Media may get a new leader. Judging by her record as a former Voice of America director, Democrats and Republicans in Congress, and American taxpayers, can fear more of the same USAGM scandals, if the nominee, Amanda Bennett, is confirmed by the U.S. Senate.
A commentary by The Federalist
It's predictable: another agency press release claiming huge audience gains: "The audience grew by 40 million adults, despite significant operational challenges for the agency in FY 2021, from leadership transition to pandemic limitations," the press release said.
It's a crock. A favorite agency game of presenting meaningless web traffic and previously unused data to cover up its vastly diminished effectiveness and relevance. A former and now retired USAGM audience research PhD expert, commented on it in a closed online forum:
"Looking through the USAGM reports about the new audience figures, most of what is described as an increase is really new data replacing no data."

A retired USAGM audience research analyst.
The expert concluded: "The actual USAGM audience did not miraculously increase by 40 million in one year" He called in an article titled, "The USAGM audience increase that really isn't," for a completely independent, third-party measurement of international audiences.
A highly-respected former Voice of America English newsroom correspondent and former foreign and domestic bureau and service chief observed in the same closed online forum that what readers of USAGM press releases are never told is that the agency has demonstrated a weakness in gaining and retaining audiences in Russia, China, and Iran.
The former VOA news correspondent also wrote: "Sources reported that an internal report at VOA revealed the loss of 55 million in VOA's audience to China…." He noted that "Many in VOA's Chinese-speaking audiences blamed [former] VOA director Amanda Bennett for this…."
READ: Possible Biden Nomination of Amanda Bennett Would Offend Immigrant Voters, Risks More Scandals at USAGM
It's all part of a strategy embraced by senior officials to keep the agency alive when it has been dysfunctional and defunct for years. No strategic impact. No strategic effectiveness. Mission failure on a large scale.
When you know this, it becomes clear that the TOP PRIORITY of these officials is perpetual job security with this game of confusing and independently un-verified and un-analyzed data as the principal modus operandi.
These claims support the greater false flag of "supporting freedom and democracy" for nation building, the claimed agency mission coined by the Broadcasting Board of Governors (BBG) years ago.
So how is the grand strategy playing out?
USAGM scandals
In Afghanistan?
In China?
In Russia?
In Belarus?
In North Korea?
In Iran?
In Ethiopia?
In Cuba?
Not very well.
Not when you leave over 500+ agency-connected contractors and dependents behind as part of the broader cut and run fiasco from Afghanistan. Where some of these individuals are and what is their fate is unknown and perhaps not very promising at the hands of the Taliban and other Islamic extremist groups gathered in the terrorist safe haven in Afghanistan.
"Supporting freedom and democracy" is the agency's contribution to the even larger failing of American foreign policy:
Nation building
"Nation building:" the decades-old billions of dollars wasted effort to import American cultural, economic and political institutions.
It's a lengthy list of failures spanning the Middle East, Southeast Asia, Central Asia, parts of Africa.
The best place for these periodic press releases on bogus audience claims is in a recycle bin.
In substance, no rational individual really believes these claims.
And the reason is that the opposite plays out in the news daily. Watch any news broadcast covering international news, and you won't see stories awash in the triumphs of VOA and USAGM "nation building" being embraced around the world. It's just not happening.
At least one of the reasons why it isn't happening is because "nation building" in support of "freedom and democracy" is not an easily exportable commodity. That is, unless it is already wanted by the vast majority, willing to organize itself to win freedom and democracy back from dictatorial regimes.
As recently noted by former CIA and Defense Department secretary Robert Gates in a "60 Minutes" interview, political change is an internal process. It's not instant. It's not overnight. Lasting impact from an external source is no guarantee of success, especially if the source lacks competence and a firm grip on reality. A journalistic organization will have no international impact if it is driven by wishful thinking and has a strong ideological bias.
Anyone interested in the agency's claims can also consider its global social media presence. It's anemic. On the various agency websites, via YouTube, Facebook, and the like you can see"views" and "likes" often in the low hundreds, sometimes in the thousands and maybe tens of thousands at best. But the point is this:
There are 7-BILLION people on the planet. These kinds of low numbers tell a story of indifference to VOA content, a lack of engagement, and non-existent impact.
For all of this, US taxpayers are putting out about $800-million dollars annually. In effect, it's throwaway money tossed to the agency so that lawmakers don't have to deal with the endless braying from the Cohen Building. This neglect to oversee the USAGM allows the lawmakers to focus on trillions of dollars in other government funding.
When you think about it, the entire process is pathetic. The only lasting legacy of this agency has become, as we note, perpetual job security.
A proven record of continuous USAGM scandals
The Biden White House has announced that it will nominate Amanda Bennett, the former Voice of America Director, to be the CEO of USAGM. "I am honored by this nomination," Bennett told VOA. "If confirmed, I will be so proud to work with all the dedicated journalists at USAGM who are doing the critical and difficult work around the world of upholding and demonstrating the value of a free press."

Kelu Chao, the current acting CEO, gleefully announced the nomination to the staff. "We look forward to her congressional confirmation and her arrival!" Chao said.
Chao's announcement ignores concerns of many USAGM employees, who are well acquainted with Amanda Bennett's reign when unprecedented scandals at the Voice of America were reported.
It definitely wasn't a high point for the agency. During her watch, for the first time in Voice of America's history, VOA translated, subtitled, produced and featured under the VOA logo a partisan video, in which physical violence against a U.S. presidential candidate and future U.S. president was condoned. The video posted during a U.S. presidential election campaign violated the basic provisions of the VOA Charter, which is U.S. law. It provided no balance or context. The VOA management removed it only after outside protests reached the Broadcasting Board of Governors.
Not only Jewish-Americans, but everyone who knows anything about propaganda not allowed by the VOA Charter, may be offended by Voice of America videos, which showed burning of American and Israeli flags without any attempt to provide context and balance.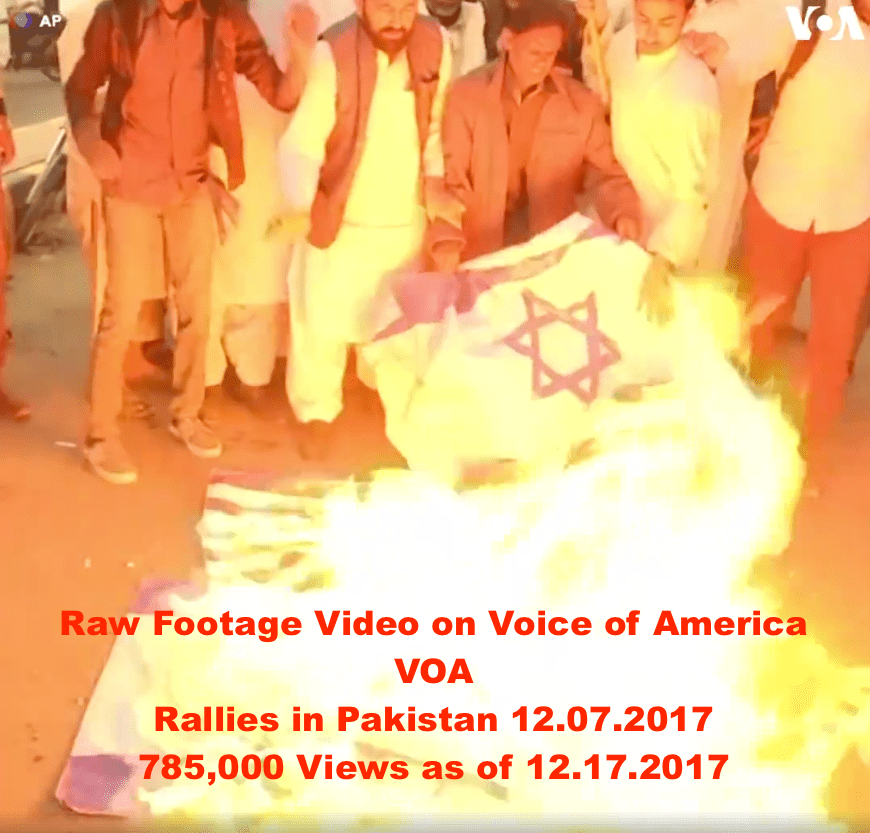 Such one-sided domestic and foreign propaganda videos were not seen in VOA content in previous decades. Also not seen in recent decades was widespread criticism of the VOA director by immigrant communities in the United States — Chinese-Americans, Cuban-Americans, Iranian-Americans, and Ethiopian-Americans.
From the beginning, Bennett praised the VOA and USAGM bureaucrats with their stranglehold on the agency as a "fantastic leadership team." These people were then and are now far from fantastic in any leadership capacity. Quite the contrary. The agency has been correctly labeled as one of the worst agencies in the Federal Government, consistently being ranked at or near the bottom of the annual Federal Employee Viewpoint Survey (FEVS) from the inception of the survey over a decade ago. The only thing these officials are capable of doing is plumbing the depths of negativity including consistently negative scores for senior "leadership."
Bennett herself made her own contribution:
First, the agency let a contract to examine bias in VOA news reporting. Indeed, the executive summary of the report by the contractors found that there was bias in the agency's reporting. However, the body of the reporting detailing how the bias insinuated itself into the agency's content never saw the light of day. In short, it was buried by the bureaucracy.
In short, Bennett could be responsible for sins of omission.
Whatever she may have been in the past, Bennett's nomination is now seen by critics as creating a risk of more of the same scandals at the USAGM. VOA's senior managers, whom she had praised and promoted in the past, are likely to perpetuate a political bias in VOA reporting rather than upholding the principles of the VOA Charter, itself undermined by the BBG's embrace of "nation building."
In effect, the American taxpayer could be left with an agency that would be the equivalent of tax-funded propaganda organs foisting their skewed view of the news and the United States in general upon global and American audiences.
Under the watch of Bennett and her underlings, there were U.S. government reports of serious deficiencies in the agency's security clearance procedures. These security clearance investigations were ultimately pulled from the agency and placed elsewhere in the government, and a variety of other scandals in various quarters of the agency were also reported, including bribery of Voice of America broadcasters by foreign government officials on a scale never seen in VOA's history.
In so many words, Bennett's performance as VOA director is seen by inside and outside critics as atrocious, and she seems quite capable of building upon a host of negatives as the CEO of USAGM if confirmed by the U.S. Senate.
Based on a record of unprecedented scandals when she was the VOA director, her USAGM nomination should be appropriately rejected by both Democrats and Republicans in a bipartisan action to protect the agency. Members of Congress should also examine the practice of hiring by the Voice of America of former employees in Putin's and Lukashenko's state media channels, as well as reports of business interests of BBG/USAGM/VOA officials and their families in countries such as China and Russia.
A last, late note:
The surreal atmosphere inside the Cohen Building continues unabated by reality
There is much more is the matter of Afghanistan. Twenty years of broadcasting into the region in at least four languages, and you mean to tell me that they did not know what would happen if they did not act quickly to evacuate their employees and family members? There were no reports — zilch — which gave an accurate accounting of the resilience of the Taliban or the severity of the threat from the presence of foreign fighters. It stinks. But that's another story.
How much real credibility does the place have left after years of management by the "fantastic leadership team"?
The recent "town hall" meeting featured no updates on the agency employees trapped inside Afghanistan. Also, conspicuously absent was a gleeful, gushing announcement of Bennett's nomination by the Biden White House to be the next CEO of USAGM, in line with the kiss up press release.
"Be careful what you wish for. You might get it."
More of the same for the USAGM.
The Federalist
November 2021