BBG WATCH EXCLUSIVE
BBG Watch has received from a source within the Broadcasting Board of Governors (BBG) a new secretly written document designed to serve as a series of briefing memos for BBG's new Chief Executive Officer (CEO). He is expected to be named soon by the BBG Board chaired by Jeff Shell.
Since the new Chief Executive Officer will never receive this kind of honest briefing from International Broadcasting Bureau (IBB) officials, several well-placed individuals working for BBG produced their own analysis of how the federal bureaucracy in charge of U.S. international media outreach operates. They want it to be shared with BBG members, the new CEO, the White House, the OMB, other federal agencies, members of Congress and American taxpayers.
BBG Watch will present this analysis over the next several days in a series of "Briefing Memos for New BBG CEO." These briefing memos are a collaborative effort.

Briefing Memo 5 for New BBG CEO – IBB $50 Million Gallup Contract Waste


ORA is the International Broadcasting Bureau's (IBB) Office of Research and Assessment; it has a budget of about $6.5 million, not counting the $50 million, five-year Gallup contract; it has 5 people.
According to BBG's own writeup, Robert Bole manages ORA – the Office of Research and Assessment.
"Robert Bole is the Director of Global Strategy, managing the Office of Digital and Design Innovation, the Office of Strategy and Development, the Office of Research and Assessment, the Office of Performance Review, and the Office of Policy."
But the same BBG writeup also has Bruce Sherman managing the same function.
"As Director of the Office of Strategy and Development, Bruce Sherman is responsible for global strategy and research for the U.S. Broadcasting Board of Governors (BBG)."
Additionally, Jeffrey N. Trimble, Deputy Director, International Broadcasting Bureau, works with the Global Strategy team.
"He provides strategic editorial guidance to enhance BBG content in an environment of increasing global competition."
André Mendes, Interim Chief Executive Officer and Director, provides day-to-day management of BBG's operations. He is also responsible for strategic guidance.
[André Mendes provides as well] "strategic guidance and management of other programs."
There are at least four top IBB strategists, at least two of whom also oversee BBG research, not counting additional two top-level managers overseeing the same BBG research. One wonders why with so many strategists and research managers the agency was described in January 2013 by the then Secretary of State Hillary Clinton as "practically defunct in terms of its capacity to tell a message around the world."
With so many top strategists and research professionals, why would the Office of Strategy and Development order a poll in Crimea just weeks after the territory was occupied and annexed by Russia and present at a news conference in Washington faulty poll results supporting the Kremlin's propaganda claims? What happened to strategic editorial guidance?
This office was originally called IBB Research Office, headed by a GS-15 manager whose annual salary is over $150,000, not counting benefits.
Last year, a manager within the office was transferred to a new position, "Director of Audience Insight," which was reportedly created by the Director of Global Strategy. In the meantime, IBB opened a new GS-14/15 job (inside candidates only) for a new Office of Research and Assessment (ORA) managerial position. An inside candidate was selected. The rest of IBB research analysts were all reassigned under the new manager and the new ORA office was established.
While no one has ever measured or knows the impact of individual BBG programs on views and opinions of their recipients, the $50 million, five-year IBB contract with Gallup continues to be, in our view, the biggest waste of taxpayer's money because of poor design and poor administration and oversight by IBB.
For your information, the U.S. Justice Department announced last year that the Gallup Organization has agreed to pay $10.5 million to settle allegations that it knowingly overcharged other federal government agencies for market research services. The IBB's Gallup contract was not part of the Justice Department's 2012 complaint against Gallup. The complaint alleged that the State Department was billed for more than 17,800 hours, though Gallup's internal and actual labor estimate for the contract totaled only 5,919 hours.
Gallup may have learned its lesson, but in our opinion Gallup was not the best choice in the first place for the kind of audience research in information-denied countries and countries unfriendly toward the U.S. that BBG needs to focus on most of all. Selection of Gallup for this project as well as any waste of money and resources at the BBG on unnecessary and poorly-designed research is not Gallup's fault; it's the fault of IBB executives.
a. We think the federal procurement process of this project was questionable. The Gallup contract was awarded by the BBG at the end of 2011. But, in 2010, a senior BBG/IBB executive already started promoting Gallup, inviting Gallup representatives to meet with managers and BBG Board members. Gallup even participated in a November 19, 2010 board meeting. In our view, this suggests strongly that Gallup may have been pre-selected; in our view, it was not a fair competition.
b. Gallup is a reputable public polling company, but, it is not experienced in publicly-funded Western broadcast media research in countries where such Western broadcasts are banned, restricted or looked at with disfavor by the governments. Since Gallup may be also doing politically uncontroversial public opinion research in these countries for commercial customers, BBG research may put Gallup in a potential conflict of interest if BBG surveys include questions which governments may view as hostile to them or if they object to such surveys. We also believe that in many cases, such surveys in countries where personal freedoms are restricted are unreliable due to a strong fear factor. For this and for many other reasons, we think that a large company that does its own commercial business in countries unfriendly toward the U.S. and toward the BBG broadcasters is not the best choice for such sensitive BBG-U.S. Government research projects.
c. Gallup had a big learning curve with the IBB contract. It sub-contracts local researchers in foreign countries for BBG research needs. Interestingly, we have heard that some of these local sub-contractors are the same ones contracted by InterMedia, BBG's previous research grant recipient for many years, but we also have heard that Gallup appears to have much higher costs.
d. We believe that IBB executives put only vague definitions in the BBG Gallup contract — how often, where, how, and what are the deliverables. Traditionally BBG/IBB research contracts included in-country surveys, focus groups, in-depth interviews, and other omnibus acquisitions. However, it appears that the Office of Strategy and Development has used Gallup for many other purposes not directly related to audience research: BBG language service review preparations, regional studies, board meeting presentations, Strategy and Budget Committee briefings, impact models design, government measurement indicators projects, joint public events, hosting special activities, etc.
e. We believe that by IBB's design the Gallup contract serves as a supplemental addition for the Office of Strategy and Development's general expenses. This mechanism has a conflict of interest in it. It is not Gallup's fault but rather the fault of the Office of Strategy and Development and other IBB officials.
You should ask about any delays in Gallup's deliverables. We were told that for $10 million a year, InterMedia did about 50 surveys, about 100 focus groups, and conducted BBG research briefings about 60 times. Ask how many surveys, focus groups and service presentations Gallup has done each year. Ask where the money is going. Check on BBG's "task orders" for Gallup in FY12, FY13, FY14, especially the last quarter of each fiscal year when IBB executives take long trips abroad and come up with made-up projects to quickly spend large amounts of money at their disposal so they are not taken back by the Treasury.
We also want to alert you to another questionable IBB tactic: purchasing additional Gallup's "World Poll" data from many countries BBG didn't usually do surveys in the past in order to make up the audience loss.
We were told that in the past, BBG used to survey 50-60 countries a year for audience numbers. We are told that IBB has now added several dozens more countries, most of which are not target countries for BBG. These may be countries which already have free media like the Philippines or Australia.
Large amounts of taxpayer's money may be spent by IBB on purchasing known and free data. IBB press releases suggest to us that many of their survey findings are just common sense conclusions based on already generally known facts. One can easily get this information for free, purchase it for very little money from various commercial sources, or get it from census data.
The reality is that because of no fault of its own a large commercial organization like Gallup simply cannot conduct fair surveys in most of BBG broadcast target countries: North Korea, Cuba, China, Vietnam, Laos, Iran, Azerbaijan, Russia, etc.; BBG can easily purchase audience data from countries which have more freedom.
In our view, BBG media entities do not need a $50 million contract with a large commercial company. A much more modest research budget is sufficient for a publicly-funded news and information organization like the BBG which, unlike commercial media, is primarily in the business of seeking impact rather than maximizing its audience for commercial purposes with questionable tactics and questionable programs not related to the core mission. Tremendous savings could be realized and used for developing new programs and new program delivery methods focused on the most critical and most information-deprived audiences. IBB should be giving voice to the voiceless–not seeking an audience at any cost with questionable program placement in countries which already have free media or self-censoring placement programs to show an audience, but without any significant impact.
What BBG entities need is a highly specialized audience research in selected target countries which matter most to the U.S. Government. IBB should look for a company which has specialists who can do such research, focused on program impact, without worrying how it may affect them or their other business interests in such countries. All other audience data should be purchased directly from the least expensive sources at a much lower cost and used not to inflate the audience but to decide what the audience wants that is consistent with the BBG mission and the VOA Charter. Much of the placed programming which is now being counted toward the overall audience number does not meet the VOA Charter requirements for news and objectivity.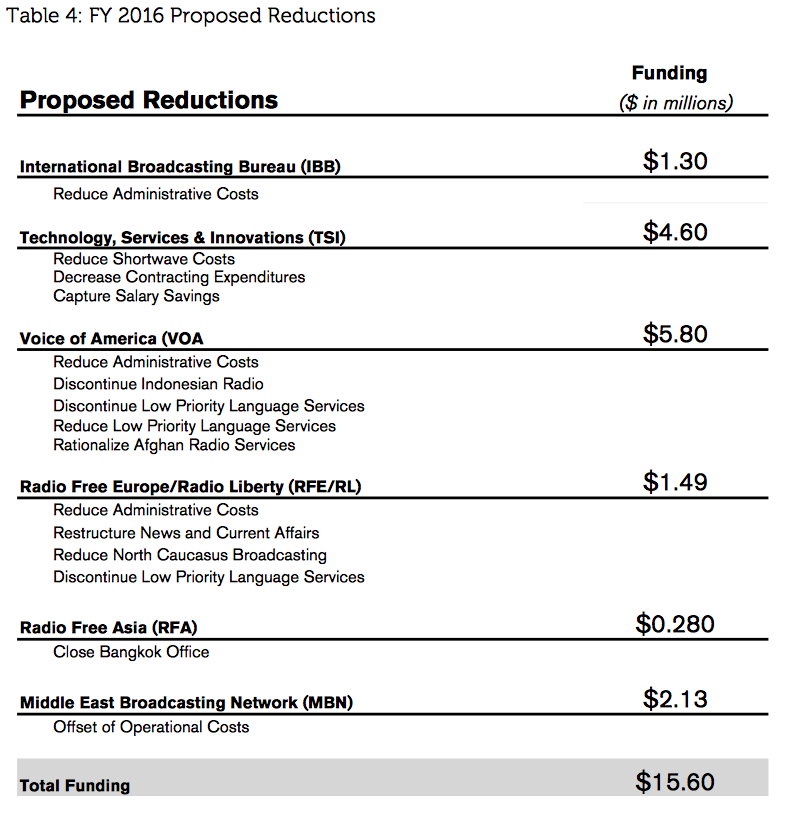 Broadcasting Board of Governors Appropriations FY2016 Request
[piechart donut="0.6″] { label: "Voice of America", data: 206683000},
{ label: "OCB", data: 30321000},
{ label: "IBB", data: 61010000},
{ label: "Office of Technology…", data: 178587000},
{ label: "Internet Freedom…", data: 12500000},
{ label: "Broadcasting Capital…", data: 10000000},
{ label: "RFERL", data: 116800000},
{ label: "Radio Free Asia", data: 38500000},
{ label: "Middle East Broadcasting Networks", data: 109600000}
[/piechart]
Broadcasting Board of Governors Appropriations FY2016 Request – 34% IBB COMBINED
[piechart donut="0.6″] { label: "Voice of America", data: 206683000},
{ label: "OCB", data: 30321000},
{ label: "IBB COMBINED", data: 262097000},
{ label: "RFERL", data: 116800000},
{ label: "Radio Free Asia", data: 38500000},
{ label: "Middle East Broadcasting Networks", data: 109600000}
[/piechart]