BBG WATCH EXCLUSIVE
BBG Watch has received from a source within the Broadcasting Board of Governors (BBG) a new secretly written document designed to serve as a series of briefing memos for BBG's new Chief Executive Officer (CEO). He is expected to be named soon by the BBG Board chaired by Jeff Shell.
Since the new Chief Executive Officer will never receive this kind of honest briefing from International Broadcasting Bureau (IBB) officials, several well-placed individuals working for BBG produced their own analysis of how the federal bureaucracy in charge of U.S. international media outreach operates. They want it to be shared with BBG members, the new CEO, the White House, the OMB, other federal agencies, members of Congress and American taxpayers.
BBG Watch will present this analysis over the next several days in a series of "Briefing Memos for New BBG CEO." These briefing memos are a collaborative effort.

Briefing Memo 4 for New BBG CEO – IBB Office of Digital Design and Innovation

ODDI, Office of Digital Design and Innovation, about $5 million budget, 17-person staff, led by a GS-15 manager who makes about $125,000 a year not counting benefits. This group was an entry for one of the current top BBG executives to get into IBB four years ago; he was later appointed to an SES position without competition.
What does this group do?
Take a look at the Voice of America's last century website. Innovation it is not.
Glance at VOA's dismal social media metrics. VOA has no money and no clear authority to redesign its website on its own and improve social media outreach.
Above all, VOA has no money and staff to resume production of first-rate news and other program content that delivers an audience to a first-rate website which it does not have. These resources are tied up at IBB, including ODDI. The Grantees, which are less dependent on IBB and ODDI, are doing better; but not for long if IBB executives have their way.
Digital Design and Innovation does not even happen at ODDI itself. Take a look at ODDI's latest Tweets–only one "Favorite" and no "Retweets." They do not even bother to retweet their own Tweets among themselves.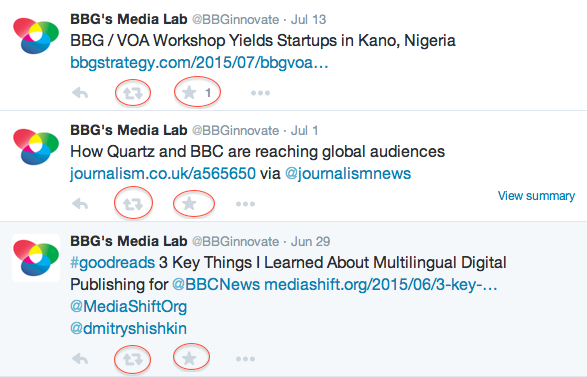 Compare VOA's websites and social media pages with those of RFE/RL. You will immediately see the difference. VOA is doomed by its much greater dependency on IBB and its Office of Digital Design and Innovation.
Actually, BBG's digital design is in Prague; "Pangea," managed by RFE/RL, is the BBG web content management system that creates and maintains digital design for VOA, OCB, RFE/RL, and MBN. RFA is responsible for their own design.
While millions of dollars are being spent, ODDI has no specific responsibilities. Read ODDI's vague mission statement.
"ODDI works with technology to improve US international news media. We look for the best solutions to the biggest problems in creating, distributing and improving news and information within the BBG. Our job is to understand the audience from a technology standpoint, and provide journalists with the tools they need to reach their critical audiences."
ODDI claims credit for every digital related activity under BBG. They call themselves "Innovators." These claims are false. For example, last year, RFA created an E-Book about the Tiananmen Anniversary. It somehow turned into an ODDI's accomplishment.
The vast majority of ODDI's R&D initiatives have no relevance for broadcast entities. ODDI wasted government resources to test several start up concepts; some concepts existed already and others are not applicable to media entities serving underprivileged audiences. Extravagant travel by one of their many private contractors to attend international conferences, costing U.S. taxpayers tens of thousands of dollars, became an embarrassment for the agency and eventually led to the contractor's departure. But last year, ODDI created a project in Africa, so they could travel. No one knows what the project is for, and what the outcome is.
Irrelevant ODDI's multi-million dollar R&D projects continue as journalists at various BBG entities can't find money to do on-the-scene reporting. As for digital design and innovation, BBG entities could do it far better on their own (the Grantees still do to some degree), using their own staff and outside contractors. It would be a fraction of the cost of ODDI's salaries and operations, with far better and more useful results.
Many of ODDI's highly-paid experts do not even have any specific assignments. For example, one GS-15 manager at DDDI was detailed to one of the Grantees. After months without much to do, he returned to ODDI and repeatedly told folks in the Cohen building that he has nothing to do.
ODDI's own website, which is of no use to BBG media entities or anybody else, shows on its homepage ODDI Tweets from October 2014 and a title with a grammatical error. "Illustrating women struggling human rights" is gibberish.
What an embarrassment for a media organization and what a waste to taxpayer's dollars. Mercifully, it is a fair bet that no one outside of ODDI looks at its website, and they probably don't look at it themselves. There is not much to look at, but what they do–whatever they do–costs millions of dollars in salaries and expenses that could be used on programs and real digital innovation.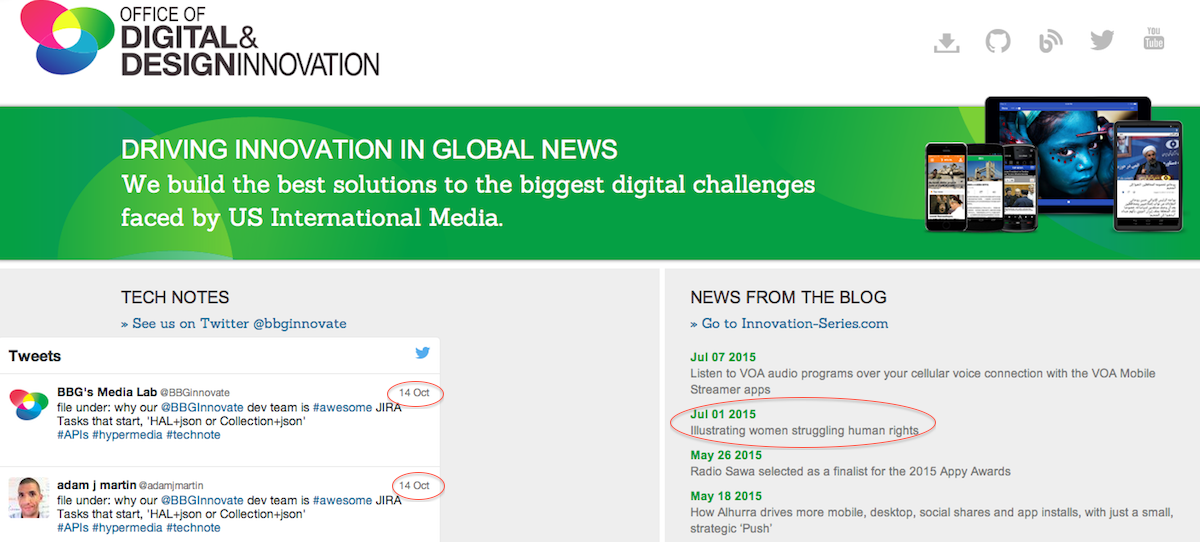 For BBG's multi-media broadcasters who constantly have to do more with less, observing ODDI is like rubbing salt in the wounds.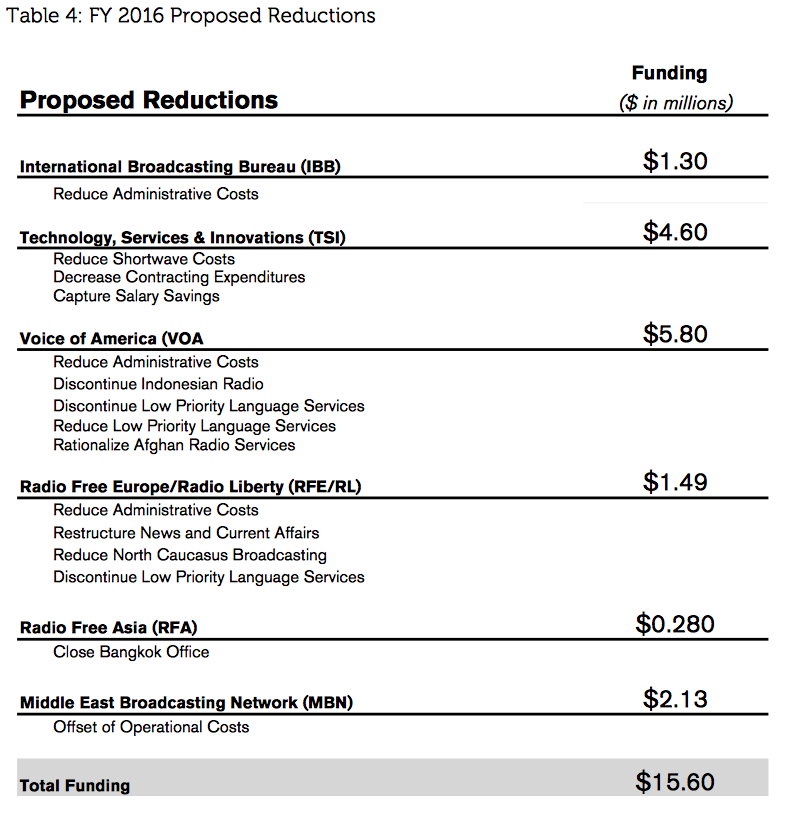 Broadcasting Board of Governors Appropriations FY2016 Request
[piechart donut="0.6″] { label: "Voice of America", data: 206683000},
{ label: "OCB", data: 30321000},
{ label: "IBB", data: 61010000},
{ label: "Office of Technology…", data: 178587000},
{ label: "Internet Freedom…", data: 12500000},
{ label: "Broadcasting Capital…", data: 10000000},
{ label: "RFERL", data: 116800000},
{ label: "Radio Free Asia", data: 38500000},
{ label: "Middle East Broadcasting Networks", data: 109600000}
[/piechart]
Broadcasting Board of Governors Appropriations FY2016 Request – 34% IBB COMBINED
[piechart donut="0.6″] { label: "Voice of America", data: 206683000},
{ label: "OCB", data: 30321000},
{ label: "IBB COMBINED", data: 262097000},
{ label: "RFERL", data: 116800000},
{ label: "Radio Free Asia", data: 38500000},
{ label: "Middle East Broadcasting Networks", data: 109600000}
[/piechart]