BBG WATCH EXCLUSIVE
BBG Watch has received from a source within the Broadcasting Board of Governors (BBG) a new secretly written document designed to serve as a series of briefing memos for BBG's new Chief Executive Officer (CEO). He is expected to be named soon by the BBG Board chaired by Jeff Shell.
Since the new Chief Executive Officer will never receive this kind of honest briefing from International Broadcasting Bureau (IBB) officials, several well-placed individuals working for BBG produced their own analysis of how the federal bureaucracy in charge of U.S. international media outreach operates. They want it to be shared with BBG members, the new CEO, the White House, the OMB, other federal agencies, members of Congress and American taxpayers.
BBG Watch will present this analysis over the next several days in a series of "Briefing Memos for New BBG CEO." These briefing memos are a collaborative effort.

Briefing Memo 3 for New BBG CEO – What Do IBB Executives Do? They Travel
What do IBB executives do? As everyone knows, BBG restructured IBB into three elements led by interim managers after IBB Director Richard Lobo's retirement in 2013. There seems to be no IBB Deputy Director function since then, but the "About" page of the BBG website has this information under "Senior Management" subpage:
"As IBB Deputy Director, Jeffrey Trimble works with the Global Strategy team focusing on special projects that advance collaboration and coordination across the BBG. He provides strategic editorial guidance to enhance BBG content in an environment of increasing global competition."
"As Director of the Office of Strategy and Development, Bruce Sherman is responsible for global strategy and research for the U.S. Broadcasting Board of Governors (BBG). He directs formulation and execution of BBG strategy, leading a team of senior managers and planners across all broadcast groups. He has overseen development of the three 5-year strategic plans, including the most recent 2012-2016, and is their principal author."
"As IBB Chief of Staff, Marie Skiba Lennon has direct oversight of Human Resources, Contracts, and Security functions, and coordinates efforts by Engineering and all other IBB elements in supporting the broadcasting entities operating under the umbrella of the Broadcasting Board of Governors."
"As chief legal officer for the BBG and as principal legal adviser to the Board of Governors and the Directors of the International Broadcasting Bureau, the Voice of America and the Office of Cuba Broadcasting, Paul Kollmer-Dorsey directs a staff of attorneys and other legal professionals to provide comprehensive legal advice and services to Agency officials in order to support the Agency's global media enterprise and implementation of the Board's strategic vision, including procurement and fiscal law, intellectual property, media law, immigration, litigation and dispute resolution."
"Robert Bole is the Director of Global Strategy, managing the Office of Digital and Design Innovation, the Office of Strategy and Development, the Office of Research and Assessment, the Office of Performance Review, and the Office of Policy. As head of the Global Strategy division he oversees the formation and execution of BBG's global growth and development strategy encompassing its television, radio, digital, and mobile platforms in serving an audience of 215 million in over 100 markets in 63 different languages."
"As BBG Executive Director, Suzie Carroll serves as the principal liaison for the Chairman and members of the Broadcasting Board of Governors and managing the implementation of Board priorities."
"As Interim CEO and Director, André Mendes oversees all aspects of U.S. international media. He will provide day-to-day management of BBG's operations, including oversight of the technical, professional, and administrative support as well as strategic guidance and management of other programs."
How many executives does the agency need and how many can it afford to keep?
IBB executives hold on to their long and outdated lifetime executive tiles. Most of them travel extensively, especially abroad. If you ask Voice of America, Office of Cuba Broadcasting, Radio Free Europe / Radio Liberty, Radio Free Asia, and Middle East Broadcasting Networks journalists and managers, they will tell you, if they are not afraid, that "special projects that advance collaboration and coordination across the BBG" are largely made up to justify frequent travel. IBB executives visit various countries, meet with government officials and U.S. diplomats. In Washington, they talk to congressional staffers and State Department officials.
Some of these executives came to BBG from other entities where they were not promoted to top executive positions. They brought their problems with them.
When Radio Free Europe / Radio Liberty had a catastrophic management meltdown in 2012 after the misguided and unfair firing of dozens of Radio Liberty Russian Service journalists in Moscow, IBB executives who were supposed to be the eyes and ears for the Board failed to take action or fully inform Board members of the extent of the crisis.
The IBB management setup is like a shell company scheme — where a fake job identity is established by insiders to bill the company or its customers for goods or services that do not exist. Veteran IBB executives created a phantom problem of "overlapping" services so they could assign themselves to solve it when in fact the real problem of "overlapping" functions is found within the vast IBB bureaucracy they created. Perhaps their executive salaries and lavish travel funds can be eliminated to save a small VOA, RFE/RL, or RFA language service from being cut and its audience from being denied access to accurate and fair news. Giving voice to the voiceless should always come first, but it does not come first for IBB executives.
Some of these executives do not understand how digital media and contemporary broadcast operations work; they are especially unfamiliar with the grantees and want to change them and control them as they already control VOA and OCB. Most can't represent BBG well in public. Some have embarrassed the Administration by their remarkably reckless decisions and actions going against U.S. foreign policy. What else would you call a U.S. Government agency ordering a public opinion survey in Crimea using appropriated funds shortly after this sovereign Ukrainian territory was occupied and annexed by Russia — the occupation and the annexation not being recognized and deemed illegal by the same U.S. Government — and promoting faulty poll results obtained from the traumatized and fearful population as perfectly valid?
Others are responsible for BBG personnel, contracting and labor practices which the Office of Inspector General (OIG) and U.S. courts found to be illegal or in violation of federal rules and regulations. Veteran IBB executives have cost U.S. taxpayers millions of dollars in lost legal cases. They failed when sent on special foreign assignments. Some of them have alienated influential members of Congress and their staff. The senior ones made the agency "practically defunct," a term used by former Secretary of State Hillary Clinton to describe U.S. international media outreach under their watch. As one commentator observed in a BBG Watch op-ed, the agency's strategic plan they devised is neither strategic nor a plan, but a scheme to keep and expand bureaucratic positions.
If you still wonder what some of these top IBB executives and their staff really do, we would have to say that their most important job is foreign travel. During the last several months, one IBB executive has been seen in Macau, Bangkok, Hong Kong, Paris, London, Amsterdam, Prague, Dubai, Accra, Dakar, and in several other African capitals — at least one multi-stop travel every month. Some other IBB offices have a similar travel pattern. You can find out by requesting their travel vouchers. But one of the first requests you should make is to see an up-to-date IBB staffing pattern showing names, position titles, grades and salaries.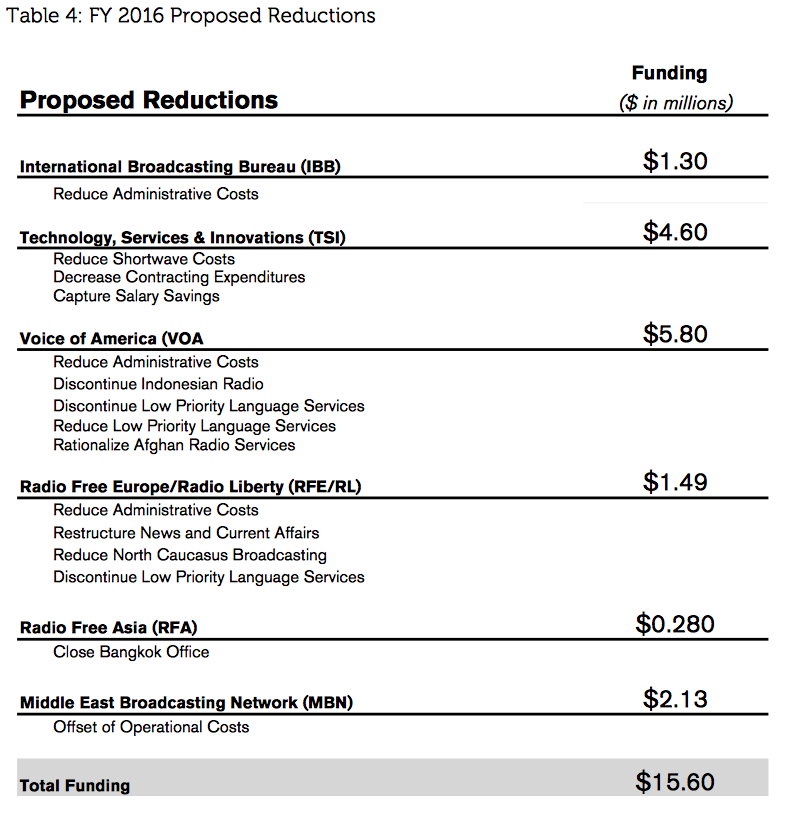 Broadcasting Board of Governors Appropriations FY2016 Request
[piechart donut="0.6″] { label: "Voice of America", data: 206683000},
{ label: "OCB", data: 30321000},
{ label: "IBB", data: 61010000},
{ label: "Office of Technology…", data: 178587000},
{ label: "Internet Freedom…", data: 12500000},
{ label: "Broadcasting Capital…", data: 10000000},
{ label: "RFERL", data: 116800000},
{ label: "Radio Free Asia", data: 38500000},
{ label: "Middle East Broadcasting Networks", data: 109600000}
[/piechart]
Broadcasting Board of Governors Appropriations FY2016 Request – 34% IBB COMBINED
[piechart donut="0.6″] { label: "Voice of America", data: 206683000},
{ label: "OCB", data: 30321000},
{ label: "IBB COMBINED", data: 262097000},
{ label: "RFERL", data: 116800000},
{ label: "Radio Free Asia", data: 38500000},
{ label: "Middle East Broadcasting Networks", data: 109600000}
[/piechart]