OPINION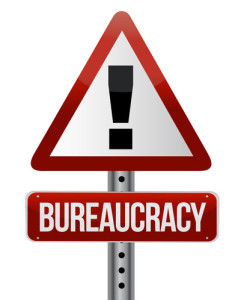 Can Things Get Any Worse?
US Government International Media Information War Lost

By The Federalist
When it comes to the Broadcasting Board of Governors (BBG) and the Voice of America (VOA) the answer is: yes, they can.
In response to a question from Senator Marco Rubio (R-FL), Secretary of State Rex Tillerson said today (June 13, 2017) that he would support an investigation by the Office of Inspector General (OIG) into the decision of VOA director and senior management to shorten a live interview with Chinese whistleblower Guo Wengui "if it would seem there has been anything improperly done." An independent OIG investigation, if it is launched, may uncover new yet unknown wrongdoings of which there are plenty already to go around. But even an OIG investigation does not guarantee that things will get better unless there is a change of leadership.
We start with the BBG's reputation as the worst place to work in the Federal Government. As described in September 2016 by Washington Post columnist Joe Davidson, on employee morale, employee engagement and leadership by senior management, the Broadcasting Board of Governors is "regular bottom feeder…going backward." In 2013, then Secretary of State Hillary Clinton called the BBG "practically defunct."
When you have an organization run by people who have worked deliberately to institutionalize the conditions that create the kind of mission failure and hostile work environment that typifies this agency, every day opens new possibilities for further deterioration.
And so it is:
Right at the top of the list is the firestorm over a recent extended TV and online live interview conducted by staffers of the VOA Mandarin Service with controversial Chinese businessman Guo Wengui who has seriously upset the Chinese government leadership with allegations of corruption and espionage activities.
The interview with Guo Wengui was cut short on what appears to be direct orders from VOA director Amanda Bennett and other senior VOA managers. The decision to shorten the interview was resisted by the VOA Mandarin Service journalists who set up and conducted the interrupted interview with Mr. Guo.
Several Mandarin Service employees who were involved with the program were placed on administrative leave with pay, including Sasha Gong, the service chief.
There are many questions concerning the sequence of events which would include the lead-up to the online broadcast, email exchanges and meeting records among senior officials about the program, subsequent interruption to the program and the punitive application of administrative leave to several members of the VOA Mandarin Service. In short, there is a trail to be followed which would reflect the pre-program planning for the online broadcast and involvement beyond the VOA Mandarin Service. People do not make decisions in a vacuum inside this agency. More often than not, decisions are by consensus: several people have to sign off or give approvals before something that may appear to be controversial on its face could proceed. This is a key point: who signed off and how far up the organizational structure did the approvals go?
When becoming aware of the program, the Chinese government reacted predictably and made its position known to VOA. It is no longer a question of whether or not the Chinese government exerted pressure on the agency. Shortening the already announced program speaks for itself. The question is why the senior management ordered the VOA Mandarin Service journalists to shorten the interview?
So now comes the repercussions:
There appear to be concurrent "investigations" taking place:
First, the agency has hired a consultant with experience in what appress to be promoting business in communist China and working with Chinese communist government officials. VOA director Amanda Bennett described one of the agency-hired investigators as "probably as neutral and respected and ethical as anybody in the field."

Four VOA Mandarin Service employees allege that the BBG has given personal information about them, including their real names (they work under pen names to protect their families in China) and personal background, to the private consultant. They believe that one of the consultant's assistants who allegedly had access to their personal information, is a citizen of the Peoples Republic of China (PRC). "We are afraid that our personal safety is further jeopardized by BBG/VOA," the four VOA Mandarin Service journalists said in a letter to the BBG Board.
Second a private law firm has also been hired by the agency in what may be directed at the actions of employees involved in the program searching for misconduct including insubordination.
Third, the agency's Office of Security is reportedly involved in what appears to be an examination of security information regarding the employees involved in the program.
To this point, the agency's actions have created the appearance of presumptive wrongdoing by the employees. On its face, there does not appear to be any detailed focus on managers outside the VOA Mandarin Service including at the level of the VOA East Asia Pacific Division and upward to more senior agency officials and the VOA director herself.
Hiring outside law firms or consultants is not a guarantor of independent inquiry. One would need to know how the contracts for these consultants are framed, who they are, do they have have conflicts of interest, and the parameters under which they are directed by the agency to operate and assemble findings. With this agency's reputation, one needs to always be on guard for the agency seeking to validate an intended outcome, quite possibly penalizing the employees and absolving agency officials of any responsibility.
Involving the Office of Security may be indicative of looking beyond the incident itself to determine if there is anything in the security information provided by employees on Form SF-86 which would indicate incomplete or allegedly false information. Even if unrelated and possibly insignificant on its face, the agency could attempt to use even a minor error and blow it out of proportion to terminate an employee.
In addition to what has been reported by BBG Watch, the Wall Street Journal appears to be a primary source of discussion over the incident:
On May 24, 2017 VOA Mandarin Service chief Dr. Sasha Gong authored an op-ed piece laying out her perspective on the controversy ("How China Managed to Muffle the Voice of America").
In turn, this was followed by a May 26, 2017 Letter to the Editor penned by Amanda Bennett, the VOA Director, in which she alleges in part, "We regret if Ms. Gong doesn't agree with…universally accepted journalistic principles…"
This letter was then followed by a June 4, 2017 letter from former VOA director Robert Reilly taking issue with Ms. Bennett and noting at the close, "Any investigation ought also to go to VOA's management to make sure these questions (about the program) are adequately answered."
Some observations:
It is highly unusual for a VOA language service chief to go public with a programming issue. This would lead one to believe that Dr. Gong may believe – perhaps with good reason – that she is being thrown under a bus by people further up in the agency management who are looking for cover and anxious to ascribe blame elsewhere in order to deflect attention to their actions and level of responsibility.
Next comes Ms. Bennett.
At the outset of her tenure, Ms. Bennett lauded the agency bureaucracy as a "fantastic leadership team." Anyone familiar with the agency's reputation knows that this has to go down as the ultimate, outrageous description of a dysfunctional collection of career bureaucrats.
This set the tone for disaster: Ms. Bennett belying her ignorance of the record, setting herself up to fail and facilitating and enabling more dysfunction.
There are times when certain things are best left unsaid. This was one of them, right out of the gate.
And not the last, as evidenced in her letter to the Wall Street Journal.
In short, Ms. Bennett, in her capacity as VOA director, leveled a serious allegation against Dr. Gong. Making it worse, Ms. Bennett did so while there are active agency-ordered "investigations" underway. In short, to outward appearances Ms. Bennett has compromised if not prejudiced a process offering a predisposed presumption of wrongdoing and misconduct directed against Dr. Gong and the other Mandarin Service employees.
A conventional view would be this was an unwise, unguarded and ill-advised action on Ms. Bennett's part (bad enough if done on her own, worse if done on the advice of someone among her 'fantastic leadership team').
Former VOA director Robert Reilly took Ms. Bennett to task for her letter. Mr. Reilly, correctly, calls into question the actions of the agency in this case citing broadly other instances in which the agency not even remotely went to the extremes it has in the aborted Guo Wengui interview.
There have been calls for congressional hearings on the matter. This may be wholly appropriate because at this juncture any internal agency probe may now be compromised and certainly suspect. Senator Rubio has already called for an OIG investigation and received a tentative approval from Secretary of State Rex Tillerson.
To get at the facts in this case requires inquiry not under contract or within the agency's internal control.
"Integrity" is not a word commonly associated with the agency's management practices. In this case, there is a clear indication of a negative predisposition toward the employees of the VOA Mandarin Service involved in this case perhaps in an attempt to divert attention away from senior management decision making.
The employees deserve better than this heavy-handed treatment.
The Federalist
June 2017