USAGM Watch Commentary
While Russia, China, Cuba, Iran, North Korea and several other countries are definitely spying on USAGM employees and trying to get access to their personal information, as well as to the agency's IT systems, the bulk of the threat to the Voice of America and other U.S. government-funded media entities is from influence operations which are carried out not only by governments hostile to the United States but also by friendly countries. Some cases of conflicts of interest may also involve VOA journalists themselves who may have gotten too close to foreign and/or U.S. politicians and government officials and those VOA editors and reporters who have shown clear partisan bias which would not be tolerated by other mainstream U.S. media outlets such as the New York Times or the Washington Post.
A few weeks ago, VOA senior management and key VOA newsroom editors received irrefutable evidence that the VOA Albanian Service had decided not to report that Albania's ambassador in Washington Floreta Faber interfered in U.S. elections by publicly tweeting what appeared to be an electoral endorsement for House Foreign Affairs Chairman Rep. Eliot Engel (D-NY) as he was running in the Democratic Party primary election in New York against another Democrat Jamaal Bowman — a race which Engel ultimately lost. Albanian-American voters are among Rep. Engel's constituents although they do not represent a significant number. The official Twitter page of the Albanian Embassy in Washington, DC retweeted the same message.
After the Albanian Ambassador posted her tweet, several Albanian-Americans, both Republicans and Democrats, posted highly critical comments on social media about what they considered a case of blatant foreign interference in U.S. elections. One person threatened to file a complaint with the Federal Election Commission (FEC).
An Albanian-American commented under Ambassador Faber's tweet:
Replying to @FloretaFaber and @RepEliotEngel Ms. Faber, It is totally undiplomatic, unprofessional for a diplomat to mingle in the election of a friendly and ally country. It does not help Albania by in such discourse [sic].
Some media outlets in Albania reported this news from the United States, but not the Voice of America Albanian Service, which knew about it when it happened, or the VOA central English newsroom, which found out about it not from the Albanian Service but from an outside journalist. Ambassador Faber apparently does not believe she did anything wrong with her June 22, 2020 tweet in support of Rep. Engel because it was still visible on October 4, 2020.
Albanian newspaper Bota Sot reported on June 23, 2020 a comment by an Albanian that "the interference of the Albanian ambassador today [compares] with that of [Albanian] Prime Minister Rama four years ago, when Edi Rama said that Donald Trump is dangerous for Albanians." Former VOA Albanian Service chief and former Eurasia and USSR divisions director Frank Shkreli contributes occasional articles to Bota Sot. Google offers a reasonably good translation of the Bota Sot report which was filed by its Washington correspondent Beqir Sina.
The current acting VOA director Dr. Elez Biberaj is of Albanian descent and speaks Albanian, but we could not determine whether he knew about the Albanian ambassador's tweet when it was posted and whether he knew that the Albanian Services decided not to report this news. Prior to being appointed to his current interim position by Trump-nominated U.S. Agency for Global Media (USAGM) CEO Michael Pack, Biberaj was VOA Eurasia Division director and VOA Albanian Service chief. Biberaj took former VOA director Amanda Bennett to see Albanian Prime Minister Edi Rama during her September 2017 trip to several countries in the Balkans. VOA posted photos of Amanda Bennett with Prime Minister Rama.
Members of Elez Biberaj's family are active in Democratic Party politics and he has posted about it a few times in the past on social media before becoming acting VOA director, as well as posting letters received from Barack Obama and Joe Biden on the anniversary of his family's emigration to the United States, but he has not shown any partisan bias in his work at VOA. Biberaj called the recent VOA Urdu Service partisan Joe Biden video incident "serious breach of our journalistic standards and a violation of the VOA Charter…" that "implied VOA's endorsement of a partisan election message." He was, however, criticized earlier in some BBG – USAGM Watch commentaries for not responding decisively to past instances of partisan journalistic bias among some VOA reporters under his watch and for arranging meetings of senior VOA official with foreign politicians who are considered controversial in their own countries and abroad.
Eliot Engel has been interviewed multiple times over the years by the VOA Albanian Service and even bragged about it at one time. While the service's management later blamed the lack of resources and the need for covering more important news for not reporting on the apparent interference of the Albanian ambassador in U.S. elections, there is little doubt that the close relationship between the service and Rep. Engel, as well as close links to the Albanian Ambassador and other Albanian government officials, almost certainly played a decisive role in Voice of America journalists' decision to forego reporting on an important news that could embarrass a friendly member of Congress and cause problems for a friendly ambassador.

The VOA Albanian Service led the broadcast on June 23 with U.S. primaries and prominently featured a report on the Engel-Bowman race. One former VOA journalist observed that the service could not reasonably claim that they did not have resources to write 2-3 sentences about the ambassador's message.
The need to protect U.S. interests, to safeguard U.S. electoral system, to inform Voice of America audiences fully and objectively, and to give value to U.S. taxpayers for the money they spend on VOA, was ignored by key VOA managers, editors and reporters.
We could not determine whether Rep. Engel knows about the Albanian ambassador's endorsement. Before leaving Congress next January, he should, however, in his role as chairman of House Foreign Affairs Committee, order an investigation to establish why VOA failed to report on a foreign support of his candidacy for his congressional seat. At the same time, he should recuse himself from participating in the investigation. Such a congressional investigation would be in the interest of all U.S. taxpayers and both Democrats and Republicans in the U.S. Congress.
Michael Pack, CEO of the U.S. Agency for Global Media (USAGM), which manages VOA and other U.S. taxpayer-funded media entities, was recently informed about VOA's failure to report on this case of foreign interference in U.S. politics. On October 2, Pack has issued a new policy memo to all staff, regarding guidance on conflicts of interest.
USAGM MEMO
From: Michael Pack, Chief Executive Officer U.S. Agency for Global Media
To: The Voice of America, the Office of Cuba Broadcasting, Radio Free Europe/Radio Liberty, Radio Free Asia, Middle East Broadcasting Networks

Date: October 2, 2020

Subject: Guidance on Conflicts of Interest
______________________________________________________

Reporting the news in a manner that is "consistently reliable and authoritative, accurate, objective, and comprehensive" (22 U.S.C.§ 6202(b)(1)) requires "fairness, objectivity & balance." VOA Best Practices Guide, at 8 (June 2020). Management of conflicts of interest is a key component of maintaining fairness, objectivity, and balance. Such actual conflicts as well as even the appearance of such conflicts in the eyes of a reasonable observer must be avoided. See, e.g., VOA Best Practices Guide, at 8–9 (June 2020); The New York Times, Ethical Journalism; The Washington Post, Policies and Standards (Jan. 1, 2016; 12:01 p.m. EST). A key part of prophetically preventing conflicts of interest amongst journalists is compliance with social media policies. See, e.g., V-A BAM 530, Social Medial Policy (July 8, 2019); VOA Best Practices, at 50 (June 2020). I write to clarify policies and provide guidance on these points.

First. Policies regarding conflicts of interest and use of social media shall be enforced as written.

Second. Under applicable policies, conflicts of interest are not limited to those involving the recipient of money, ownership of stock, or gifts. The rule is broader. Simply put, it is a conflict of interest for a journalist to participate personally and substantially in reporting on an issue: (1) in which they have a personal interest or (2) have publically personally expressed a political opinion. For example, the VOA Best Practices Guide states:

VOA's mission is to provide accurate and objective news and information. To facilitate that mission, as journalists, you are expected to remain neutral and objective in all public appearances and public spaces, including social media. That means that you should try to avoid conduct or activity that would call into question your neutrality and objectivity as well as the neutrality and objectivity of VOA.

For example: If as a VOA journalist you are reporting on or otherwise working on a story regarding "X" situation, it is recommended that you avoid publicly voicing your personal opinion about that situation because such activity may call into question your credibility as a journalist and could compromise VOA's reputation as a reliable and credible news organization.

VOA Best Practices Guide, at 111 (June 2020); see also, e.g., The New York Times, Ethical Journalism; The Washington Post, Policies and Standards (Jan. 1, 2016; 12:01 p.m. EST). This is a common sense principle.

Recent events require explanation of the following examples, which in some cases, constitute a conflict of interest that can only be remedied by recusal.

If a Voice of America ("VOA") journalist is personally affected by a potential governmental action, then they may not cover that issue. For example, a journalist who is working in the United States on a J-1 visa must follow normal procedures and recuse themselves from any story involving J-1 visas.

A VOA journalist who publically takes a personal position on an active political issue has a conflict of interest—doubly so if that issue directly affects that individual. For example, a journalist who, in their private capacity, publically criticizes the U.S. Department of Justice's leadership for, among other things, implementing the policies and protecting the prerogatives of the Administration must recuse themselves from reporting on the Department and the part of the Administration implicated by the criticism.

A VOA journalist who expresses personal views on political topics in their personal social media creates the potential for a conflict of interest and should consider whether recusal or mitigation is required. For example, a journalist who on Facebook "likes" a comment or political cartoon that aggressively attacks or disparages the President must recuse themselves from covering the President.
The obligation to recuse or mitigate conflicts of interest rests with both the individual journalist and their supervisor. If a journalist fails to recuse themselves, it is the obligation of the supervisor to order recusal.

Despite the informal nature of this Memorandum, it constitutes a U.S. Agency for Global Media policy, and shall be recorded in the Broadcasting Administrative Manual as such.

This Memorandum is not intended to, and does not, create any
right or benefit, substantive or procedural, enforceable at law or in
equity by any party against the United States, its departments,
agencies, or entities, its officers, employees, or agents, or any other
person.

END OF USAGM MEMO
ALSO SEE:
Political Aides Investigate VOA White House Reporter For Anti-Trump Bias
An investigation by political appointees into the Voice of America's White House bureau chief for anti-Trump bias is the latest act that may break federal laws promising its journalistic independence.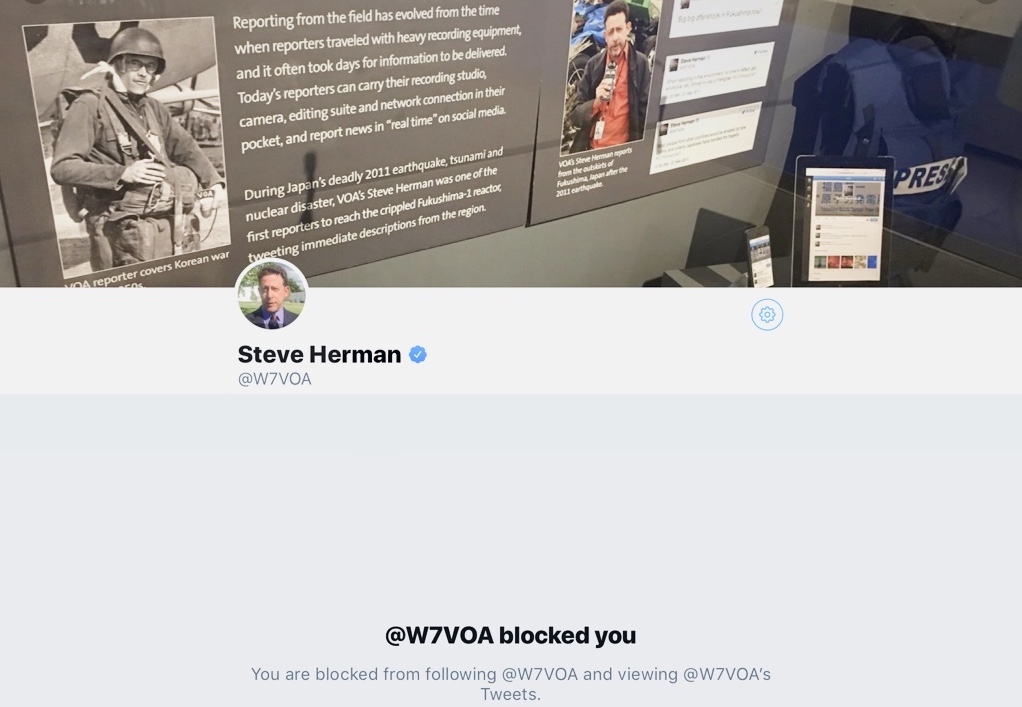 We would like add to the NPR report that in 2017, the BBG-USAGM Watch Twitter account and the personal Twitter account of one of BBG-USAGM Watch supporters were blocked by VOA chief White House correspondent Steve Herman from seeing his Twitter account.
In its response, USAGM (known then as the Broadcasting Board of Governors before the agency rebranded in 2018) said it had "determined" that Herman's Twitter channel "was a personal account rather than an official VOA account."
"Personal accounts and the content they contain are not directly subject to agency oversight or control since they are not government property," an agency spokesperson said.
"Nevertheless, employees are expected to manage any personal account associated with official agency business in a professional manner consistent with general standards and practices applicable to journalists and federal employees, including VOA's best practices guide."
So, the agency did not outright say that it was not OK for one of its highest profile reporters to block a fellow citizen's observation of his government work output. USAGM offered [at that time] an excuse that he was doing so using a personal account.
Nevertheless, the agency decided it was wise to have a talk with Herman, adding that the agency's management had not been aware "that anyone had been blocked from any personal social media accounts."
"It was discussed with the reporter who has since lifted the blocks from his account," said the USAGM spokesperson [in 2017].
Among other things, Herman had re-tweeted some tweets from other news outlets that later turned out to include inaccurate information. BBG-USAGM Watch asked whether the VOA two-source rule should also apply to tweets by its correspondents.