BBG Watch Commentary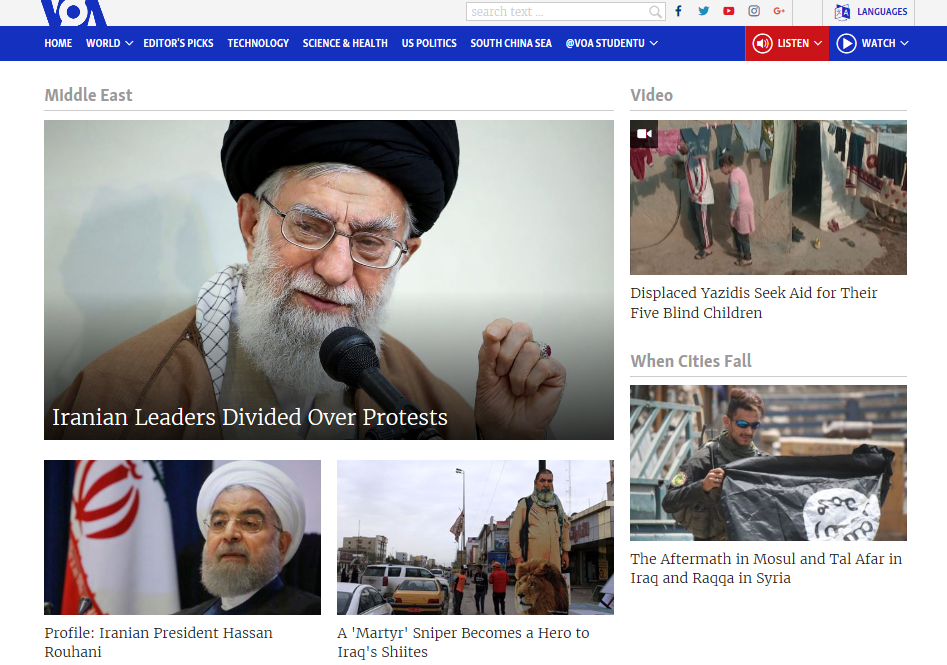 The U.S. taxpayer-funded ($224 million FY 2017) Voice of America (VOA), still run by Obama administration holdover appointees in the dysfunctional Broadcasting Board of Governors (BBG) federal agency, which even Hillary Clinton once called "practically defunct," not only posted in recent days several reports in which Iranian regime officials told at length Iranian demonstrators to behave, threatened them and lied about "foreign agents," but in a visual display of clueless pro-Iranian regime propaganda, VOA even arranged its English Middle East news homepage to look at one point yesterday like "The Voice of the Iranian Mullahs" and posted a highly sympathetic profile of Iranian President Hassan Rouhani.
VOA Middle East Homepage Tuesday looked more like "The Voice of The Iranian Mullahs" than "The Voice of America" with multiple images of Iranian regime leaders, sympathetic profile of Iranian President Rouhani and other regime-focused reports. The Broadcasting Board of Governors agency still in the hands of another Obama administration holdover appointee, John F. Lansing, has an annual budget of $740 million (FY 2017), including VOA.
VOA should have been profiling instead "An Iranian Female Protester." VOA could have also profited "A Protesting Iranian Worker" or simply "The Iranian Uprising." Better yet, all three. A profile of Rouhani can be easily found on Wikipedia.
But that is not how Voice of America director Amanda Bennett, an Obama administration holdover appointee, sees what VOA is doing. She has expressed her satisfaction in a Facebook post in how VOA has been covering the anti-regime demonstrations in Iran even though for the first days of the protests VOA English News did not have the Iran story on its homepage (BBC and DW did), VOA Persian Service was late in starting to post videos from the protests, and both VOA English and VOA Persian were more than two hours late reporting on the White House statement on Iran Sunday night. Her boss, BBG CEO John Lansing, another Obama administration holdover appointee, has also expressed pride in how the agency is engaging in unbiased journalism and accused critics of not being good journalists.
"Considering that this all happened on a major holiday when we were working with a skeleton staff, I think we're doing pretty good," Amanda Bennett wrote in her Facebook post, but Twitter users left numerous highly critical comments under a Voice of America tweet for an earlier VOA English News report "Iranian Official Blames 'Foreign Agents' for Protester Deaths."
"Replying to @VOANews: I remember when the voice of America opposed tyrannical regimes instead of spreading their talking points. You are a disgrace," was a typical comment. Another comment was: "Change your name to 'Voice of Rouhani' and get your funding from the Ayatollahs!"
There was also this comment under the VOA tweet: "Replying to @VOANews: Well, at least you're ensuring the murderous regime of killers get their side told #whatsideareyouon"
Is your programming and coverage controlled by the Iranian Regime? #Iranprotests

— Sixteen Winds (@sixteenwinds) December 31, 2017
For a different perspective SEE:
END OF BBG WATCH COMMENTARY
###
VOICE OF AMERICA

MIDDLE EAST
January 02, 2018 3:37 PM
VOA News
Iranian President Hassan Rouhani, who is frequently described as a relative moderate, was re-elected last year.
He is the seventh president of Iran and has served in that position since Aug. 3, 2013.
In 2013, Time magazine included the 69-year-old Rouhani in its list of the 100 Most Influential People in the World.
The long-time member of Supreme Leader Ayatollah Ali Khamenei's inner circle emerged a few years ago as an historic figure as he took action to normalize relations within Iran and in its interactions with the rest of the world.
After an easy re-election victory last year, Rouhani vowed to open Iran to foreign trade and investment while facing resistance from Iranian hardliners and renewed U.S. antipathy.
In 2015, he struck a deal with six global powers to restrict its disputed nuclear program in exchange for lifting financial and economic sanctions.
The lawyer, former diplomat and Islamic cleric expressed sympathy for peaceful protesters, who are concerned about living conditions amid high unemployment and 10-percent inflation.
Rouhani was born Hassan Feridon on Nov. 12, 1948, in Sorkheh, Iran. His family members were opponents of the Shah, which exposed him to political issues at an early age.
He studied religion as a youth and eventually adopted the surname Rouhani, which means "community of clerics."
After enrolling at the University of Tehran in 1969, he graduated three years later with a law degree. He earned a master's degree and Ph.D. from Glasgow Caledonian University in Scotland in the 1990s.
As an undergraduate student, he traveled throughout Iran to express his opposition to Shaw and his support for the exiled cleric Ruhollah Khomeini.
Rouhani was forced out of the country in 1977, when he joined Khomeini in Paris and addressed students across Europe.
He returned to Iran after the 1979 Iranian Revolution to help Khomeini rebuild the government.
###
Profile: Iranian President Hassan Rouhani https://t.co/Dv2gY4riRK pic.twitter.com/XaOeF56kqm

— The Voice of America (@VOANews) January 2, 2018
Iranian Leaders Divided Over Protests https://t.co/zppBVQJHmS pic.twitter.com/8ttWqt3ZKG

— The Voice of America (@VOANews) January 2, 2018
Iran: An Elected President, But an Appointed Supreme Leader in Charge https://t.co/xk6l6PNqeC pic.twitter.com/Zc8CMAjR1R

— The Voice of America (@VOANews) January 3, 2018