BBG Watch Commentary
United States Agency for Global Media (USAGM) Obama Administration holdover CEO John F. Lansing took no effective counter-measures despite being repeatedly warned since 2015 about egregious violations of journalistic standards, extreme partisanship shown by some Federal and non-Federal managers, editors and reporters, and their postings of anti-Israeli and anti-Semitic news reports and commentaries.


The latest incident at the USAGM was described in the letter of Senator Jeff Flake (R-AR) sent to John Lansing.

I sent the attached letter to @USAGMgov CEO @JohnLansing today and appreciate his prompt response to the matter: https://t.co/ojdv1RrRd0 I will follow this investigation closely. Anti-semitism can have no place in government. https://t.co/DfWmRIdy8J

— Jeff Flake (@JeffFlake) October 29, 2018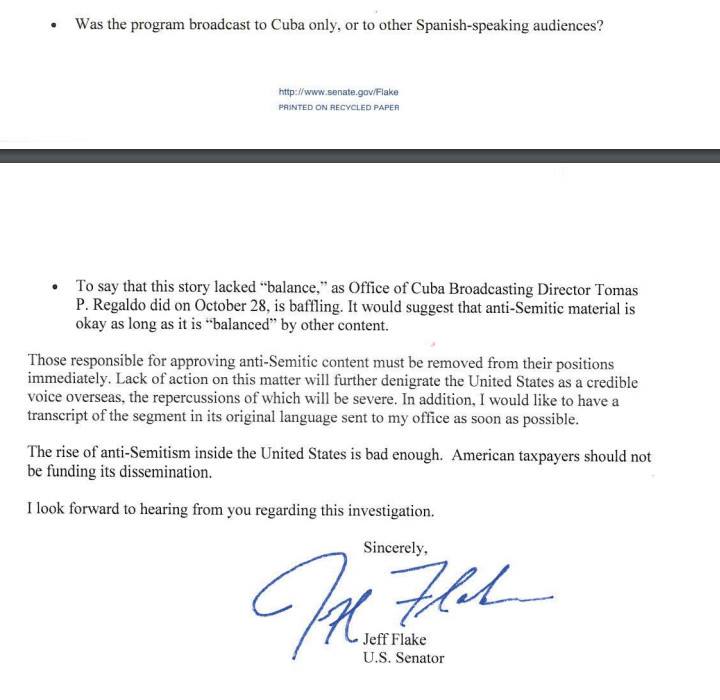 John F. Lansing
Chief Executive Officer and Director The U.S. Agency for Global Media 330 Independence Ave. SW
Washington. DC 20237

Dear Mr. Lansing:

I write regarding a video segment that ran on Television Marti last May, funded by U.S. taxpayers. and focused exclusively on George Soros, an American citizen. This 15-minute segment reportedly refers to Mr. Soros as a "multimillionaire Jew" and credits him as having been "the architect of the financial collapse of 2008." Later on in the program. Mr. Soros is labeled as a "non-believing Jew of flexible morals." The overseas promotion of hateful, vitriolic rhetoric is inconsistent with the mission of the U.S. Agency for Global Media (USAGM) and this kind of anti-Semitic programming is unbecoming of any entity affiliated with the government of the United States.

I have long argued that TV Marti is a waste of taxpayer money. Hundreds of millions of dollars have been squandered over the years on the production of luckluster programming that has consistently fallen short of U.S. goals to promote democracy inside Cuba. Even worse, for years much of the content never even reached its intended audience because the Cuban government jammed the signal coming from two taxpayer-funded airplanes leased by the federal government and charged with beaming the signal to the island.

At a time when hate-filled rhetoric is having a devastating impact inside the United Slates, it is irresponsible for an agency of the federal agency to perpetuate unfounded conspiracy theories that, far from supporting U.S. foreign policy goals, work against them.

In the interest of returning integrity to American broadcasting, I expect you will investigate the following:

• The evolution of this program from its initial inception to its final approval. Specifically, did the idea originate in the Office of Cuban Broadcasting, at other levels inside the USAGM, or outside the federal government.

• Who produced this program?

• What was the review process for this program prior to its broadcast to ensure it met journalistic standards of the Voice of America charter?

• What kind of supervision was performed over the editorial process?

• Was the program broadcast to Cuba only, or to other Spanish-speaking audiences?

• To say that this story lacked "balance," as Office of Cuba Broadcasting Director Tomas P. Regaldo did on October 28, is baffling. It would suggest that anti-Semitic material is okay as long as it is balanced by other content.

Those responsible for approving anti-Semitic content must be removed from their positions immediately. Lack of action on this matter will further denigrate the United Stales as a credible voice overseas, the repercussions of which will be severe. In addition, I would like to have a transcript of the segment in its original language sent to my office as soon as possible.

The rise of anti-Semitism inside the United States is bad enough. American taxpayers should not be funding its dissemination

I look forward to hearing from you regarding this investigation.

Sincerely,

Jeff Flake
U.S. Senator
While some media reports may leave the impression that President Trump and his administration are responsible, these incidents, including anti-Semitic references to George Soros, all occurred under the watch of Obama administration holdover officials and senior managers who had been selected by these officials.


One-sided and highly offensive programs have exploded in numbers under John Lansing's watch at the Voice of America (VOA), Radio Free Europe/Radio Liberty (RFE/RL), and Radio and TV Marti. They are all U.S. taxpayer-funded media outlets reporting to him and the Federal agency known before August 2018 as the Broadcasting Board of Governors (BBG). USAGM employees misappropriated "watch" domains, as in "USAGMWatch.com," in an apparent effort to stifle criticism by U.S. media, while RFE/RL, also under his watch, targeted Americans with Facebook ads in an apparent violation of U.S. law.


Lansing, who lacked previous U.S. government service or public diplomacy experience was appointed CEO by the BBG Board at the recommendation of former Democratic BBG Chairman, Jeff Shell, who is a Hollywood film studio executive, a contributor to the Democratic Party, and President Obama's nominee.
Apparently not having enough experience to know what is and what is not appropriate to do for the head of a U.S. government agency pursuing media freedom and transparency abroad at U.S. taxpayers' expense, the Broadcasting Board of Governors (BBG) Director and CEO John Lansing tried to hold a "closed event" at the National Press Club for "exploring the evolution of U.S. global media" until outside criticism forced him to open the meeting to reporters.


Shell's earlier BBG CEO choice, Andy Lack, unexpectedly quit after a few week at the agency to take his current job at NBC.
Some months ago, Lansing told two outside experts trying to warn him about the agency's violations of U.S. laws and journalistic standards to stop contacting him through his personal email account about management and editorial problems at the Voice of America and other agency media entities. Gross violations of editorial standards continued into 2018 under his management.
The latest reported incidents involve 15 Voice of America Hausa Service broadcasters who allegedly took bribes from a Nigerian officials and Radio and TV Marti broadcasters in the Office of Cuba Broadcasting (OCB) who produced a video report with anti-Semitic attacks on George Soros.


Numerous violations of journalistic ethics under John Lansing's watch also included highly partisan attacks on President Trump, with some VOA reporters using F-words to describe Trump and streaming sex jokes on Facebook about his wife, First Lady Melania Trump.


At the April 6, 2017 board meeting of the Broadcasting Board of Governors, Ann Noonan, Executive Director of the independent, non-partisan Committee for U.S. International Broadcasting (CUSIB – cusib.org) expressed concern over "blatant one-sided partisanship" and use of vulgarities and sexism in some of Voice of America programs. Noonan said that such irresponsible behavior undermines bipartisan support for VOA's and the agency's vital mission in support of freedom and democracy abroad. Noonan also expressed concern over some VOA reports, which critics described as romanticizing terrorists and pirate hostage takers. Some of these reports have been praised by VOA director Amanda Bennett, while BBG CEO John Lansing assured NPR that the agency "has the greatest respect for the President."
Ann Noonan noted that some VOA reporters have been lampooning and telling in public sexist jokes about the First Lady and President Trump's daughter. Noonan also mentioned reposting by Radio Free Europe / Radio Liberty (RFE/RL) of Iran's anti-Israel, anti-Semitic statements without proper balance and counter. She also noted continuing restrictions of employee rights at RFE/RL. CEO John Lansing touted the success of the joint RFE/RL-VOA Russian-language program "Current Time" despite its embarrassingly low digital ranking in Russia — multiple times below the ranking of even some of the remaining independent and much less costly Russian media outlets such as Rain TV or MEDUZA.



Noonan also pointed out that BBG staff did not provide for members of the public to register to speak at the meeting and said that she was allowed to speak only after submitting a protest. BBG Chairman Kenneth Weinstein responded that members of the public will be permitted to address the board.

STATEMENT BY CUSIB EXECUTIVE DIRECTOR ANN NOONAN – BBG BOARD MEETING – APRIL 6 2017


Good afternoon.
The BBG is funded by all U.S. taxpayers. When it comes to being non-partisan and objective, like Cesar's wife this agency must be above suspicion and cannot afford to be even suspected of any misconduct, much worse engage in it.
And yet what we have seen in recent months is an unprecedented level of blatant one-sided partisanship being shown by some VOA executives, managers, editors, and a few VOA reporters — and I say this as a Democrat. It is so bad that it has descended even into open and ugly sexism.
Whether you are a Democrat or a Republican, a VOA reporter — who must be ALWAYS perceived as unbiased — is completely out of line telling in public a sexist joke about the First Lady, lampooning the President's daughter simply for being a woman, or calling Mr. Trump an F-word in a public Facebook post. Mr. Lansing should not have told NPR that, I quote, "we have the greatest respect for the President." End quote.
VOA's credibility and the agency's funding by taxpayers have been seriously undermined under his watch. Human rights defenders in Russia, China, and Iran will be the victims if bipartisan support for VOA and the agency completely evaporates as a result of such irresponsible behavior.
Employee morale is still at a record low, with BBG's federal employees rating senior leaders and employee engagement, even lower than before in LEADERSHIP in the latest 2016 OPM survey.
We would like the BBG Board to discover and report to the American public why countless BBG and VOA management elements and managers have, for years, followed and legitimized a VOA Persian Service Twitter account, which VOA now admits was fake and established by an impostor.
How is that possible at the agency that is supposed to exist as a counterweight to fake news?
Scores of BBG's own reporters as well as outside journalists were fooled by this phenomenal management failure.
We were also stunned by the VOA director's Facebook post highlighting a blatantly false claim from a Somali pirate who told VOA that he was not a pirate. As someone observed, VOA used to take pride in interviewing Vaclav Havel who told the truth. It now takes pride in interviewing a hostage taker who told lies.
Equally baffling was the VOA director's post praising a VOA report which compared information being given out by the White House to the press to — I quote — "manure."
Other VOA reports we have seen imply, to poorly-informed audiences abroad, Stalin-like persecutions in the United States under President Trump. RFE/RL posts with anti-Israel themes from Iran border on being anti-Semitic. They all distort history and trivialize real human rights violations and threats to democracy.
The BBG bureaucracy's ability to grow while restricting the rights of its employees is equally disturbing. The rights of foreign journalists working for RFE/RL to form a real employee union and to defend themselves against illegal actions by the management are still severely restricted.
CUSIB would like the BBG Board to investigate why the case of Snjezana Pelivan and Anna Karapatian has not been resolved and why RFE/RL employees cannot speak out without the fear of being fired. Thank you for listening.
END OF STATEMENT BY CUSIB EXECUTIVE DIRECTOR ANN NOONAN – BBG BOARD MEETING – APRIL 6 2017
Anti-Israeli bias in agency Voice of America and RFE/RL programs was also discovered by an independent study commissioned by the BBG from American Foreign Policy Council.
In perhaps the greatest display of denial of mismanagement under John Lansing, the Broadcasting Board of Governors — now the U.S. Agency for Global Media but still under the same senior management as before, including John F. Lansing, Voice of America Director Amanda Bennett and Radio Free Europe / Radio Liberty President Thomas Kent [in charge of Radio Farda; Kent announced that he plans to leave RFE/RL in September] — said in a in a public statement that the the American Foreign Policy Council 2017 Study of BBG's Persian-Language Broadcasting "did not find any systematic bias in VOA and RFE/RL content."
The BBG statement that the study "did not find any systematic bias in VOA and RFE/RL content" was simply untrue with regard to Voice of America [VOA Persian Service] and Radio Free Europe / Radio Liberty [RFE/RL Radio Farda] Iran coverage.
In fact, the AFCP study concluded:



AFCP

AMERICAN FOREIGN POLICY COUNCIL U.S. PERSIAN MEDIA STUDY

Final Synthesis Report

October 6, 2017

John Lansing offered a response to the anti-Semitic scandal at the Office of Cuba Broadcasting but did not accept responsibility for it as the top leader of the agency since 2015.
From: IBB Notices Admin
Subject: CEO Statement on Office of Cuba Broadcasting piece on George Soros
Date: October 29, 2018 at 3:45:26 PM EDT
To: IBB Notices Administration

The CEO released the following statement on USAGM journalistic standards.

From the CEO

CEO Statement on Office of Cuba Broadcasting piece on George Soros

October 29, 2018

It was brought to my attention this weekend that the Office of Cuba Broadcasting (OCB), which is overseen by the U.S. Agency for Global Media (USAGM), earlier this year aired a video segment about George Soros that is inconsistent with our professional standards and ethics. USAGM networks' content is required to adhere to the highest standards of professional journalism.

Those deemed responsible for this production will be immediately placed on administrative leave pending an investigation into their apparent misconduct. Disciplinary action appropriate under federal law may then be proposed, including the potential removal of those responsible, depending on the outcome of that investigation.

Since the video first aired, I have brought on board a new OCB Director, Tomás P. Regalado, who is taking this issue just as seriously as I am. I have directed an immediate, full content audit to identify any patterns of unethical reporting at the network. I have asked Director Regalado to also require ethics and standards refresher training for all OCB journalists.

Journalistic integrity is the cornerstone of all USAGM networks. I am personally and professionally offended by this example of unprofessionalism, and I am committed to ensuring that we develop processes and structures to prevent this from happening again.

The statement is posted here: https://www.usagm.gov/2018/10/29/ceo-statement-on-office-of-cuba-broadcasting-piece-on-george-soros/
End of CEO Statement on Office of Cuba Broadcasting piece on George Soros