BBG – USAGM Watch Commentary
Several women who have been longtime employees of the U.S. Agency for Global Media (USAGM), previously known as the Broadcasting Board of Governors (BBG), are telling their colleagues that they were passed up for promotions or gave up on seeking higher-level jobs within the agency when the former right-hand man of CEO John Lansing, Dr. Haroon Ullah who recently pled guilty to federal fraud charges, started to hire his former associates as contractors who reportedly later applied for and were selected to fill key permanent federal positions in the agency's front offices.
Several USAGM women employees as well as some male candidates for senior-level jobs are believed to have been affected.
Numerous scandals have been reported at the agency under CEO John Lansing's watch and the watch of key executives he has selected for the Voice of America (VOA), Radio Free Europe / Radio Liberty (RFE/RL) and Radio and Television Marti in the Office of Cuba Broadcasting (OCB). The most recent scandal has been reported at OCB where the son of the OCB director is suspected of using an allegedly fake video in a news report. Lansing allowed the son, who had been previously employed as a reporter at Radio and TV Marti, to continue working at OCB after selecting his father for the OCB director's job in 2018.
Lansing was appointed to his USAGM position in 2015 during the Obama administration. His possible replacement as USAGM CEO, film documentarian and former U.S. government official Michael Pack, was nominated by President Trump but has not been yet confirmed by the U.S. Senate. In a possible response to numerous scandals, Secretary of State Mike Pompeo had called in March 2019 for a leadership change at USAGM. "I would urge to get a CEO of that organization in place so that the BBG will have the right leadership so they can do the traditional mission – perhaps in a different information environment than we did back in the Cold War, but can perform its function in a way that is important and noble, and reflects the enormous resources that are – that American taxpayers have put towards that, Pompeo said in a congressional testimony.
Some of the men initially brought on board by Dr. Ullah as government contractors reportedly now occupy senior federal jobs directly under John Lansing or other important positions within the agency. As of July 7, 2019, Dr. Ullah's bio could still be seen on the USAGM official U.S. government website under: https://www.usagm.gov/who-we-are/management-team/haroon-ullah/ "Who Are We – Management Team – Haroon Ullah" url.
Women who said they were passed up for promotions in favor of men brought on board by Dr. Ullah or by job candidates who reportedly were recommended by him expressed dismay that even after Ullah's guilty plea, his bio, photo and articles still appeared on the USAGM official government website several days following the official federal court announcement. At some point, the word "former" was added on the USAGM website before Ullah's "Senior Strategic Advisor" title under John Lansing.
USAGM women allegedly affected by these personnel decisions also told their colleagues they were shocked that John Lansing and at least one of his current senior aides are still listed as followers of Ullah's Twitter account.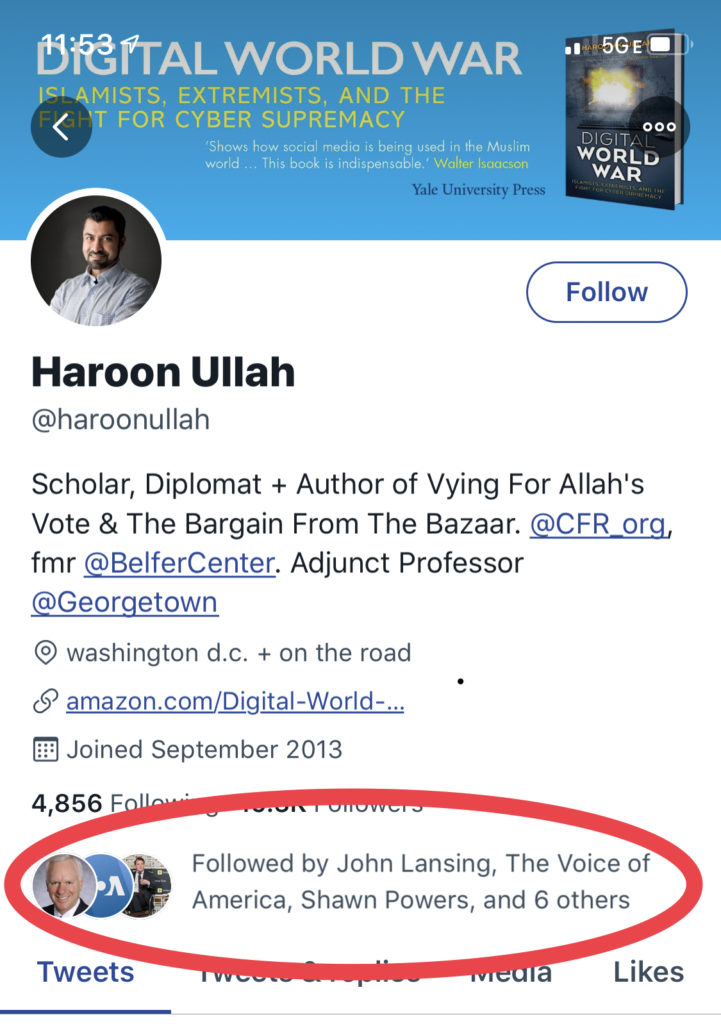 Other USAGM employees and former Voice of America (VOA) journalists also said that Lansing's behavior before and after the Ullah scandal became public has had a disastrous impact on the already record low employee morale.
Some of USAGM women point out that important agency decisions are still being made by the CEO who had hired Dr. Ullah, had shown supreme confidence in him before the scandal, allowed him to assemble his own staff, and kept silence after the scandal. According to these USAGM women employees, Dr. Ullah's legacy at the agency continues though his past decisions on strategy, policy and personnel.
To our knowledge, John Lansing has not apologized to all USAGM employees for any harm done to the agency's reputation by his hiring of Dr. Ullah in 2017. He also has not said, to our knowledge, whether all critical decisions made by him jointly with his former senior aide or by Dr. Ullah alone will be reviewed in light of Ullah's travel fraud guilty plea.
Federal prosecutors did not charge Dr. Ullah with violations of any other federal laws.
A Voice of America report on his guilty plea did not mention any issues relating to his personnel, contracting or policy decisions. The VOA report did not mention that Dr. Ullah was hired by John Lansing and that Ullah was his key aide, advisor and spokesman on all issues relating to the agency's programming strategy. The VOA report did not include any statements from Lansing or USAGM employees but quoted a statement from Dr. Ullah's lawyer in defense of his client's character and professional achievements.
VOICE OF AMERICA REPORTING

Mark Schamel, a lawyer for Ullah, called him a "dedicated patriot" who will "continue to find ways to contribute to national security."

"Dr. Ullah has done so much for the United States through his myriad contributions in the fight against terrorism," Schamel said in a statement to VOA. "This case will not define him and all that he has done in saving American lives."
VOA did not disclose whether in connection with this story it tried to interview John Lansing, USAGM women who claim they were passed over for promotion or any other employees who had worked for Dr. Ullah. The VOA report did not quote any VOA journalists or mention that any harm was done to Lansing's, USAGM's and VOA's reputation as a result of the scandal.
Some employees dismissed reported claims from senior agency managers that the agency's leadership immediately referred the case to the Office of the Inspector General (OIG) when informed of possible travel irregularities. Some of the women employees said they were the first ones to notice suspicious travel by Dr. Ullah. They also said that when their concerns were brought to the attention of senior managers reporting to Mr. Lansing, they said that there was nothing irregular about Ullah's travels. According to these women employees, it was they who first alerted the OIG to the possibility of travel fraud.
Dr. Ullah's activities while being employed at USAGM were described as part of his plea agreement with federal prosecutors. They did not include any charges related to policy, contracting or personnel decisions taken by Dr. Ullah while he was employed at the agency.

THE UNITED STATES DISTRICT COURT FOR EASTERN DISTRICT OF VIRGINIA, ALEXANDRIA DIVISION
"5. During the approximate ninth-month period of February 2018-October 2018, ULLAH submitted for reimbursement multiple falsified hotel invoices; falsified taxi receipts; double-billed third party sponsors and USAGM for the same trips; and billed USAGM for personal trips, either to promote his book, or for week-end trips during which little to no USAGM business was conducted. ULLAH used his government computer, a Microsoft Surface Pro, to create the false documents. He would obtain logos and other graphics on-line and use either an invoice generator or Microsoft Excel in order to create fraudulent hotel invoices. Sometimes ULLAH had stayed with a family member or friend or at a budget hotel, but he created the false invoice for the purpose of financial gain in order to maximize his reimbursement from USAGM. With other hotel invoices, ULLAH took a legitimate hotel invoice and changed his address or other data in order to conceal that the hotel room had been paid by a third party, which fact ULLAH intentionally failed to disclose to E2 and USAGM.

6. ULLAH also frequently submitted false taxi receipts and falsified Uber receipts, claiming, for instance, over $70 in taxi fare for rides between his Arlington home and Reagan National Airport, but that his Uber records showed truly cost approximately $12-$ 16 per ride.

7. As a result of his materially false submissions to USAGM and E2, and the falsified invoices and receipts supporting them, ULLAH caused thousands of dollars in fraudulently-obtained travel reimbursements to be directly deposited from USAGM's funds located outside of the Eastern District of Virginia into ULLAH's Bank of American account in the Eastern District of Virginia. For instance, on or about September 24, 2018, ULLAH received $1,287.53 in government funds wired to his bank account in Virginia in connection with a trip to New York City, for which ULLAH had submitted a fake hotel invoice from the Marriot New York downtown. In reality, this trip was for personal reasons over a weekend, not for government business, as ULLAH had falsely certified to USAGM and E2.

8. As part of a scheme to obtain business class travel to which he was not entitled, ULLAH also submitted to USAGM a falsified and forged letter from a real medical doctor, identified here by the initials N.A., claiming that ULLAH required an upgrade to business class because of a medical condition that required him to "lie flat" on long flights. The doctor confirmed to law enforcement that the letter was a forgery; that he did not authorize ULLAH to use his identity or to sign his name for him; and that a business class upgrade for ULLAH's sore knee was not medically necessary. By using the doctor's identity, ULLAH defrauded USAGM of all payments for business class upgrades, some of which were substantial, as they involved international flights. For instance, on or about July 23, 2018, ULLAH received reimbursement for business class travel to Cologne, Germany, for over $ 1,600 in upgrades obtained as a result of the fraudulent doctor's letter.

9. ULLAH also billed the government for an international flight to Muscat, Oman, claiming it was for USAGM business, when in truth and in fact, he stayed with his sister. In connection with the Oman trip, ULLAH also submitted a falsified hotel invoice.

10. Altogether, ULLAH intended to defraud USAGM of more than $40,000. ULLAH caused actual losses to the government of at least $37,082.49, which ULLAH acknowledges constitute proceeds of crime and are subject to orders of forfeiture and restitution.

11. At the same time that ULLAH was submitting falsified invoices to USAGM, he was also submitting a falsified home repair estimate and false lien release to Liberty Mutual Insurance Company in connection with repairs to his home in Alexandria, Virginia, for tree damage. ULLAH used without lawful authority or permission the identity of a true real estate agent who works in the Eastern District of Virginia, to create the false construction estimate and lien release. ULLAH also submitted to Liberty Mutual an altered residential lease and falsified repair invoices, in order to maximize his insurance claims and to minimize the amount he actually paid contractors to renovate and repair the home."
END OF EXCERPT FROM UNITED STATES OF AMERICA v. HAROON K. ULLAH, Defendant.
VOICE OF AMERICA

By Masood Farivar
June 28, 2019 04:42 PM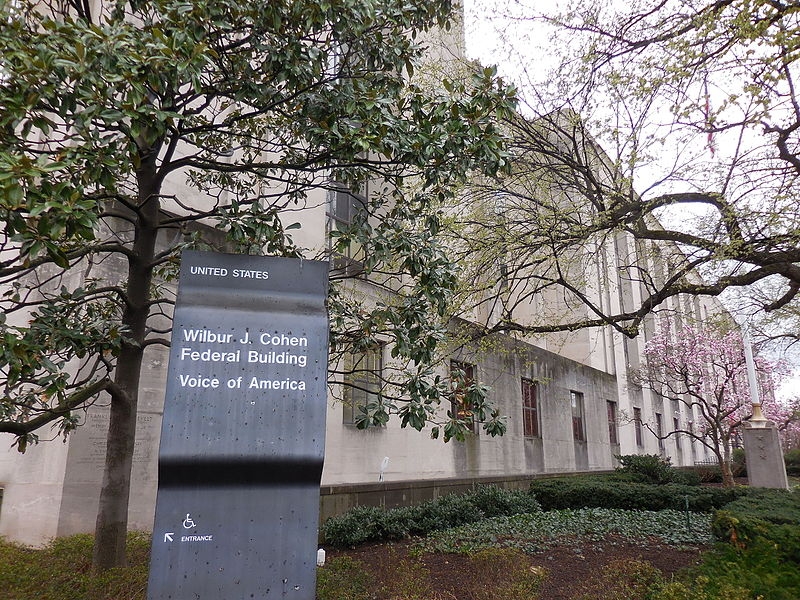 WASHINGTON – A former State Department official and senior employee of the U.S. Agency for Global Media pleaded guilty on Thursday to stealing nearly $40,000 in government funds last year while in the employ of the federal agency.
Haroon K. Ullah, who served as chief strategy officer for USAGM from late 2017 to early this year, admitted in U.S. court in Alexandria, Virginia, that he received thousands of dollars in reimbursements from the federal agency by submitting falsified hotel, taxi and Uber invoices, and by billing the government for personal trips to promote his book and weekend trips, during which he performed no USAGM-related work.
Ullah, 41, also admitted in court documents that he falsified a letter from a real doctor claiming that Ullah needed to fly in business class because of a sore knee that required him to "lie flat" on long flights. The false letter enabled Ullah to get expensive business class upgrades on several international flights at government expense. One such upgrade for a flight to Cologne, Germany, cost the agency more than $1,600.
According to a court filing signed by one of Ullah's attorneys, Ullah used a laptop issued by the agency and an invoice generator to create many of the fake documents.
USAGM, formerly known as BBG, is an independent U.S. government agency that oversees Voice of America and four other broadcasting entities.
The author of several books on political Islam and extremism, the Ph.D.-holding Ullah joined the agency in October 2017 after serving on former Secretary of State John Kerry's policy planning staff. As chief strategy officer for USAGM, Ullah led the "agency's policy engagement within the broader U.S. government as well as with key stakeholders outside the federal government," according to an online biography cited in court filings.
According to court documents, he committed the theft from February to October 2018, when he was placed on administrative leave. The agency fired him in early April. A source familiar with the case not related to the agency said the inquiry into Ullah's alleged misdeeds was instigated by an anonymous complaint filed last year with the agency.
Upcoming sentencing
In a statement, USAGM said that once "information about irregularities" came to light, "agency leadership referred this matter to the Office of the Inspector General."
"The agency's own internal oversight and audit processes for travel-related expenditures alerted Agency officials to potential fraud," the statement continued. "Mr. Ullah's employment was terminated a number of months ago, as a result of the Agency's own investigation."
Mark Schamel, a lawyer for Ullah, called him a "dedicated patriot" who will "continue to find ways to contribute to national security."
"Dr. Ullah has done so much for the United States through his myriad contributions in the fight against terrorism," Schamel said in a statement to VOA. "This case will not define him and all that he has done in saving American lives."
Ullah's sentencing is scheduled for October. He faces a maximum of 10 years in prison for theft of government money. Actual sentences for federal crimes tend to be less than the maximum.
END OF VOICE OF AMERICA REPORT