BBG Watch Commentary

Both Vatican Radio and Voice of Russia had posted on their websites full-length reports on the White House announcement Friday evening of Vice President Joe Biden's trip to Poland and Lithuania next week to discuss Ukraine and NATO security issues while U.S. taxpayer-funded Voice of America did not and was hours late even in noting the trip.
Voice of Russia posted its report almost immediately after the White House issued its announcement at about 7:00 PM EDT Friday.
Joe Biden to visit Ukraine's neighbor Poland, Lithuania next week
Fri, Mar 14, 2014
Source: Voice of Russia (Russia)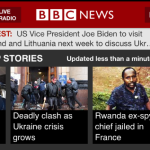 BBC also reported on Biden's visit almost immediately and placed a separate headline in its "Latest News" banner, but did not issue a separate report as Voice of Russia did.
It took Voice of America about six hours to even mention the trip for the first time with only two sentences in the body of another news report (UN-Crimea related) and without a headline announcing the mission to NATO countries in the region.
Badly managed, Voice of America central news operation basically shuts down after business hours, especially before weekends. VOA's senior management has allowed the central newsroom to become depleted of journalists over the last few years and did not take effective measures to significantly improve news coverage when the crisis in Ukraine developed.
VOA's Ukrainian and Russian services still have not been given sufficient help to enable them to update their news websites and Facebook and Twitter pages on a regular basis. VOA Ukrainian Service Facebook page was recently left without updates for more than 24 hours and its Twitter page for more than 8 hours.
Some improvements in VOA news coverage were noted recently, but they have not been sustained or continued after hours and on weekends. At best, VOA managers are able to arrange for coverage of the main Ukraine-related news story and even then they seem unable to coordinate full multimedia presentation of the content. While the focus is on the main story, other significant Ukraine and Russia related news developments are reported late and superficially or not reported at all on the VOA English website.
One can still find on the VOA English website excellent reports by those VOA correspondents who have not left the organization due to bad management and poor employee morale, as VOA chief White House correspondent did recently. Poor updating of news, however, means that international audiences will seek other sources of information, including Russia's RT and Voice of Russia, which in recent weeks have switched into almost full pro-Putin propaganda mode.
The VOA Ukrainian Service is doing an excellent job with very limited resources, but it is unable to provide 24/7 coverage of U.S. responses to the crisis in Ukraine, especially online and on social media platforms due to insufficient staffing and lack of support from senior management, which has access to internal resources but refuses to share them with programmers.
Radio Free Europe / Radio Liberty (RFE/RL) Ukrainian and Russian Services provide outstanding news coverage, but they do not focus on news about Ukraine and Russia generated in the U.S. That had been traditionally VOA's job.
Both RFE/RL and VOA lack sufficient funding. In addition, VOA is badly managed, as is the International Broadcasting Bureau (IBB) which controls 34% of the Broadcasting Board of Governors (BBG) budget even though it does not produce any programs. IBB offers support services, but it is in fact a vast bureaucracy that kept growing over years by cutting programs.
Voice of America also did not report Friday on the day's meetings and talks in Kyiv by a large U.S. Senate delegation led by Senators Dick Durbin and John McCain.
Other international broadcasters offer now faster and, in at least some cases, more comprehensive reporting than Voice of America English news service on U.S. reactions to the Russian military intervention in Ukraine.
Biden to visit Europe amid Ukraine crisis
Sat, Mar 15, 2014
Source: Vatican Radio (Vatican)
Listen to Vatican Radio Report
While VOA executives claim that they have limited resources to report and update breaking news, they have been able to arrange for fast posting and updating recently of multiple reports on Canadian pop star Justin Bieber, at least two reports on a dog show in New York, and dozens and even hundreds of reports in 2013 and 2011 (if translations into foreign languages are included) on marriages and baby christenings in the British royal family.