BBG Watch Commentary
In a news report without much substantive information, written in a style similar to Soviet press agency TASS or communist Chinese press agency Xinhua state media communiques, U.S. taxpayer-funded Voice of America (VOA) still under its Obama-era director Amanda Bennett put out what pretends to be a news report but appears designed mainly to attack Chinese whistleblower Guo Wengui.
At the same time, the VOA report fails to mention facts and allegations that are highly material to the issues in the report but which could put VOA director and VOA's parent agency, the Broadcasting Board of Governors (BBG) in potentially a bad light. It is a classic example of self-censorship by omission.
Short on facts and information, VOA dismisses Guo Wengui's allegations as "baseless" without explaining why they should be considered "baseless."
The use of such labels against critics and their criticism without any explanations is reminiscent of TASS during Soviet times and Russia's RT or SPUTNIK and China's Xinhua to this day.
One-sided reports and use of labels against various individuals have become common under the chaotic watch of VOA director Amanda Bennett and her boss, BBG CEO John F. Lansing, both of them Obama-era appointees. In one such VOA media production during the 2016 U.S. presidential election campaign until the VOA video in question was removed following heavy outside criticism, Donald Trump was called "pig," "dog" and other insulting names.
The VOA report on Guo Wengui press conference Thursday in Washington does not mention that four members of the U.S. Congress have asked earlier the Office of Inspector General (OIG) to investigate the VOA and BBG management for its handling of the shortening of the VOA Guo Wengui interview. They are: a member of Senate Committees on Appropriations, Foreign Relations and Select Committee on Intelligence U.S. Senator Marco Rubio (R-FL); Chairman of the House Foreign Affairs Committee Rep. Edward Royce (R-CA); a senior member on the Foreign Affairs Committee and Co-Chairman and the highest-ranking House member of both the bipartisan House/Senate Commission on Security and Cooperation in Europe (CSCE), and the bipartisan House/Senate/White House Congressional-Executive Commission on China Rep. Chris Smith (R-NJ); and Commissioner of the Congressional-Executive Commission on China and Vice-Chairman of Terrorism and Illicit Finance Subcommittee Robert Pittenger (R-NC).
The VOA report also does not mention that VOA director Amanda Bennett has put on administrative leave with pay five VOA Mandarin Service journalists. Four of them are still on forced leave because they may have disagreed with her decision to shorten the Guo Wengui interview.
The VOA report does not mention Secretary of State Rex Tillerson assuring members of Congress that to his best knowledge the U.S. State Department had nothing to do with the VOA senior management's decision to shorten the live VOA interview with Guo Wengui. The decision was made alone by VOA director Amanda Bennett in consultation with a few senior managers.
The VOA report does not mention that VOA Mandarin Service journalists told VOA director Amanda Bennett that her decision to order the Guo Wengui interview to be shortened has seriously damaged VOA's reputation among its Chinese audience. The scope of the damage to Voice of America's reputation in China as a result of her decision to shorten the live interview with Guo Wengui is "unbelievable," VOA director was told by a VOA Mandarin Service broadcaster in a public meeting.
The VOA report does not mention that Chinese Americans have staged demonstrations in front of the Voice of America building in Washington, DC, including a mock funeral with funeral wreaths and a mock coffin to stress the point that in their view the Voice of America is dead in China.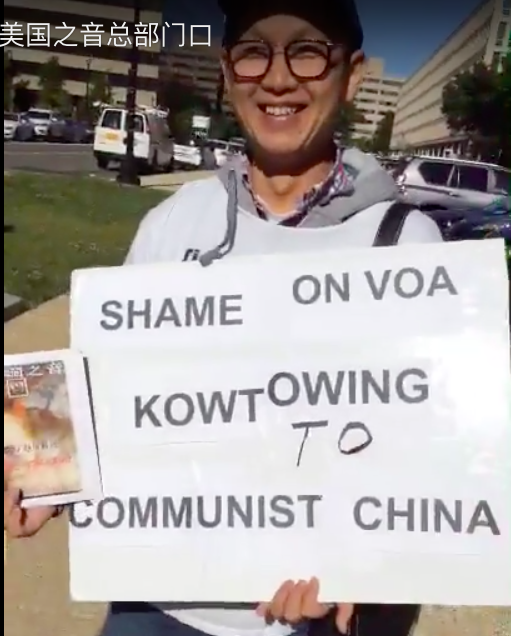 The VOA report did not say that Women's Rights Without Frontiers, a U.S.-based international human rights group that opposes forced abortion and sexual slavery in China, has issued an open letter on the expected investigation by the U.S. Office of Inspector General of "management decisions" at the Voice of America and its parent federal agency, the Broadcasting Board of Governors with regard to the shortening of the VOA Guo Wengui interview and putting five VOA Mandarin Service journalists on forced leave. Human rights activists urge the OIG to investigate any potential personal conflicts of interests of VOA and BBG officials who may have significant business interests in China. "Could reports be true that some members of VOA management and the Broadcasting Board of Governors (BBG, VOA's parent federal agency) have significant business interests in China?," Women's Rights Without Frontiers asks in an open letter. In raising questions about potential conflicts of interests, the women's rights organization could have been relying on a Los Angeles Times report showing that former Democratic Chairman of the BBG Board, Jeff Shell, who still serves as a BBG Board member, signed a $450 million contract between Universal Filmed Entertainment group and a Chinese company in 2016. There are reports that a company run by VOA director Amanda Bennett's husband does significant business in China.
"Pressure from the Chinese government played no role in any decision-making," Bennett said, as reported by VOA.
In addition to Women's Rights Without Frontiers President Reggie Littlejohn, the open letter was signed by Chinese human rights activist Chen Guangcheng who now lives in exile in the United States, and several other Chinese rights defenders and scholars.
None of this critical information was included in the VOA news report.
While the Voice of America failed to do its job according to the VOA Charter, we found an example of what a real news report on this topic should look like. The VOA Charter (U.S. Public Law 94-350) requires VOA news to be accurate, balanced, comprehensive and explaining U.S. policies clearly and effectively. The latest VOA news report on Guo Wengui does not meet these standards. It reads more like a state media report from China or Russia.
Here is a link to an accurate, balanced and comprehensive CNBC report. You can compare it with the VOA report we reposted below. The VOA report does not even say where exactly in Washington, DC Guo Wengui spoke on Thursday. The news event took place at the National Press Club in Washington and was moderated by Bill Gertz, senior editor of the Washington Free Beacon, who earlier reported at length on Guo Wengui's allegations after VOA had cut short its interview with the Chinese whistleblower.
CNBC reported that "in April, the Voice of America, which is operated by the U.S. government, reportedly abruptly cut short an interview with Guo, and later put five of its own journalists on administrative leave in connection with the interview." CNBC also reported that "the chief of VOA's Mandarin service told CNBC that Chinese authorities met with VOA's Beijing correspondent and asked that the interview with Guo be canceled."
###
CNBC

###
It is worth noting that while Guo Wengui has thousands of social media followers and his Twitter posts have thousands of comments, the VOA report had zero comments on the VOA website as of noon Friday, many hours after it had been posted. Such lack of audience engagement has become typical for the Voice of America.
VOICE OF AMERICA

October 05, 2017 7:00 PM
VOA News
Guo Wengui again leveled charges Thursday of high-level corruption in China's ruling elite and claimed proof of Chinese espionage in the U.S.
Guo, the Chinese dissident billionaire facing criminal charges in China and seeking asylum in the U.S., spoke at a news conference in Washington where he distributed a document that he said shows a spy network placed in companies owned by the Chinese government that are doing business in the U.S.
Guo said that the Communist Chinese government has pressured U.S. interests, including the media, to prevent him from speaking out. The document, which Guo says he obtained through intermediaries from Chinese intelligence files, was impossible to verify.
His claims came a day after the Hudson Institute, a Washington, D.C.-based think tank, postponed a scheduled appearance by Guo. The billionaire said he had planned to unveil three other documents at the Hudson Institute to show Americans how the Chinese government penetrates American society through espionage.
Guo said he that he has since burned the documents and added that Hudson's decision to postpone his appearance was due to pressure from the Chinese government.
A spokesman for the Hudson Institute called Guo's claim "preposterous."
VOA interview
During the press conference, Guo claimed that an interview with him conducted by VOA's Mandarin service in April was cut short due to interference from the Chinese government. VOA Director Amanda Bennett said Guo's charges are baseless.
"Pressure from the Chinese government played no role in any decision-making," Bennett said.
The Hudson Institute is led by Kenneth Weinstein, who also serves as chairman of the Broadcasting Board of Governors, which oversees VOA.
END OF VOA REPORT
###