BBG Watch History
During World War II, the Voice of America (VOA) operated within a mega propaganda agency — the Office of War Information (OWI) — headed by a powerful but incompetent CEO Director Elmer Davis. Contrary to later claims by friendly historians that VOA from its very beginning in 1942 broadcast nothing but the truth, the official U.S. broadcaster within the consolidated government information agency was in fact a U.S. domestic and foreign propaganda tool for the Roosevelt White House. OWI also took policy directives from the State Department to guide VOA programs, but OWI officials sometimes failed to seek them or did not have them and created their own propaganda. Management and accountability were weak, but OWI abuses were many, perhaps not unlike the current state of affairs at the Broadcasting Board of Governors and the Voice of America. Also not unlike today, many members of Congress were weary of a powerful, out-of-control, wasteful and mismanaged government agency. Not unlike today, they believed that OWI/VOA was not doing a good job. Some wanted to defund it.
There were many reasons for congressional disapproval and anger. Some wartime Voice of America broadcasters themselves strongly pushed Soviet propaganda line and were generally hostile to democratic allied governments disliked by Stalin. This was not surprising since VOA, as well as the rest of OWI, became infiltrated by U.S. Communist Party members, a few of whom also served as agents for the Soviet intelligence which U.S. intelligence agencies were able to confirm after the war through the decoding of secret Soviet cable traffic [the Venona Project]. The job of Soviet agents and pro-Soviet OWI employees was made easy because the Soviet line was also promoted by the Roosevelt White House after Stalin became America's ally against Hitler. VOA regularly censored news which the White House did not want to be broadcast, such as any facts or hints about Soviet responsibility for the mass murder of Polish military officers in a series of executions known as the Katyn Forest Massacre. The mass murders were carried out by the Soviet secret police NKVD in the spring of 1940 when Stalin and Hitler were still allies. Elmer Davis, who was a news broadcaster prior to joining OWI, himself wrote a commentary in 1943 putting the blame for the massacre squarely on the Germans even though he knew or should have known as a journalist that there was strong evidence of Soviet involvement.
Communist infiltration of the Voice of America during the war became so pervasive that American labor unions joined in the American Federation of Labor (AFL) and the Congress of Industrial Organizations (CIO) protested and ended their cooperation with OWI on labor-related broadcasts. Even Elmer Davis admitted after the war to firing a few OWI employees because of their Communist Party affiliations, but many others remained. Similarly to current loose hiring practices at the Voice of America, many wartime OWI employees were hired through a private staffing agency which allowed foreign agents to get jobs with OWI. Mismanagement and waste were rampant at the mega propaganda agency. Congress was furious.
Accusations of Communist infiltration during the war, as opposed to after the war, were not exaggerated. The head of the OWI/VOA Czechoslovak desk joined the Communist regime in Prague and one of the chief commentators of the OWI/VOA Polish desk later became a propagandist for the communist regime in Warsaw.
Wartime OWI not only censored Voice of America broadcasts abroad but also engaged in illegal censorship of U.S. domestic ethnic media and harassed American journalists who criticized the Soviet Union. Made aware of these practices, members of the U.S. Congress of both parties protested and nearly defunded OWI in 1943. They also sharply and repeatedly criticized OWI executives for waste and mismanagement of public funds.
World War II abuses at the OWI mega propaganda agency contributed to its abolishment in 1945 by President Truman and the transfer of the much reduced Voice of America to the State Department. Even though the State Department was also guilty of requiring that some VOA news be censored during the war, some OWI/VOA managers and broadcasters, especially those with Communist affiliations, were much more uncritically pro-Soviet than American diplomats. The Smith-Mundt Act of 1948, which further regulated the Voice of America and promoted U.S. foreign information programs and visitor exchanges run by the State Department as a much needed response to Soviet propaganda, was in parts an attempt to introduce safeguards designed to avoid the repetition of wartime abuses seen at OWI/VOA.
The 1948 legislation made it practically impossible for VOA to distribute its programs in the United States as OWI was able to do during the war, although Americans were not forbidden to find and disseminate such VOA programs on their own if they so wished. The Smith-Mundt Act was a protection against any U.S. administration trying to use VOA for domestic political propaganda, as the Roosevelt White House did during the war, but members of Congress were just as emphatic, if not more so, that VOA should not compete domestically with U.S. commercial media. The Smith-Mundt Act also introduced stringent requirements for security checks on Voice of America employees to avoid security breaches which were rampant at OWI/VOA during the war. In 1948, many members of Congress did not trust the State Department, but they had far less faith in OWI/VOA officials during the war.
Wartime VOA was just one part of OWI's many propaganda operations, which included officially-sponsored visits of Americans to foreign countries. Some of these were criticized by members of Congress as foolish or counterproductive. The main purpose of the Smith-Mundt Act was to make sure that foreign information and visitor exchange programs after the war would be properly funded and would remain within the control of the State Department professionals. One of the lessons of the OWI/VOA wartime period was that accidental government officials, many of whom were quickly recruited from the private sector without proper experience or screening, could not be trusted with critical U.S. foreign policy issues.
The following excerpt from the 1943 Congressional Record includes comments by Representative Richard Bowditch Wigglesworth, a Republican from Massachusetts who was one of many lawmakers from both parties who found OWI/VOA programs and management to be highly deficient. He was not a wild-eyed anti-Communist crusader. Rep. Wigglesworth was a Harvard-educated lawyer with vast experience in foreign affairs. After leaving Congress in 1958, he was U.S. Ambassador to Canada.
Note that the Voice of America name is not yet in official use in 1943. VOA operated under the OWI Overseas Branch. Rep. Wigglesworth makes a reference to censorship of domestic U.S. media by OWI officials. At the end of the excerpt, he states that OWI executives lacked good judgement, and earlier in his speech on the House floor he talks about incompetence at OWI.
REP. RICHARD WIGGLESWORTH, NOV. 4, 1943. "Those administrators of the foreign propaganda division [OWI including VOA] who are not confused or deliberate undercutters of the State Department, are incompetent. Competent management, such as several other experienced and responsible persons could give, exists in plenty outside of the O.W.I."
NOVEMBER 4, 1943, CONGRESSIONAL RECORD, PAGE 9136
MR. WIGGLESWORTH. It has been stated repeatedly that material broadcast overseas by the O. W. I. at the taxpayer's expense has been sheer communism. It is difficult to establish to what extent this is true without a thoroughgoing investigation of the broadcasting work of the agency.
(…)
MR. WIGGLESWORTH. I call as witness in this connection the American Federation of Labor and the Congress of Industrial Organizations. I refer specifically to an article appearing recently in the World-Telegram. The gentleman from New York [Mr FISH] put the article in the CONGRESSIONAL RECORD, and you will find it in the RECORD of Tuesday, October 12, 1943, I shall not reinsert it, but here is the original of that article. You will notice the headlines. The leading headline is "Unions label O. W. I. radio program communism."
That article very briefly asserts that the American Federation of Labor and the Congress of Industrial Organizations made a joint protest over 10 months ago to Elmer Davis to the effect that the O. W. I. overseas branch had been regu- larly broadcasting Communist propaganda in its daily short-wave radio programs.
It states further that after months of futile negotiation the A. F. of L. and C. I. O. liquidated their labor short-wave bureau set up to collect nonfactual news to be turned over to O. W. I. as broadcast material.
It states further that the reason for closing the bureau, as they informed Mr. Davis late in August, was that they could reach no basis of agreement with O. W. I. in eliminating the alleged Communist influence, and, therefore, the labor short wave could no longer perform a useful function.
The article states finally that they acted after Joseph Barnes, one of Mr. Davis' top men in the O. W. I. Overseas Branch, assigned to the O. W. I. labor desk a man whom the A. F. of L. and C. I. O. considered entirely unsatisfactory because of his association with the Communist faction in American labor.
These are serious charges.
There are many other charges, Mr. Chairman, but time does not permit detailed discussion of them. It has been charged, for instance, that O. W. I. has attempted to control the personnel and the program content of all foreign broadcast stations in this country. It has been charged that their zeal for censorship went so far as to forbid the Polish Ministry of Information in this country from broadcasting a statement by the Polish Foreign Minister simply because the Minister included a statement to the effect that the Polish Government stands firm for the integrity of Polish territory.
All of us are familiar with the recent lecture tour of the mayor of Portland, Oreg., and others to let the English people see what typical Americans are like. I have here the comment of Donald Mackenzie, writing from London, in which he says that the announcement of this project provided the British with one of the best laughs of the war. I also have the comment of Frank Kent, in which he expresses the view that undoubtedly the intentions of O. W. I. were highly patriotic and noble, but that there ought to have been someone somewhere in the organization to point out its silliness and exercise a little judgment.
###
From Biographical Directory of the United States Congress

WIGGLESWORTH, Richard Bowditch, (1891 – 1960)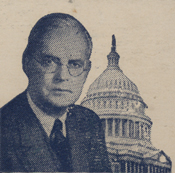 WIGGLESWORTH, Richard Bowditch, a Representative from Massachusetts; born in Boston, Mass., April 25, 1891; was graduated from Milton Academy, Milton, Mass., in 1908, from Harvard University in 1912, and from the law department of the same university in 1916; assistant private secretary to the Governor General of the Philippine Islands in 1913; admitted to the bar in 1916 and commenced practice in Boston, Mass.; during the First World War served overseas as captain, Battery E, and as commanding officer, First Battalion, Three Hundred and Third Field Artillery, Seventy-sixth Division, 1917-1919; legal adviser to the Assistant Secretary of the Treasury in charge of foreign loans and railway payments, and secretary of the World War Debt Commission 1922-1924; assistant to the agent general for reparation payments, Berlin, Germany, 1924-1927; general counsel and Paris representative for organizations created under the Dawes plan in 1927 and 1928; elected as a Republican to the Seventieth Congress to fill the vacancy caused by the death of Louis A. Frothingham; reelected to the Seventy-first and to the fourteen succeeding Congresses and served from November 6, 1928, until his resignation November 13, 1958; was not a candidate for renomination in 1958; United States Ambassador to Canada from January 28, 1959, until his death in Boston, Mass., October 22, 1960; interment in Arlington National Cemetery.