BBG Watch Commentary
We are sorry to report that with increasing frequency in recent months U.S. taxpayer-funded ($224M in FY2017) Voice of America (VOA) revels in exploiting and promoting anti-U.S. ignorance and anti-American sentiments abroad, which are already being fueled by Russian propaganda and disinformation.
While Russia has a nefarious interest in deliberately showing America as nothing but a decadent nation of failing democratic institutions, some, although far from all Voice of America reporters and editors, do the same thing because of what we suspect are three main reasons:
1. The leadership of the Broadcasting Board of Governors is promoting the current private sector media culture of reinforcing prejudices of the target audience to maximize ratings rather than following the VOA Charter (U.S. law) and the VOA Journalistic Code.
2. Managers, including executives of VOA's parent agency, lack the necessary experience in intercultural communications, knowledge of foreign cultures, public diplomacy, and proper understanding of the VOA Charter.
3. Some reporters and editors are not sufficiently knowledgeable about American and world history after years of inappropriate personnel recruitment and lack of proper training and leadership by the Broadcasting Board of Governors (BBG).
This trend is particularly dangerous, in our view, because:
1. Facts reported by VOA are in most cases superficially true and are therefore believable, but they lack proper context and balance for foreign audiences.
2. VOA reporting thus unwittingly reinforces anti-Americanism and confirms anti-American propaganda from Russia, ISIS, and other countries and groups.
3. Foreign audiences remain confused, making the anti-American propagandists the winners in the war of ideas.
We will cite several recent examples.
VOA posted online yesterday a report titled: "African Commentators Skewer US Election on Twitter," Voice of America, October 20, 2016.
Here are some of the screenshot highlights from the VOA report: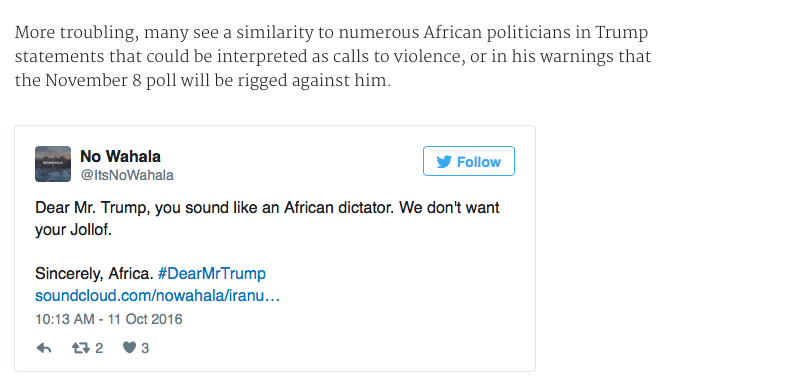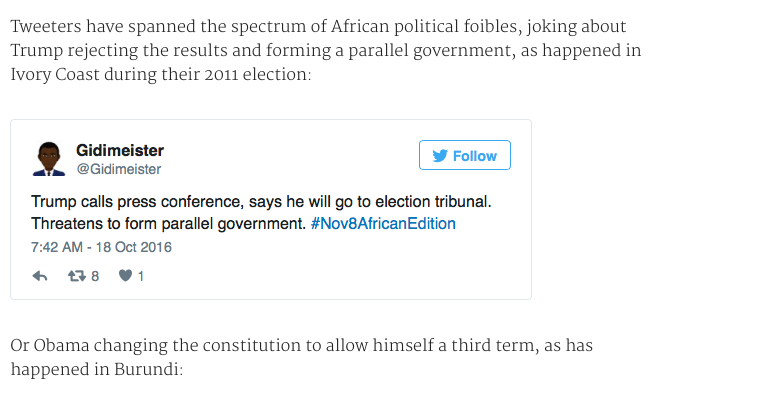 Here are the concluding sentences of the Voice of America report:
The Voice of America report shows in great detail how Twitter users in Africa ridicule the electoral system in the United States and American democracy.
Ironically, similarly to VOA's dismal online performance and audience engagement, some of these tweets show a minimal number of retweets or likes. One has to wonder how representative they are of serious political reporting in African countries. In our experience, many foreigners, particularly foreign journalists, are far more sophisticated than what BBG managers seem to assume, but many of them are at the same time strongly anti-U.S.
Some of the facts presented in the VOA report are nevertheless correct on their own. The problem with this VOA report, however, as we see it, is that it is woefully incomplete and one-sided. It presents a distorted reality and helps to promote it. In our view, the VOA report is highly misleading to those who have a limited knowledge about the United States.
The VOA report does not provide the historical, political and cultural context as required by the VOA Charter. Challenging misconceptions about the United States and correcting the factual record is what is expected by U.S. taxpayers who are paying over $200 million a year for VOA and over $700 million for its parent agency (including VOA). Countering untrue, anti-American propaganda is why VOA was created in the first place.
The Voice of America could have reported on what Twitter users in Africa are saying about the U.S. election campaign and show at the same time that much of it is grossly exaggerated and based on non-existent or poor knowledge of how the U.S. political system really works. Some of these tweets need debunking, not promoting by VOA.
VOA could have shown, for example, how some of these Twitter comments mimic much of the disinformation Russia's RT and its trolls are spreading on social media about the United States. Instead, the VOA report seems to suggest that there is not much of a difference between the political system in some of Africa's worst dictatorships and the American political system. This is exactly what Russian propaganda channels are saying. VOA could have also pointed out that some highly partisan individuals, websites and media outlets in the U.S. also mimic RT propaganda.
The necessary intercultural explanation that challenges anti-American propaganda is something that Reuters news agency has done in a report reposted today on Business Insider website: "Here's what would happen if Donald Trump decided to challenge the election results," Dan Levine and Mica Rosenberg, Reuters, Business Insider, October 21, 2016.
It is true that much of the mainstream media in the U.S. now follows the same reinforcing of confirmation bias model as VOA, although they have a much better management and a vastly greater online reach in English in the U.S. and abroad than VOA. Fox News, MSNBC, even other major U.S. TV networks and The New York Times are going after their particular ideological segment of the market and try to capitalize on their audience's ignorance. They do what private sector media do because they believe it is in their economic interest to promote and exploit particular prejudices of their selected audience.
There has always been bias in journalism; in some countries at various times much greater than in others due to government interference, censorship and cultural pressures. In recent years, the self confirmation bias media model has replaced some of the more neutral and objective journalism that had existed in the United States before the era of the Internet. The same tendency can be observed in other countries. The VOA Charter was passed by Congress and signed by President Gerald Ford in 1976 to make sure this would not happen to the taxpayer-funded Voice of America, which is managed by U.S. government officials for the benefit of all Americans, not any particular party or groups. Unfortunately, the current leadership of Broadcasting Board of Governors, including BBG CEO John Lansing and VOA Director Amanda Bennett, is allowing the VOA Charter to be ignored.
A Republican member of the bipartisan Broadcasting Board of Governors, Matt Armstrong, told U.S. lawmakers a year ago that BBG-managed Voice of America (VOA) "has always had a fundamental purpose of empowering people through the access to news and information," and as such is a "fundamental counter to propaganda." Unfortunately, this is no longer true in many cases and in many regions of the world. It was not true already in 2013, when then Secretary of State Hillary Clinton, and herself an ex officio BBG board member, described the Broadcasting Board of Governors as "practically defunct."
Hillary Clinton's criticism of the BBG is still accurate now, as examples of more recent VOA program content show. In 2015, BBG Governor Matt Armstrong also said: "Our journalism exposes the gap between rhetoric and reality – ideologically and organizationally – of extremist groups. We do this through objective reporting that adheres to the highest standards of professional journalism. By covering violent extremism, we expose it for what it is." Unfortunately, VOA is doing a very poor job of countering ISIS propaganda and Russian disinformation, although it still has some excellent journalists capable of producing solid reports.
A few weeks ago, the Voice of America reported comments from friends and relatives of perpetrators of U.S. terror attacks that they were "friendly," "smart" and "reliable." In those reports, VOA did not provide any countervailing point of view from other observers. Some VOA reporters simply repeat Russian propaganda as news without any challenge.
Much of what is happening at the Broadcasting Board of Governors in recent months can be described as inconsistent and chaotic. The Voice of America has removed recently as a result of BBG Watch complaints two particularly questionable online videos, but then VOA immediately posted even more biased reports.
One of the removed videos was a VOA hit-piece on Donald Trump with an attack by Robert De Niro calling Trump "pig" and other similar names without any rebuttal. All of this was translated and captioned by VOA into Ukrainian but without any response, balance or context.
The caption in this now removed VOA video says "pig" in Ukrainian. There is nothing wrong in reporting on such a video, but it has to be done according to the VOA Charter and the VOA Journalistic Code. This was not done in this case. It was an electioneering video in which a U.S. citizen (Trump) subsidized (assuming he and his family and businesses pay some taxes) his own defamation by VOA's U.S. government employees.
A pro-Bernie Sanders American commentator had this observation about some of the earlier Voice of America reporting on the U.S. primary elections campaign.
DAN WRIGHT, SHADOWPROOF: "As broad as that mandate may seem, electioneering and hit pieces on US citizens obviously fall outside those parameters. VOA does not have the right to advocate for a particular candidate or even to attack one. That is not within its charter, nor should any US citizen have to subsidize their own defamation."

READ MORE: "US STATE MEDIA RUNS HIT PIECE ON BERNIE SANDERS," Dan Wright, ShadowProof, June 16, 2016.
The other report, which the Voice of America removed after complaints, was one of the many, poorly-produced, pointless "click bait" VOA animal videos. They have started to appear with increasing frequency in recent months. It featured a fat American cat, which — of course — invited snide anti-U.S. comments. There was also a misspelling in the video.
The most recent questionable VOA video is, however, far more disturbing. We encourage you to view it.
The video includes a number of dubious claims. The main one is an accusation of religious bigotry made against an unnamed individual and by extension against most Americans. The allegation made is that a Muslim cannot win an election in the U.S. The unnamed individual who is accused in the VOA video is no other than the Senate Democratic leader, Senator Harry Reid from Nevada.
We want to make two points:
1. This is an old story that goes back to the summer of 2015 and the spring of 2016. Why would VOA pick such an old and discredited story and make it sound as if it just happen or was going to happen?
2. Senator Reid's office called the accusation a lie and called the accuser a liar, adding that he will lose the primary election because he is a liar. When such an accusation is made, VOA Journalistic Code requires that a response be included.
The individual making the accusation in fact lost the primary by a large margin to another Democratic candidate who was supported by Sen. Reid. None of this was explained by VOA in its video.
For more background on this old story now being resurrected by the Voice of America see these two U.S. media reports which are far more objective than what VOA has posted on the web.
"Nev. candidate says Reid urged him to quit, because 'a Muslim cannot win this race.'", David A. Fahrenthold, The Washington Post, March 29, 2016.
"Palestinian-American Jesse Sbaih loses Nevada Democratic primary to Reid-backed candidate," Mary Ann Weston, MONDOWEISS, June 15, 2016.
The VOA video does not mention any of this background information and shows the person making the accusation as a credible spokesman for American Muslims. This kind of accusation plays right into the hands of Russian and ISIS propagandists. It certainly resonates with much of the foreign audiences in certain countries and regions.
The other part of the VOA video's message is that American Muslims are living in fear. Previous VOA reporting also included the same narrative. One VOA report even quoted without any challenge a Chechen immigrant woman who said that she is more fearful living now in the United States than she was while living in Chechnya. Anyone who has seen Grozny during the Russian invasion would know how ludicrous this claim is.
There is the right way of doing stories on immigrants trying to navigate the U.S. political system. VOA could have shown that since about the time of John Kennedy, religion of a candidate for political office plays a relatively minor role, although in some regions or districts, race, religion or ethnic background may still be important. That is how the U.S. political system works. VOA could have shown that not everything some immigrants see and says is objectively true because they may lack knowledge or they may be biased. BBG and VOA executives who are pushing for these stories lack experience to guide VOA journalists and to evaluate the final product.
Even more disturbing is that BBG and VOA executives and managers are not looking at VOA and RFE/RL websites, and if they are, they lack experience or knowledge to spot serious problems that some VOA journalists who have worked there much longer can see within one or two minutes of random looking at VOA web sites.
You may find this comment interesting. It was written by a current, award-winning multi-media VOA reporter who has good knowledge of history and international affairs and objects to VOA Director Amanda Bennett's description of the VOA management team as being in any way "excellent."
VOA JOURNALIST: "It is obvious that they are not looking at VOA web sites. What I know for a fact is that [one of the VOA top managers] is not even physically present in the office for most of the day. Even when she sends an email, she uses her I-phone. It tells it all.

They are creating new GM-14 and GM-15 positions, in addition to the existing ones. They opened the VOA deputy director's position, and for what? What are they all doing instead of taking care of their basic duty – quality control? Frankly, VOA would do much better without them.
Here is another quote from a VOA reporter and editor, also experienced in multi-media, commenting on the decline of senior leadership and employee engagement ratings for the Broadcasting Board of Governors in the 2016 Federal Employee Viewpoint Survey (FEVS) and BBG CEO John Lansing's email to staff explaining these results:
VOA JOURNALIST: "We are all adults there and do not fall for his explanation of FEVS. We are very capable to read it correctly.

'We are improving' ???? You must be kidding, Mr. CEO!"