BBG Watch History
When Voice of America and Radio Free Europe were praised in Congress
By Ted Lipien
In 1954, during the Cold War, the Voice of America (VOA), then under the management of the newly-formed United States Information Agency (USIA), was not posting "state media" hit pieces on major U.S. presidential candidates, broadcasting one-sided name-calling attacks on major U.S. political figures, or publishing unsubstantiated allegations against a key Congressional leader under the guise of "investigative reporting." Even far less objectionable VOA reporting at that time would have triggered congressional investigations. Members of Congress paid much more attention to U.S. international broadcasting than they do now.
Programming and management scandals almost had led to VOA being defunded by Congress during World War II. The Voice of America was so compromised at that time that American trade unions had refused to cooperate with VOA on producing programs about American labor because they objected to the presence of communist sympathizers among VOA managers and programmers. Some of these VOA broadcasters later joined communist regimes in Eastern Europe. One of them was wartime Office of War Information (OWI) propagandist and later VOA Polish Service journalist Stefan Arski. After losing his VOA job in February 1947, at that time in the U.S. State Department because of the new policy of replacing aliens with American citizens, he returned to Poland and published virulent anti-American propaganda in communist media.
While during the war, VOA was dominated by pro-Soviet propagandists who coordinated American propaganda with Soviet officials and covered up Stalin's crimes, by 1954 VOA was undergoing management reforms under pressure from Congress, improving its broadcasts, and receiving praise after years of heavy criticism. Newly-established Radio Free Europe was also being lauded in Congress for its programs to Poland and to other countries behind the Iron Curtain. In the early 1950s, RFE was quickly establishing its reputation for hard-hitting journalism in support of a democratic transformation in East Central Europe.
One of many members of Congress who strongly supported RFE and VOA in those years was Polish-American Democratic Congressman from Michigan Thaddeus M. Machrowicz. He was born in Poland in 1899 and came to the United States as a small child. Since he spoke Polish and had worked as a reporter overseas, he could easily assess the quality of VOA and RFE broadcasts to Poland.
Machrowicz's professional background was in the military, journalism, and law. During World War I, he volunteered to fight in the Polish Army for Poland's independence. He also served as a war correspondent in Europe. After World War I, he practiced law in Michigan and in 1950 was elected to Congress. He resigned his congressional seat in 1961 when President John Kennedy appointed him to be a federal judge for the Eastern District of Michigan. Thaddeus Machrowicz died in 1970.
Radio Free Europe journalist Marek Święcicki, whom Congressman Machrowicz mentioned in his 1954 speech in the House of Representatives, later left RFE and joined the Polish Service of the Voice of America, where he worked from 1958 until 1991. During World War II, Święcicki was a soldier, a war correspondent, and a talented writer. His 1945 book about the Battle of Arnhem in Holland, which he had covered as a war correspondent, was translated into English (With the Red Devils at Arnhem: Personal Experiences with the 1st Polish Parachute Brigade 1944) and Dutch.
While at VOA, Marek Święcicki produced a number of radio programs on the history of WWII and the Cold War, which were later collected in a book published in Poland. He and his VOA Polish Service colleague, Róża Nowotarska, also published a book in Polish, Gentleman z Michigan, about Polish-American roots and adventurous early life of Thaddeus Macharski. Marek Święcicki died in 1994.
Jan Nowak Jeziorański, also mentioned by Congressman Machrowicz in his July 27, 1954 speech in the House of Representatives, was the legendary first director of the Polish Service of Radio Free Europe.
July 27, 1954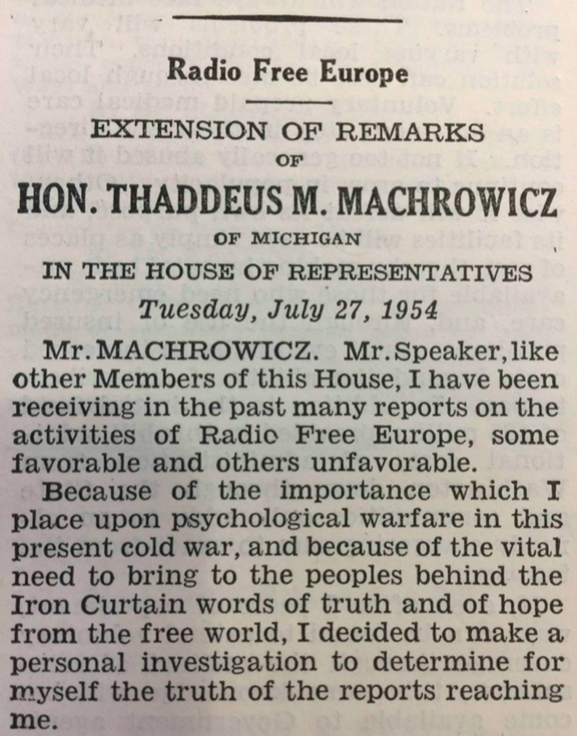 Radio Free Europe
EXTENSION OP REMARKS
OF
HON. THADDEUS M. MACHROWICZ
OF MICHIGAN
IN THE HOUSE OF REPRESENTATIVES
Tuesday, July 27, 1954
Mr. MACHROWICZ. Mr. Speaker, like other Members of this House, I have been receiving in the past many reports on the activities of Radio Free Europe, some favorable and others unfavorable.
Because of the importance which I place upon psychological warfare in this present cold war, and because of the vital need to bring to the peoples behind the Iron Curtain words of truth and of hope from the free world, I decided to make a personal investigation to determine for myself the truth of the reports reaching me.
Taking advantage of my recent presence in Munich, Germany, with the Kersten Committee on Communist Aggression, together with my colleague, Congressman EDWARD BONIN, of Pennsylvania, I took time out to make a thorough and complete inspection of the activities of the Radio Free Europe station, particularly its Polish section, which is the largest branch of the Munich agency, operating under the name of Voice of Free Poland.
I have examined scripts from former programs, listened to current programs, conferred with editors and those respon­sible for the policies and formation of programs, and I have seen letters from people behind the Iron Curtain, giving their reaction to the messages from Voice of Free Poland.
I have examined their technical facilities and observed their thoroughness in monitoring the Communist programs from behind the Iron Curtain. I have also inspected their very thorough refer­ence library and their current periodicals and newspapers received from Poland.
I must say that I was tremendously im­pressed with the entire organization. Reports that the Voice of Free Poland programs are not fulfilling the mission for which they were intended, are completely false and unjustified. The staff is extremely able, well qualified, and truly represents the proper political and psychological approach to the task they are faced with. The programs are interesting and diversified. They are eagerly listened to, and furnish much valuable information to listeners.
During the hearings of the Kersten Committee on Communist Aggression, a great number of witnesses, who had recently returned from behind the Iron Curtain, were asked by members of the committee regarding the effectiveness and quality of the programs of both Radio Free Europe and Voice of America.
I am happy to be able to report that, without exception, they were all very enthusiastic in their approval of both the quality and the effectiveness of these programs.
This is one matter which we must not forget in considering!the advisability of continuing this kind of activity. There is not and cannot be an open opposition party in any of the countries subjugated by Communist tyranny. Any such party has long ago been wiped out by the Soviet controlled regime. There are no newspapers, magazines, or radios able to give those opposed to Communist tyranny, a source of news or expressions of criticisms against tyrannical acts of the Communist overlords.
It is the Radio Free Europe and the Voice of America which fill this gap. They are the voice of resistance and of opposition, which the people of those countries rely upon for truth and news from the free world. We must keep these agencies operative and support them fully in order to keep the light of hope and faith burning in the hearts of the oppressed people.
I feel it my duty also to particularly express my complete confidence and ad­miration for the ability, zeal, and ef­fectiveness of Richard Condon, European Director of Radio Free Europe, of John Novak, director of the Voice of Free Poland­, and Marek Święcicki, his deputy and chief assistant.
###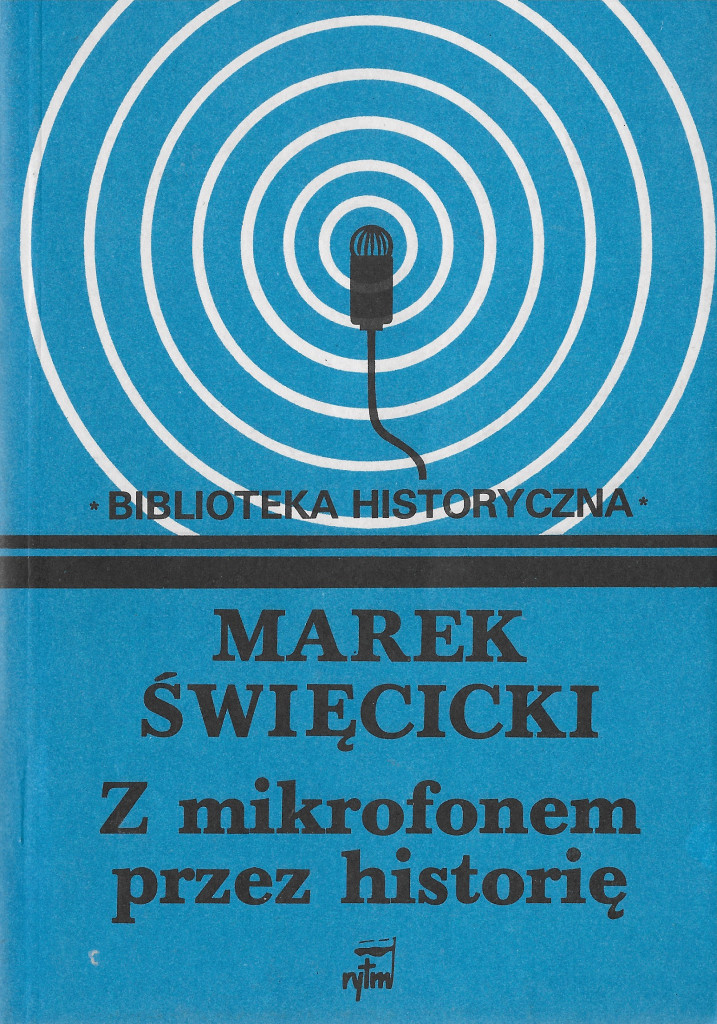 Cover of Marek Święcicki's book Z mikrofonem przez historię based on his Voice of America programs. It was published in Poland by RYTM in 1990.
Jan Nowak Jeziorański was a member of the Polish underground Home Army in Nazi-occupied Poland and undertook dangerous missions traveling as an emissary between Warsaw to London. He also had fought against the Germans in 1939 and in the 1944 Warsaw Uprising. After leaving Radio Free Europe, he later served as a security advisor to the U.S. presidents Jimmy Carter and Ronald Reagan. In 1996, Jan Nowak Jeziorański received the U.S. Presidential Medal of Freedom (highest civilian award in the United States) from President Bill Clinton.
Disclaimer: Ted Lipien is a former director of VOA Polish Service, former VOA acting associate director, and co-founder of BBG Watch.