BBG Watch Commentary
Veteran Voice of America (VOA) journalists are wondering when the U.S. Congress will start paying attention to some of U.S. taxpayer-funded VOA programs ($224 million in FY 2017) which under the inexperienced leadership of Broadcasting Board of Governors (BBG) CEO John Lansing and VOA Director Amanda Bennett sometimes insult U.S. politicians and American voters without any counter-response or proper context.
Concerned journalists say that managers are dismissing their complaints when such VOA programs, which lack balance and present unchallenged false information, are posted online for international audiences, as well as audiences in the United States. One VOA journalist wrote that when VOA reporters question such one-sided programs, which violate the VOA Charter (U.S. Public Law 94-350), their criticism is met with "evasion, passive-aggressive responses and outright gaslighting from the managers."
Some outside journalists point out that what they describe as VOA "state media" hit pieces against Senator Bernie Sanders and against Republican presidential candidate Donald Trump could have an impact on voting outcomes among certain U.S. ethnic groups.
"That is not within its [VOA] charter, nor should any US citizen have to subsidize their own defamation," on a media channel run by the U.S. government with taxpayers' money, an outside commentator Dan Wright wrote in ShadowProof article titled "US STATE MEDIA RUNS HIT PIECE ON BERNIE SANDERS, Dan Wright, ShadowProof, June 16, 2016.
While VOA removed a one-sided video with insults against Donald Trump (calling him a "pig" and other such names translated by VO into Ukrainian), VOA's parent agency, the Broadcasting Board of Governors, issued a press release praising and promoting a VOA video which, according to a spokesperson for Senator Harry Reid (D-NV), contained an outright lie about Muslim Americans, the Senator, and Nevada voters.
The Voice of America promotional video creates an impression that the allegation made against Senator Reid is a recent news event with implications for the future even though the charge was made several months ago by a Muslim American candidate who badly lost in the Democratic Party primary in Nevada to a candidate supported by Senator Reid.
This is how one concerned VOA journalist, who does not want to be identified by name, reacted to the VOA video with the allegation against the retiring Senate Democratic Minority Leader left unchallenged in the VOA promo:
VOICE OF AMERICA JOURNALIST: …VOA has been pushing a particular narrative for months, including the infamous panel discussion of young Muslims at the Newseum. Paint the U.S. as a threatening and unwelcoming place for Muslims. Exaggerate the threats against Muslims. Broadcast claims made by American Muslims without comment or balance. If you question the editorial soundness of these pieces, interviews or video shorts, expect evasion, passive-aggressive responses and outright gaslighting from the managers.

The clip you posted … is from a documentary that was promoted internally with great fanfare. A number of shows were ordered to run clips from it and interview the reporter and/or some of the participants.

If the managers are following orders and have been tasked to promote a certain agenda, it sure would be nice if they'd let us know.
There appears to be a growing realization among VOA journalists and many BBG employees that neither BBG CEO John Lansing nor VOA Director Amanda Bennett has proper experience in inter-cultural communications, U.S. government operations, foreign policy, public diplomacy, and congressional relations to be able to manage the agency and Voice of America programs.
Some members of Congress, including Chairman of the House Foreign Affairs Committee, Rep. Ed Royce (R-CA), are aware of these problems. He and the committee's ranking Democrat, Rep. Eliot Engel (D-NY), have introduced a bill, H.R. 2323, to reform the Broadcasting Board of Governors. BBG CEO John Lansing and BBG Chairman Jeff Shell have spoken in opposition to the bill. This week President Obama has announced his intention to replace Jeff Shell as BBG chair with Under Secretary for Public Diplomacy Richard Stengel, but the White House has not presented a clear position on BBG reforms and the H.R. 2323 legislation. In 2013, Hillary Clinton who was then Secretary of State and herself a BBG member, described the Broadcasting Board of Governors as "practically defunct."
Some History
In the past, the White House and members of the U.S. Senate and the House of Representatives paid much closer attention to VOA programs. Key U.S. legislators spoke up about VOA broadcasts when they saw them as being insulting to themselves or their voters. When VOA and Radio Free Europe produced good broadcasts, they were also noted and praised by members of Congress.
In 1948, the Voice of America, then under the U.S. State Department, commissioned from the National Broadcasting Co. (NBC) several radio scripts in Spanish about various U.S. states under the title "Know North America." A number of U.S. senators thought that the scripts were highly inaccurate and insulting to the citizens of their states. Several Senators read excerpts from VOA broadcasts on the Senate floor and published them in the Congressional Record.
Democratic Senator from New Mexico Carl Hatch, best known for authoring the Hatch Act of 1939 and 1940 which served to prevent federal employees from engaging in political activity, made the following statement on May 26, 1948 about Voice of America programs to Latin America. His words seem still relevant today, perhaps even more so than in 1948.
Congressional Record

1948

Mr. HATCH. "Mr. President, in all seriousness, I want to say that what the Senator from Indiana has said this afternoon, though there has been laughter throughout the Chamber over it, amounts to a downright tragedy.

I regret deeply that any agency of Government has used any funds or any facilities procured from such funds to portray to any nation features respecting any State such as have been read here this afternoon. I hope that what the Senator has read, together with the reve­lation of other bad features I have heard concerning the Voice of America pro­gram——and I have been one of the strong supporters for the right kind of pro­gram——will have the effect of stopping such drivel, nonsense, and downright falsehoods as have been set forth in these [1948 VOA] broadcasts.

I should say that Mr. Allen, who has recently been confirmed, should have a copy of these broadcasts, and I hope that his agency will call the CONGRESSIONAL RECORD of today to his attention, and that such drivel as is contained in these broadcasts will be stopped now, and that no other State will be subject to the insults and the utterly nonsensical pictures which these broadcasts have given. They cannot be too severely condemned."

Congressional Record, Proceedings and Debates of the 80th Congress, Second Session, Volume 94——Part 5, May 12, 1948, to June 2, 1948, p. 6466.

Photo of Senator Carl Atwood Hatch by U.S. Government Photographer – The source of this file is the United States Senate Historical Office. I got permission (to post this photo on Wikipedia) over the phone, in person, from Ms. Heather Moore, the United States Senate Photo Historian. http://bioguide.congress.gov/copyright.htm. Ms. Moore said that the photo is in the public domain, but that credit for the photo does need to be posted as "credited to the U.S. Senate Historical Office." The URL where this photo was retrieved from is: http://bioguide.congress.gov/scripts/biodisplay.pl?index=H000334, Public Domain, Link
Those in charge of U.S. international media outreach today would do well to pay attention to Senator Hatch's statement on the Senate floor in 1948. As bad as some Voice of America programs were in 1948, they were not nearly as bad as some of the Voice of America programs of today.
Members of the U.S. Congress should be requesting transcripts and recordings from BBG CEO John Lansing and VOA Director Amanda Bennett and should submit them for review and evaluation by congressional staffers.
###
FROM SENATOR REID'S OFFICIAL U.S. SENATE WEBSITE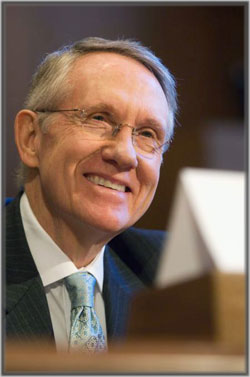 To understand Senator Harry Reid, you must look to the small mining town of Searchlight, Nevada.
There in the desert, more than an hour away from the bright lights of Las Vegas is where he was born and raised.
Searchlight is where Harry Reid watched his father work as a hard rock miner. It's where he attended a school with one teacher for eight grades. And it's where he learned Nevada values like hard work, opportunity, and independence.
Today Harry Reid is the Democratic Leader in the U.S. Senate, someone that has earned the respect of colleagues from both parties, and a powerful advocate for Nevada families. Every day Senator Reid puts his leadership position to work to deliver meaningful results for all Nevadans.
He is still guided by the lessons and values he learned in Searchlight.
###
BBG PRESS RELEASE
EVENT: OCTOBER 19, 2016
VOA's Midwest correspondent, Kane Farabaugh, followed the campaigns of four Muslim American immigrants seeking office in city, state, and national government. Their backgrounds and circumstances are as diverse as the obstacles and barriers before them as they seek to become the first to represent this small but growing part of the American landscape.
The screening will be followed by a Q&A session at 11 am with the VOA correspondent.
WHEN: 10:30 a.m.,
October 19, 2016
WHERE: Voice of America
330 Independence Ave., SW
Washington, D.C.
Please RSVP by Tuesday, October 18, to publicrelations@voanews.com
PLEASE NOTE
A special 30-minute tour of the VOA studio will be offered to the first 20 interested respondents immediately following the Q&A session. Please include in your RSVP if you are interested in both the screening and the tour.
Photo ID is required. The Department of Homeland Security requires a U.S. issued driver's license or a U.S./foreign passport for entry to a federal facility.
###