BBG Watch Commentary
Overheard in Washington
Announcement on New VOA Director Expected Soon

Under new leadership of Broadcasting Board of Governors (BBG) CEO John Lansing, both Voice of America (VOA) and Radio Free Europe / Radio Liberty (RFE/RL) have done some improvements in their coverage of Putin's Russia in the last few weeks, judging by several recent interviews and reports, experts familiar with BBG told BBG Watch.
While some VOA newsroom reporters were previously objecting to even discussing countering violent extremism, and Radio Liberty's Russian Service former management was firing reporters who wanted to investigate corruption in Russia, some recent personnel changes in both organizations may have resulted in more in-depth and better reporting.
The word in Washington is that John Lansing's and the BBG board's choice for new VOA director, who is still officially unnamed, is a highly experienced Pulitzer Prize-wining investigative reporter, editor and media manager who will not shrink from tough assignments when it comes to uncovering and exposing the truth about ISIL or Putin's ill-gotten wealth. In a profession still dominated at the top levels by men, the leading candidate to manage Voice of America is believed to be a woman who successfully ran several U.S. newspapers.
Some longtime BBG executives and even some VOA English newsroom reporters find countering propaganda and investigative reporting when it comes to corrupt foreign leaders such as Vladimir Putin to be too radical. They and their supporters claim that a softer, value-neutral approach is needed because most Russians are anti-American "patriots" and will respond badly to hard-hitting reporting and commentary.
An official announcement on the new VOA director is expected soon, BBG Watch was told by several Washington sources.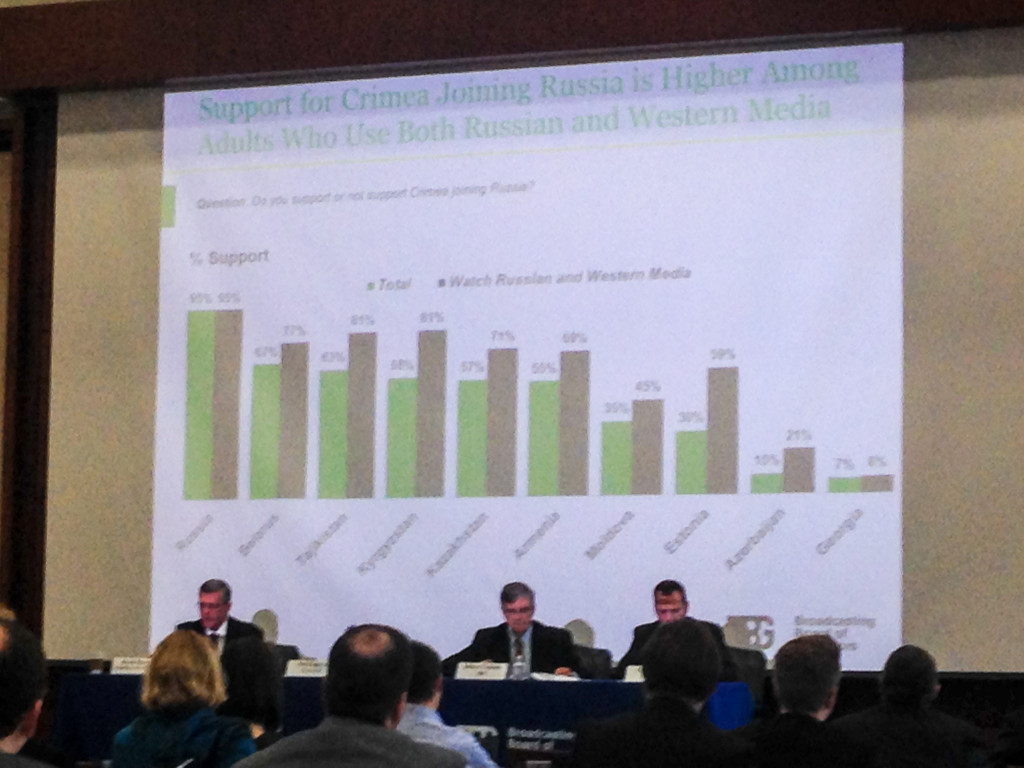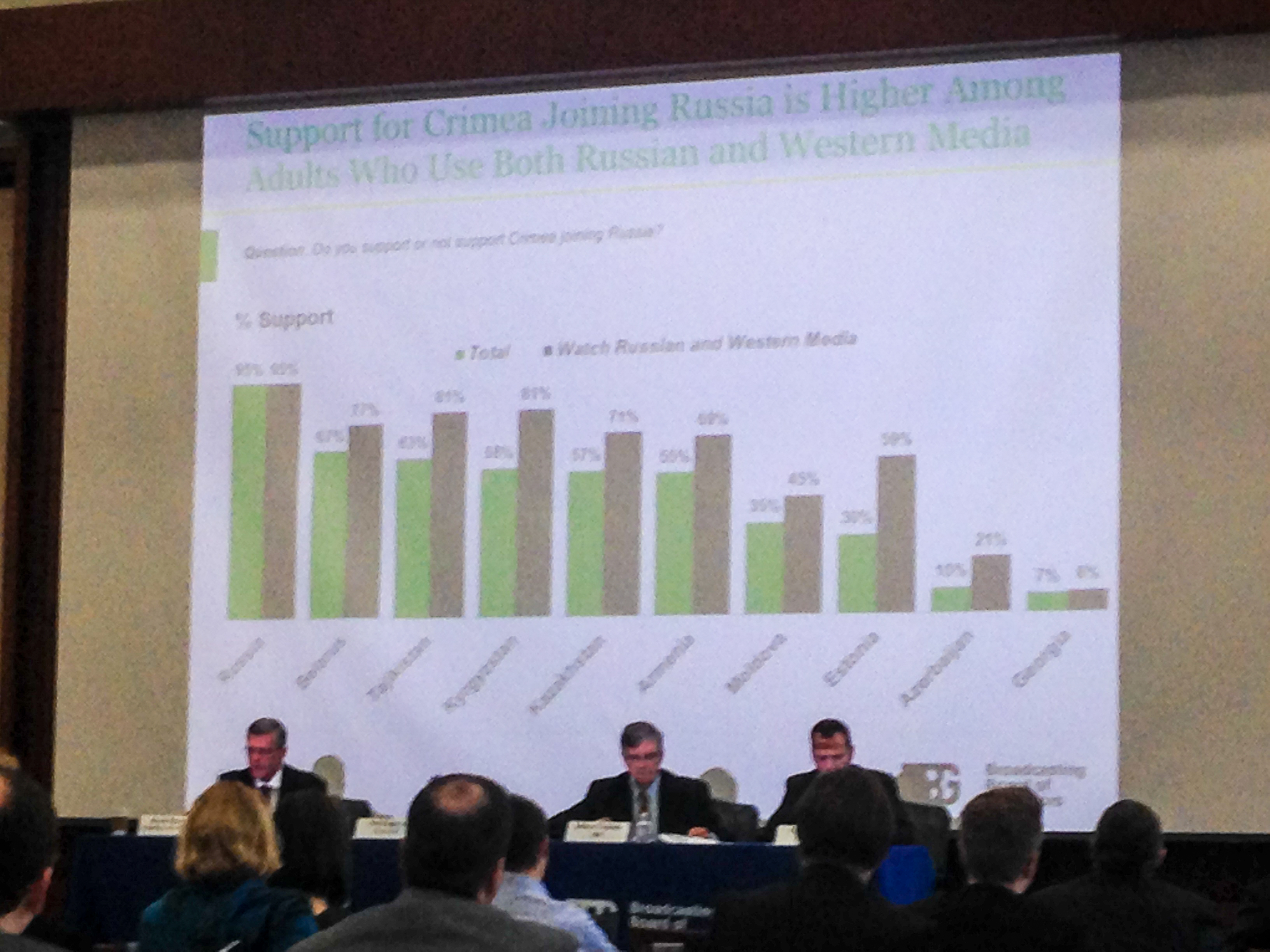 Recently, the Broadcasting Board of Governors and the Voice of America had two different takes on the issue of impact, suggesting that the controversy within the BBG over strategy toward Russia and ISIL continues. John Lansing seems to be leaning toward more hard-hitting reporting on violent extremism and on Russia, but he, BBG Chairman Jeff Shell and other members of the bipartisan board are resisting some structural reforms which most members of Congress of both parties want.
Republican BBG board member, Ambassador Ryan Crocker, wrote an op-ed lobbying against the passage of the bipartisan BBG reform bill H.R. 2323. Polish journalist and Russia expert Zygmunt Dzieciolowski wrote a guest commentary for BBG Watch in support of urgent reform of RFE/RL, particularly its Russian Service. Congressional sources told BBG Watch that Dzieciolowski's article was much better received by members of Congress who have read it than the op-ed by Ambassador Crocker.
At the same time, Lansing and BBG media entity heads reportedly strongly disavowed an article written by BBG's International Broadcasting Bureau (IBB) audience research analyst Kim Andrew Elliott in which he argued against impact-driven news.
The picture is mixed and to some degree confusing, but both VOA and RFE/RL seem to be doing somewhat better under John Lansing's new leadership, even if a winning overall strategy still seems to be elusive and some of the longtime BBG executives continue to exercise some influence.

A Significant VOA Interview with Well-Informed Russia Expert

Voice of America is already doing better news reporting under interim leadership of VOA acting director Kelu Chao. VOA Russian Service interviewed young Russian investigative reporter Anastasia Kirilenko who was fired last year by RFE/RL and until recently was banned by RL's former Russian Service management from participating in its programs.
Last week, one of VOA's top program hosts, Carol Castiel, conducted an in-depth interview about corruption in Russia and crimes of the post-Soviet leaders, including Russia's President Vladimir Putin, with Russia expert David Satter. Castiel has been one of VOA's great interviewers, but many of her programs are still not being transcribed and summarized for wider digital distribution. The same has been true for many of RFE/RL's Brian Whitmore's excellent English-language "Power Vertical" blog commentaries, but his most recent one, "Beyond Containment" has been issued in a short text version.
Journalist, writer and Russia expert David Satter told Voice of America (VOA) "Press Conference USA" program host Carol Castiel that Russia needs something like a "Truth Commission" that existed in South Africa, in order to investigate corruption and crimes of post-Soviet leaders of the Yeltsin and Putin era. Satter believes that only such an effort, which would also address the regime's manipulation and massive propaganda aimed at the vulnerable population, could transform Russia into a less aggressive nation. Satter said that Russia's post-Soviet leaders, including Putin, have created a situation in which a further condition of their propaganda and manipulation designed to reinforce their hold on power is an aggressive stance toward the rest of the world.
A former Financial Times and Wall Street Journal correspondent in Moscow and a current fellow of the Foreign Policy Institute of Johns Hopkins University School of Advanced International Studies, Satter told VOA that because of murders of journalists and opposition leaders in Russia, an investigation into corruption and crimes by Russian leaders would have to be launched in the West, preferably by non-governmental bodies.
Satter said that in order to remove the threat of aggression by the Russian regime the United States and other Western countries must try to change the internal dynamics in Russia through such investigations and to counter Kremlin's propaganda with the truth. "We can't do that through direct intervention in Russia. We can only do it through the things that we do control, i.e., intellectual discourse and a proper interpretation of history and defense of the truth," Satter told the Voice of America.
BBG Watch has posted a full transcript of David Satter's VOA interview.
###
February 12, 2016
Press Conference USA


Host Carol Castiel and Natasha Mozgovaya, host and editor in VOA's Russian Service, speak with David Satter, author and longtime observer of Russia and the former Soviet Union, currently a senior fellow at the Hudson Institute, about Vladimir Putin's kleptocratic regime and the sustainability of his power. His forthcoming book is "The Less You Know, The Better You Sleep: Russia's Road to Terror and Dictatorship under Yeltsin and Putin."


ANNOUNCER: From VOA "Press Conference USA." Here is your host Carol Castiel.


CAROL CASTIEL: Welcome to "Press Conference USA on the Voice of America." Joining me on the program is Natasha Mozgovaya, host and editor in VOA's Russian Service. Our topic on this edition of the program: "Am Emboldened Russia." Our guest: David Satter. He's a longtime observer of Russia and the former Soviet Union. Currently he's a senior fellow at the Hudson Institute, a think tank here in Washington. He's also a fellow of the Foreign Policy Institute of Johns Hopkins University School of Advanced International Studies. A native of Chicago, David Satter previously worked as a Moscow correspondent for the London Financial Times. He also worked for The Wall Street Journal. He is the author of many books, the most recent of which: "It Was a Long Time Ago, and It Never Happened Anyway: Russia and the Communist Past." His two previous books are: "Age of Delirium: The Decline and Fall of the Soviet Union" and "Darkness at Dawn: The Rise of the Russian Criminal State." His books have been translated into many languages, including Russian, Estonian, Latvian, Czech, Portuguese, and Vietnamese. His first book, "Age of Delirium," was made into a documentary film. And in December 2013, David Satter became the first American journalist to be expelled from Russia since the Cold War ended. Satter is known in Russia for having written that the apartment bombings in 1999, which were blamed on Chechens and brought Putin to power, were actually carried out by the Russian FSB security police. His forthcoming book is entitled: "The Less You Know, The Better You Sleep: Russia's Road to Terror and Dictatorship under Yeltsin and Putin."
Well, we'll talk with David Satter about the Russia of Vladimir Putin, from destabilizing actions in eastern Ukraine and the annexation of Crimea to the more recent intervention in Syria on behalf of the Bashar al-Assad regime. And recently, the U.S. Defense Department has put Russia at the top of its list of national security threats, with its plan to increase the deployment of heavy weapons, armored vehicles and troops on a rotating assignment to NATO in Central and Eastern Europe. And David Satter joins us here at the VOA Broadcast Center in Washington. David, welcome to the program.
DAVID SATTER: Well, thank you. I'm glad to be here.
CAROL CASTIEL: And, I'm am delighted to welcome my colleague, Natasha from the Russian Service.
NATASHA MOZGOVAYA: Thank you Carol. Pleased to be here.
CAROL CASTIEL: Well, David Satter, let's start with the fact that you earned the dubious distinction of being the first American journalist to be expelled from Russia since the Cold War ended, that was back in December 2013. So how did you earn this distinction?
DAVID SATTER: I'm not sure. It was nothing I did, I'll tell you that, because I arrived in Moscow in September 2013 and was barred from the country in December 2013. In the intervening three months, I had time literally to set up an apartment, open a bank account, to take care of some bureaucratic matters. I really wrote very little and did very little. So, I don't think it was anything that I did that inspired this. I think it was a reflection of what I had done in the past and what the authorities thought I was likely to do in the future. And I think the reason really was that the political situation changed as a result of the anti-criminal revolt in Ukraine. Things that Russian authorities had tolerated, in the aftermath of this massive protest against kleptocratic regime, were no longer tolerable. The Russians have an expression, which Natasha will recognize, I think, pervaya lastochka, that's the first swallow, and apparently my expulsion seemed to have been the first swallow, because once they began to crack down it appears I was the first person they wanted to get rid of, or at least one of the first.
NATASHA MOZGOVAYA: They got the appetite. Yeah, I think I saw recently in one of the newspapers, I think it was Financial Times, a headline that said: "Foreign exodus from Russia gathers pace." So, do you think it became much more dangerous in Russia to operate for foreign citizens, businessmen?
DAVID SATTER: I don't think so. I think if we're taking about foreigners, for one thing, what's really interesting, is the exodus of Russians from Russia, of Russian intellectuals, artists and writers. But if we talk about foreign businessmen, I think they're leaving because the conditions of work are becoming much more difficult, and much less profitable, because it was profits to certain extent that attracted them in the first place. So, for many people, in light of sanctions, in light of the fact that Russia has less to spend, and there is a general atmosphere of suspicion, a decision has been made not to stay in Russia.
CAROL CASTIEL: Well, David Satter, certainly your characterization of Russia is not a very flattering one for Putin, or for that matter his predecessor, we'll talk about that later. So, let me ask you, given now that the Pentagon, and even last week on Capitol Hill James Clapper, Director of National Intelligence, has reiterated that Russia is one of the greatest threats to U.S. security … how do you see that statement and how would you characterize Putin's Russia today and its rather emboldened position on the world stage, whether vis-a-vis the eastern Ukraine, Crimea, and now Syria?
DAVID SATTER: It's a paradoxical situation because the handful of people who run Russia, who monopolize power, monopolize wealth, are not really concerned about the national interest of Russia. They're concerned about their own interest. But with the help of manipulation and massive propaganda, they're really able to organize the thinking of the population, taking advantage of the weaknesses of people there, of nationalism which is unhealthy, especially in a country like Russia which has lost its empire and lost status in the world. And they've created a situation in which a further condition of this manipulation, which in fact reinforces their hold on power, is an aggressive stance toward the rest of the world. They need an enemy. They need, in effect, to be able to, first of all, mobilize the population against the supposed external threat, and second of all, convince the population that they're restoring the greatness of Russia. Under these conditions, they are naturally a threat to the rest of the world, because the condition of their own hold on power is the aggressive, adventuristic, militaristic attitude toward their neighbors and toward the countries of NATO as well.
NATASHA MOZGOVAYA: So, the question is for how long this strategy can work? So, up to date, it seems that these bets worked for Mr. Putin in terms of preserving his power because his ratings since his annexation of Crimea in 2014 remain over, I think, 80%. When they started bombing in Syria, I think, it's reached 89%, so basically he made the right decision in terms of preserving his popularity on the domestic stage. The question is: is it sustainable?
DAVID SATTER: There are certain things that are impossible to predict. There was a wave of patriotic euphoria in Russia after the beginning of the First World War in 1914. Three years later, the Czar had been removed from power. There was a time when Yury Luzhkov had a popularity rating of 92-94% in Moscow.
NATASHA MOZGOVAYA: The mayor of Moscow, yeah.
DAVID SATTER: Yeah, the mayor of Moscow, I'm sorry. By the time he was removed, that popularity rating was 2%, or something like that. Russia is a very volatile country, first of all. The stability of the system always depends not on the picture that that society presents at a given point in time, but rather on its ability to withstand external and internal shocks. Is the system that has been created in Russia stable in that sense? Is it able, really, to sustain the inevitable disturbances that occur in political life? In fact, I think it's very fragile. The popularity rating of Putin is based on lies, first of all. And those lies, although they are superficially convincing to Russians, in fact also evoke a lot of doubt, subliminal doubt on the part of Russians. And what this means is that under the right circumstances that edifice of lies can collapse.
NATASHA MOZGOVAYA: I would argue that it's based not only on lies but on actually pretty quick and decisive movements, even if they're not eventually for the good of the Russian people. So, in terms of this, it seems that the Western reaction has been painfully slow, and critics are saying now that basically the West handed Ukraine to Russia, they handed now Syria to Russia, and what is basically the result? Did Russia actually deliver on Syria, for example?
CAROL CASTIEL: And also, do you believe that the West did in fact leave a vacuum with respect to Syria that enabled Russia to go in? Or were they ready to defend their client, Bashar al-Assad, in any case? Or had the U.S. and/or the West intervened, not boots on the ground, but had done something decisive to deter any further outside aggression, would that indeed deterred them from going?
DAVID SATTER: If we take the case of Syria, we have to ask ourselves what would that deterrence have been? What could the West have done to have made Russia more reluctant to intervene than it was?
CAROL CASTIEL: Made good on the "red line" that president Obama laid out back in the … I guess it was…
DAVID SATTER: …[Syrian regime] attacking
NATASHA MOZGOVAYA: …with chemical weapons.
DAVID SATTER: In the aftermath. There is such a thing as psychological deterrence. In point of fact, any country, aggressor country like Russia, which it is now, operates to a certain extent on its assessment of the adversary. To what extent the adversary is likely to react decisively, and to what extent it's likely to inflict pain on the aggressor state, to such a degree perhaps that aggression is no longer in its best interests?
Well, if we look at the question of psychological deterrence, then we have to really begin not only with the policy of "Reset" in 2008, but even much earlier, because in post-Soviet Russia, one American administration after another has demonstrated a lack of understanding of the country with which they are dealing.
After the Soviet Union fell, there was a surge of true goodwill toward Yeltsin. It was not understood that Russia was being taken over by criminals. Yeltsin was succeeded by Putin who represented the FSB [Russian Federal Security Service] and established the FSB/criminal regime. But it was only logical that that would happen because only the FSB was capable of protecting Yeltsin and his entourage from criminal prosecution for what they had done. And it was not in anyway surprising that the way in which Putin came to power was with the help of a provocation in the blowing up apartment buildings in Moscow, which were blamed on Chechens. This terrorist act then became the excuse for a new war, and the war elevated Putin's rating and made it possible for him to take power. And during all this time that, on the one hand criminals took over the country, then they were protected by a kind of FSB regime, which stamped out what liberties still remained in Russia, the attitude of the West, and particularly the United States was, amateurish, dilettantish, it was blind to what was happening, it was clichéd and superficial. That moment in 2008 when Hillary Clinton presented the "Reset" button, and of course mistranslated the word "reset," was symbolic of just how clueless we were.
Now, if you're dealing with an adversary which is clueless and which demonstrates that it's uninformed and incompetent in its policies, obviously the factor of psychological deterrence is lost. No one is going to take seriously a power, in this case the United States, which is of course the most important Western power, the country with the greatest ability to exercise deterrence.
NATASHA MOZGOVAYA: David, let me just jump in for a bit, because the example that you brought, the story of blowing up residence houses in Russia as a pretext for the war, basically foreign governments didn't rush up to make this accusation, it's considered to be officially sort of conspiracy theory, but recently we did have one case, Alexander Litvinenko, the murder in London that actually was officially named as basically a thuggish intervention of a foreign country and murdering a British citizen on the streets of London. So, this case, something was said. It's not clear what will be done with it, but the question is: do you believe that it was actually sort of message, even back then in 2006, that Russia can do whatever it wants, that its jurisdiction is not limited to Russia's borders, basically?
DAVID SATTER: Well, there was also the killing of Yandarbiyev [Zelimkhan Yandarbiyev] in Quatar. There were many messages that Russia can do what it likes. There was the gassing of the hostages in the Moscow theater siege. There were foreigners who were killed, including Americans, by the way. The firebombing of the school in Beslan: there were no foreigners involved in that, but this is a crime against humanity. So, the important distinction here is that the murder of Alexander Litvinenko, you had a British investigation. In the case of the apartment bombings, the only people who tried to investigate were the members of the Kovalyov Commission, and three persons who cooperated with that commission were murdered.
So, the reality is that people can say anything they'd like regarding conspiracy theories, but the reality is that all of the evidence points to the criminal nature of the regime. And were it possible to have the kind of impartial and professional investigation that existed in the case of Litvineko, it would be demonstrated.
Another point that's very important is that foreign intelligence services have a different view of, for example, the apartment bombings than governments do. And I know this from first-hand experience. That in fact no serious person who has studied the issue has any doubt about that this was an act of terror carried out against the Russian people by their own government.
CAROL CASTIEL: That they blamed on the Chechens.
DAVID SATTER: In order to start a war, yeah.
CAROL CASTIEL: You're listening to "Press Conference USA" on the Voice of America. Our guest is David Satter. He is a senior fellow at the Hudson Institute and a fellow of the Foreign Policy Institute at Johns Hopkins University School of Advanced International Studies here in Washington. He's the author of the forthcoming book "The Less You Know, The Better You Sleep: Russia's Road to Terror and Dictatorship under Yeltsin and Putin." I'm Carol Castiel along with Natasha Mozgovaya. She's host and editor in VOA's Russian Service.
And this is a reminder that our "Press Conference USA" podcast is available for free download on iTunes. You can find the download by clicking on the iTunes tab on our website at voanews.com/pcusa. You may also follow me on Twitter @carolcastielvoa or connect with us on Facebook. Here's a shout out to Masihula Kalim from Afghanistan. If you want to hear your name on the show, please send an e-mail to pcusa@voanews.com or "Like" us on Facebook.
We're back to you, David Satter, to continue our fascinating conversation. And speaking of Chechnya, as you know Chechen leader Ramzan Kadyrov recently posted on Instagram, his favorite social media platform, a video that appeared to show two leading Kremlin opposition figures being observed through the sight of a sniper rifle. Of course, members of the opposition find this very disturbing given that the chief suspect in the murder of opposition leader Boris Nemtsov, who shot to death just a short distance from the Kremlin in February 2015, was the deputy commander of the paramilitary loyal to Ramzan Kadyrov. Basically, why do you think Vladimir Putin continues to tolerate Kadyrov whose behavior is causing growing unease even among many Russians, and even among some Kremlin loyalists?
DAVID SATTER: Well, I think that "tolerate" is not the proper word. I think he's encoring that behavior. Kadyrov is a perfect instrument for intimidating opposition figures because, on the one hand, anything that he does can be disassociated from Putin, and, on the other had, he can be counted on to carry out whatever is in the regime's interest. So a threat from Kadyrov serves the same purposes as a threat from Putin, but it protects Putin from any kind of consequences. So, it's like walking around with a vicious dog.
NATASHA MOZGOVAYA: Which was also, by the way, one of the pictures on Instagram of Mr. Kadyrov.
DAVID SATTER: Is it, really? Because, the dog is threatening; you're not threatening, I can't control him.
I don't think he has much interest in controlling him. There are people within the Russian regime who don't like Kadyrov, that's for sure. There could be a situation in which internal conflicts become a problem for Putin. But at the present time, I don't see any indication that Kadyrov is doing anything that Putin either doesn't want, or hasn't encouraged.
CAROL CASTIEL: David let's return to Alexander Litvineko. You wrote an opinion editorial in The Wall Street Journal entitled "The Russian State of Murder Under Putin," in which you said that this British inquiry into the polonium poisoning death of this former Russian agent Alexander Litvinenko implicated Russian President Vladimir Putin in the murder, and that this was connecting Putin personally to the murder. Why is this significant to you?
DAVID SATTER: Well, it's significant because it's the first time that a foreign government or a foreign legal body has directly connected Putin to a murder or to an atrocity because everything else has been investigated by Russian judicial bodies which Putin controls. There was no real possibility of establishing that connection even though the evidence is overwhelming that it exists.
CAROL CASTIEL: Now you're saying it's imperative not only for the West but for the future of Russia that this Litvinenko inquiry that it set a precedent for the objective international review of the cases of political terrorism in Russia. How optimistic are you that this is actually going to take place?
DAVID SATTER: Well, it certainly will not take place if there's no effort to bring it about, So, what I was trying to say is that it's necessary, and I've been saying this actually years, that it's necessary to form some type of international body that's capable of examining all these cases because no Russian official body is capable of doing it. And unofficial Russian efforts will meet the same fate as the Kovalyov Commission whose members were murdered. So, therefore, the way really to set the historical record straight is to establish such a body, and at the same time it's vital for Russia because Russia's post-Soviet history, like its Soviet history, has been based on lies. And only if the country really understands its true history, eventually, will it have a basis for creating something different from what exists now.
CAROL CASTIEL: Do you think the political will exists to do something on the part of the West, whether it's Britain, the United States, other European powers?
DAVID SATTER: It will depend on circumstances, of course, and in fact in the matter of this kind one shouldn't rely on bureaucratized government bodies and people who are uninformed. But there are people who are informed, and there are also non-governmental efforts that are possible. There is a mass of information that needs to be systematized and analyzed. Of course, additional information can also be gathered. And once such an effort gets under way, people will come forward with information.
NATASHA MOZGOVAYA: David, I just wanted to follow up on this question. In the same article, you wrote [that] examining the many crimes of the Yeltsin and Putin eras is an international obligation. So, I've heard an argument in Russia that these crimes became possible because of the absence of accountability over earlier crimes, of the Bolshevik era, and because basically both perpetrators and the victims learned that anything can be done to people, and you can get away with it. So, how early do you think you should start with accountability in Russia?
DAVID SATTER: Well, this is a very important point. And this is exactly the reason why it's so important to try to establish the historical truth. But the urgent necessity right now is to begin the process with the crimes of the post-Soviet era while they are still manageable, while it's still possible to get at the truth, while many of the people who committed them are still alive, while judgements can be passed and there can be political consequences.
I also wrote a book about the failure of Russia to face the consequences of the communist period, so I'm not saying that should not be done, that definitely should be done. Russia is a country that really has to understand its post-Soviet history in the first instance. It needs something like a "Truth Commission," something like what existed in South Africa, because the problem is that it's easy enough to fight against corruption, but corruption, even massive corruption as it exists in Russia, is only a symptom of a deeper problem. And if you don't deal with the deeper problem then the fight against corruption is just the fight to replace one group of thieves with another group of thieves, and nothing really will be improved. I mean, we've seen that already in the post-Soviet era. So, I think that it's easier for the West for various reasons, for people here to recognize our mistakes and to try to establish some kind of objective review, an analysis of what happened in Russia, and that that analysis will eventually be important for what's going on in Russia.
In fact, that's the only hope, really. Because take the apartment bombings; let's say that we're never going to raise the subject, we're going to pretend that they didn't exist. That will be a message to every Russian regime for the next five hundred years that the way to hold on to power is just to stage a provocation of that kind, because it was so successful.
There are risks in everything. There's also a risk in doing nothing. But we had a "Reset" policy beginning in 2008 which was very friendly toward the Russian regime and very concerned to avoid any conflict with the Russian regime. Did it prevent the invasion of Ukraine? Did it prevent the attacks in Syria? The source of Russian aggressivity is not the fact that people are trying to establish the truth. The source is that the regime itself is so rotten, that it lives in fear of its own people, and it is capable of using a propagandized population as a blunt instrument in the pursuance of its ends.
NATASHA MOZGOVAYA: Do you see any national interest for the U.S. to go into such an endeavor?
DAVID SATTER: Absolutely, because right now the United States is on the defensive in its dealings with Russia. We react; we don't act. And we react to their aggressive behavior whose roots we don't understand. And in order to remove the threat to us, we have to do what we can to change the internal dynamics in Russia. And we can't do that through direct intervention in Russia. We can only do it through the things that we do control, i.e., intellectual discourse and a proper interpretation of history, and defense of the truth.
Now, no one can say in any situation what the consequences will be of a given act, because we cannot control the reactions of the other side. But over time, and historically, the greatest guarantee of a just world order is a commitment to the truth. And countries that are allowed to build the system on a pyramid of lies will inevitably be aggressive in order to defend their own falsehoods, and their own corruption, and their own evil.
CAROL CASTIEL: One addition to a commitment to the truth, to what the U.S. and the other countries can do to deter Russian aggression — what do you make of a military buildup that is being discussed now, is that a part of it?
DAVID SATTER: You mean military buildup in the United States.
CAROL CASTEIL: Yes. I'm talking about recent talk by the Pentagon that the U.S. will be increasing deployment of heavy weapons, armored vehicles and troops in NATO to defend Central and Eastern Europe which feel under threat because of Russia's actions in Ukraine and in Syria, particularly the Baltic states. Is that part of the puzzle? And we're in an election year, so this being discussed.
DAVID SATTER: Well, of course, in an election year it is also being discussed irresponsibly and for political purposes by people who are not very well informed about what's going on.
This is a regime directed by people who do not have deeper values aside from power and self-aggrandizement. They will not do anything to threaten their own power. And, as long as they understand that there is a serious price to be paid for aggression, and in the case of the seizure of Crimea there was no price whatsoever. In the case of the invasion of eastern Ukraine, there was a price paid by Russian soldiers and contract troops who were killed, but not by the regime, although now of course they're dealing with sanctions that will make them think twice.
But in general, my observation about Russian-Soviet psychology over many years is that Russians like easy victories. And, in the absence of the ideological factor after the fall of communism, where have people who are motivated really just by greed, I don't think that they are likely to take a risk if they understand that they're going to meet serious resistance. So, therefore, arming the Ukrainians, building up our forces in the Baltics in order to make aggression as unattractive as possible, is wise policy. But it isn't going to solve the problem of Russia, because that problem is deeply embedded in the kind of society that Russia is and that has developed after the fall of the Soviet Union. That latter task is going to take something more significant and more intellectually demanding than just increasing our military presence.
NATASHA MOZGOVAYA: I wanted to ask you about the Russian economy, oil prices plunging, but it seems that sanctions, the topic of sanctions is spinned in the Russian media, so the citizens are hating the West, but they're not blaming their own government for the economic troubles of the country. So, I've seen some analysts in the West saying that now that the Russian economy is in such a deep recession, they will be forced, basically, they don't have any other choice than to reset the relationship with the West. Is it so?
DAVID SATTER: They're feeling some economic pressure. If even a country as crazy as Iran was ready to make concessions. It's a different matter how great those concessions were, in response to serious economic sanctions. A country like Russia, where there is a cult of money, would be very likely to be affected by the economic pressure that's being placed on them. The important thing is not to relent, because if the Russians feel that they can escape the effect of sanctions without making any concessions that may be an invitation to renewed violence.
CAROL CASTIEL: David Satter is an author and longtime observer of Russia. His forthcoming book is entitled: "The Less You Know, The Better You Sleep: Russia's Road to Terror and Dictatorship under Yeltsin and Putin." Well, David Satter, thank you very much for sharing your fascinating insights.
DAVID SATTER: Well, thank you.
CAROL CASTIEL: "Press Conference USA" on the Voice of America was produced in Washington. Thanks to Anna Zalewski for booking our guest. Our engineer was Rob McLain. And joining me on the program was Natasha Mozgovaya, host and editor in VOA's Russian Service. I'm Carol Castiel. Join me again next week for another "Press Conference USA" on the Voice of America.
Carol Castiel is also the host of Encounter and co-produces Issues in the News with Ania Zalewski at the Voice of America.
Broadcast Schedule
Press Conference USA is broadcast on Saturdays and Sundays. You can also listen to us via affiliate stations in your area. Check your local radio station guide for more information.
Saturdays: 0430 1130 1230 1730 1930 2130 UTC
Sundays: 0330 1430 1800 UTC
As Director of Current Affairs Programming in VOA's English Division, Carol Castiel is responsible for producing Press Conference USA, Encounter, and Issues in the News. Carol moderates and produces Press Conference USA and Encounter. She also oversees the production of Issues in the News, VOA's roundup of the week's top stories by distinguished Washington journalists.

Before joining the Voice of America, Carol was a consultant/freelance journalist specializing in the promotion of trade and investment between the United States and Africa. She was also a contributing editor to the London-based West Africa Magazine. Carol is fluent in Portuguese, French, and Spanish. She holds an M.A. degree in International Affairs from the University of Pittsburgh.