BBG Watch EXCLUSIVE
It took the Broadcasting Board of Governors' (BBG) massive administrative and technical support staff a whole day to deal with a power outage that affected hundreds of Voice of America (VOA) employees, their radio and television broadcasts and Internet media outreach. The BBG's International Broadcasting Bureau (IBB), which consumes 34% of the federal agency's budget, was completely unprepared for the disruption which was caused by a contractor inadvertently cutting a power line Monday morning. This is not the first time the BBG's bureaucracy failed Voice of America broadcasters at a critical time.
Commenting on BBG Watch's earlier report on the long-lasting power outage, Chan Akri wrote:
"They went OFF THE AIR for that long? If Radio Bulgaria did that, I'm sure heads would roll! Radio Biafra probably did better. Even at WKRP in Cincinnati, we had backup systems! WHY DOESN'T CONGRESS FIX THIS SCREWBALL ABOMINATION? This is so unprofessional that it should justify FIRING everyone in IBB and anyone else who (supposedly) knows about solder and wires. Good God, what a sorry bunch of LOSERS representing the United States to the world! U.S. Taxpayers should refuse to fund this!"
Most media organizations have back-up systems and staff trained in their use to provide alternative power supply very quickly. IBB managers and staffers, however, were not able to restore power for many hours.
Broadcaster Keith Perron, whose radio station PCJ is based in Taiwan, had this comment:
I noticed this yesterday after someone drew my attention to it.

Please tell me how with an annual budget of 740 million there is no back up for something like this.

Now PCJ is nowhere near the size of the Voice of America in terms of budget and staff (only 27), but we have a working and tested diesel generator as a back-up for studios, master control and computer systems.

The last time the generator kicked in was last summer during a typhoon. At 2:20 AM the area of Taipei was without electrical power for 45 minutes. 30 seconds after the power was cut, the generator automatically kicked in. But before that happened, we have a battery system that provides 2 minutes of power. All we had was a flicker of lights on screens, but no interruptions for our broadcasting service to the Pacific .

Again. How can this happen??
Such long-lasting and major disruptions and numerous technical glitches are nothing new for VOA broadcasters who are used to such technical and bureaucratic blunders, but it must have been quite a shock for BBG's new CEO John Lansing who recently came to the agency after a successful career in U.S. cable and TV industry where such emergencies are almost always properly and quickly handled by technical support staff and competent managers.
Using bureaucratic lingo, IBB reported that the power outage "completely disrupted almost all infrastructure systems." IBB officials were vague in describing what radio, TV and Internet systems were not operational and for how long, but presumably John Lansing demanded and was given detailed reports. Emails to the staff did not have specific information about what programs were lost or delayed.
IBB no longer has a permanent director, but the current IBB deputy director Jeffrey Trimble has been with the agency in key executive positions for many years. IBB has been cited in numerous reports by the Inspector General for violations of government rules and regulations and wasteful management practices.
But while the IBB bureaucracy grew, VOA's fortunes declined. The Voice of America has struggled for years with inadequate and slow administrative and technical support from IBB. VOA programs and programming positions were being cut at the recommendation of IBB executives. At the same time, IBB budgets and jobs kept growing at a rapid pace in recent years as VOA's ability to deliver timely and mission-oriented news programs kept declining.
Before John Lansing came to the agency last September, a group of anonymous BBG employees outlined their complaints about the BBG's bureaucracy and the International Broadcasting Bureau in a series of memos to the new CEO.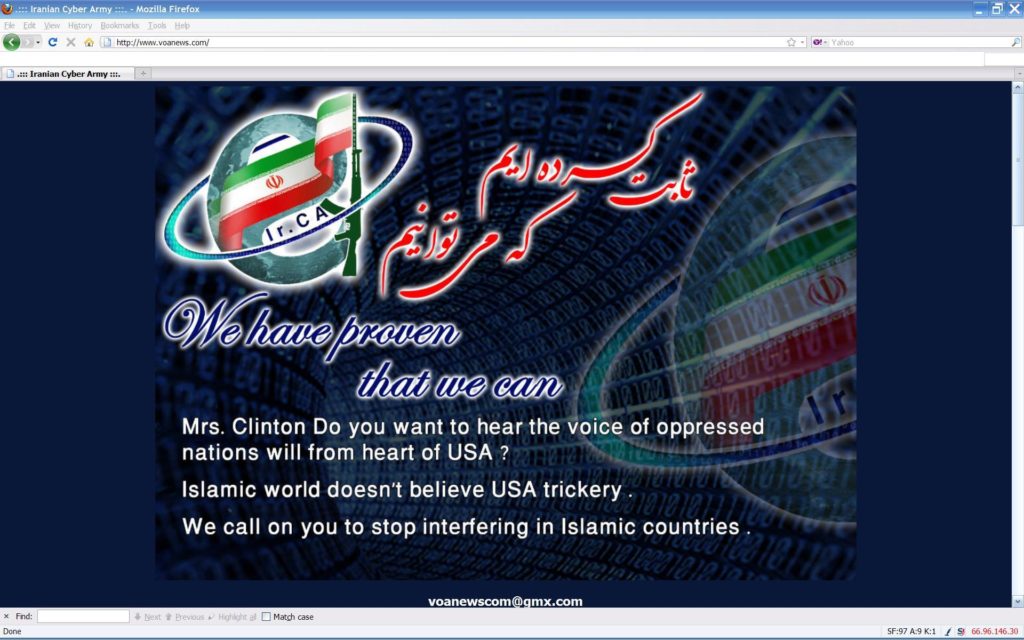 This is not the first time Voice of America program delivery was disrupted for hours due to IBB's inadequate support. In 2011, the main VOA news website was out of commission for several hours after it was hacked by an Iranian group calling itself the Iranian Cyber Army. The Iranians put up on the VOA site anti-American slogans and a taunt directed at Secretary of State Hillary Clinton who was then also an ex officio member of the BBG. In a congressional testimony in 2013, she described the BBG as "practically defunct." The latest incident shows that the agency still is in a dysfunctional state.
The acting director of the Voice of America Kelu Chao told her staff late Monday afternoon that almost all systems were working with VOA TV being one critical exception. "We are still working to bring the TV systems back on line," Kelu Chao said in an email sent out to VOA staff at 6:11 PM EST Monday.
The Voice of America was created in 1942 to serve as a U.S. government's propaganda outlet during wartime. During the Cold War, in addition to broadcasting uncensored news behind the Iron Curtain, VOA was viewed as an important venue for communicating with leaders and populations in the Soviet block in case of a political or a military emergency. With the BBG and IBB bureaucracy in charge for more than a decade with many of the same IBB executives still occupying same or similar positions, the U.S. government can no longer rely on VOA to deal with any kind of national emergency or even to be able to counter violent extremism through social media. At the same time, a few VOA English Newsroom reporters, some of whom have less than 300 Twitter followers, object to countering terrorism as being incompatible with journalistic objectivity while VOA journalists who do not feel that countering terrorist disinformation is wrong lack resources and support to do it.
Republicans and Democrats on the House Foreign Affairs Committee want to initiate structural changes and reforms at the Broadcasting Board of Governors. But BBG Chairman Jeff Shell and CEO John Lansing are opposed to a bipartisan reform bill in Congress that would separate the Voice of America from the agency's non-federal media outlets. These better self-managed entities include Radio Free Europe / Radio Liberty (RFE/RL), Radio Free Asia (RFA) and Middle East Broadcasting Networks (MBN). The bipartisan bill H.R. 2323 is an effort to protect the so-called non-federal grantees from the federal IBB bureaucracy and provide more oversight and support for VOA by shrinking the current IBB operation. John Lansing is reportedly working on a different administrative reform plan, but its details have not yet been announced.
###
From: IBB Notices Admin
Sent: Monday, December 7, 2015 6:11 PM
To: IBB Notices Administration
Subject: Power Outage Update
All,
The power issue has been resolved and we are working on bringing all systems back online. In the meantime, please note the following:
• Radio: All radio systems are up and all radio shows should continue as normally scheduled.
• Telephones: All phones are back up and running
• Internet/Dalet: All work stations should have access to the network and Dalet. If you have any difficulty accessing the internet, Dalet, the network drives, etc., please contact the helpdesk at …
We currently only have one area still experiencing difficulties:
• TV: We are still working to bring the TV systems back on line. Most major systems are already operational and we anticipate that all morning shows should proceed as planned, but please make sure that you back up your files for playout for the morning shows.
Thank you for your patience and creativity today as we dealt with these challenges.
Kelu Chao
###
EARLIER BBG WATCH EXCLUSIVE REPORT

December 7, 2015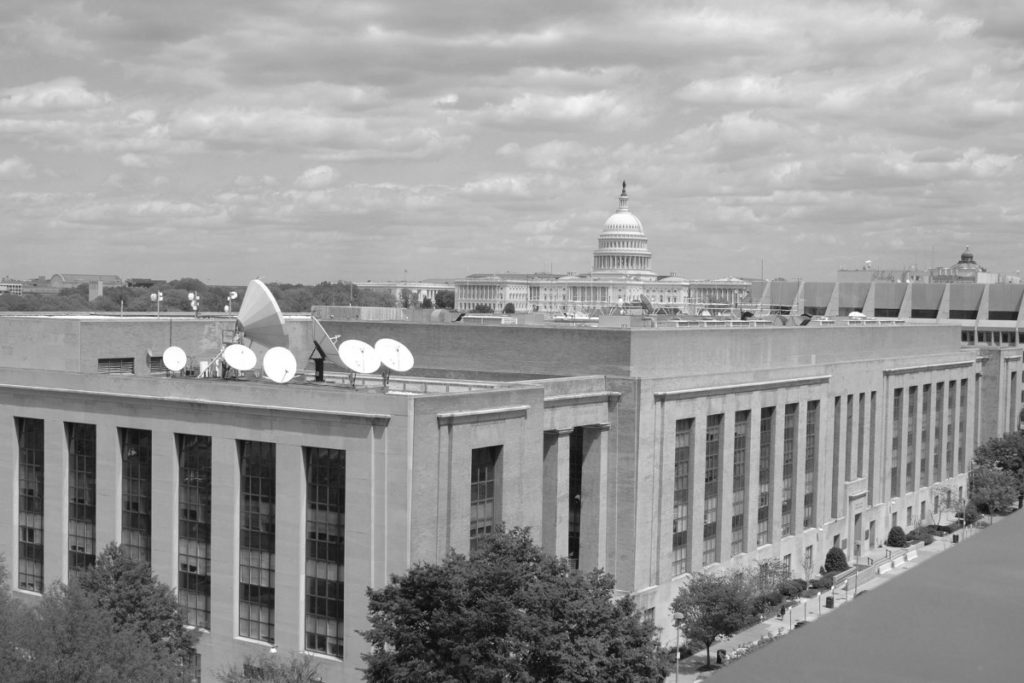 BBG Watch EXCLUSIVE
A power outage today at the Washington, DC headquarters of the Broadcasting Board of Governors (BBG) lasting many hours has seriously disrupted numerous Voice of America (VOA) radio and television broadcasts to many parts of the world. According to BBG officials, a contractor working on a construction project in the building inadvertently hit a power line. But BBG's administrative and technical arm, the International Broadcasting Bureau (IBB), was unable to quickly restore power, which is what most broadcasting outlets in the United States are almost always able to do within seconds or minutes by switching to emergency power generators. The long-lasting power outage must have been a surprise to BBG's new CEO John Lansing who recently took up his post. He had previously worked for private U.S. cable and TV industry where such incidents generally do not happen because managers are well-prepared to deal with them.
The federal agency, which spends most of its $740 million budget on administrative and support services (34%), was not prepared to deal with the power emergency at the Voice of America, even though its bureaucracy has expanded the number of IBB positions and its budget grew by leaps and bounds in recent years. Because of staff shortages and lack of resources, Voice of America journalists are also unable to post timely news reports and update social media pages, especially on weekend and after business hours on weekdays. VOA has increasingly turned to employing poorly-paid and poorly-supervised contractors.
The power was disrupted early in the morning, but it was still not fully restored as of early afternoon. Many Voice of America radio and TV broadcasting facilities still could not be used to produce and transmit programs several hours after the power was cut.
An email to staff from one of BBG's top executives sent out at 1:28 PM said that "many of our broadcast transmission systems are still being hampered by this incident."
###
From: BBG ALERTS
Sent: Monday, December 7, 2015 9:13 AM
Subject: Cohen Power Outage
Pepco/GSA are working on the power outage. Stay safe and in well lit areas. Do not use elevators.
###
From: IBB Notices Admin
Sent: Monday, December 7, 2015 1:28 PM
To: IBB Notices Administration
Subject: Power Outage Update
Colleagues:
Earlier this morning a GSA contractor working on a construction project in the Switzer building inadvertently hit a power line.
Unfortunately, this incident brought down power in both the Switzer and Cohen buildings completely disrupting almost all infrastructure systems.
At this point, we are working diligently with all of our vendors to ensure that we can restore full operations as soon as possible.
Portions of the building are up to full operations but many of our broadcast transmission systems are still being hampered by this incident.
We will notify you immediately once we have restored full functionality.
We deeply regret the inconvenience to all of our colleagues and programs.
Sincerely,
André V. Mendes